CHARLOTTE — The Panthers are one game away from a much-needed bye week, and they're hitting the road for South Florida later this afternoon.
And from their own perspective, and a broader league trend, that's not the worst thing in the world.
The Panthers are 3-2 on the road this year, and just 2-4 at home. That tracks with the league-wide trend this year, in which home field isn't nearly the advantage it used to be. After all three road teams won on Thursday, the league is 80-87-1 at home this year, after home teams were 127-128-1 last season during pandemic lockdowns which left most stadiums empty. In 2019, home teams were 132-123-1.
After their bye week next week, the Panthers will host the Falcons, and then close with three of their last four on the road (at Buffalo, followed by Tampa Bay coming here and then trips to New Orleans and Tampa). They're not in a spot to look beyond any particular week, but they're also not far enough out of the playoff mix to realize there's still a chance.
That said, here are five things to keep an eye on Sunday:
After starting 1-7, the Dolphins have won three in a row, and they've done it with an aggressive defense.
Panthers head coach Matt Rhule pointed out this week that in their win over Baltimore, they ran zero blitzes (meaning their corners played man, and there was no safety help over the top) 31 times. They created a pair of turnovers, and limited the Ravens to 94 yards on the ground.
The Dolphins blitz more than any team in the league this year. According to Next Gen Stats, they blitz on 40.5 percent of the dropbacks, the only team in the league over 40 percent (Tampa Bay is second at 37.9 percent, followed by Baltimore at 35.7).
That puts more pressure on the Panthers offensive line this week, and they know it.
"They bring a lot of blitz, obviously, so we have to be on point with our rules and who we're supposed to block and all that good stuff," Panthers right tackle Taylor Moton said this week.
The Panthers line has improved steadily over the course of the year, even as injuries have knocked part after part out of the lineup. Veteran John Miller is doubtful this week with an ankle injury after a one-week return, meaning Trent Scott will return at right guard. Change has been a constant (eight different groups of starters in 11 games), which has forced them to focus on the small parts of the game.
"We just all continue to focus on our craft and continue to find ways to improve," Moton said. "We knew we weren't playing up to our standards, so collectively we wanted to do everything we can to get the job done. There's a lot of room for growth and improvements to be made, but all we can do is take it one day at a time and continue to grow."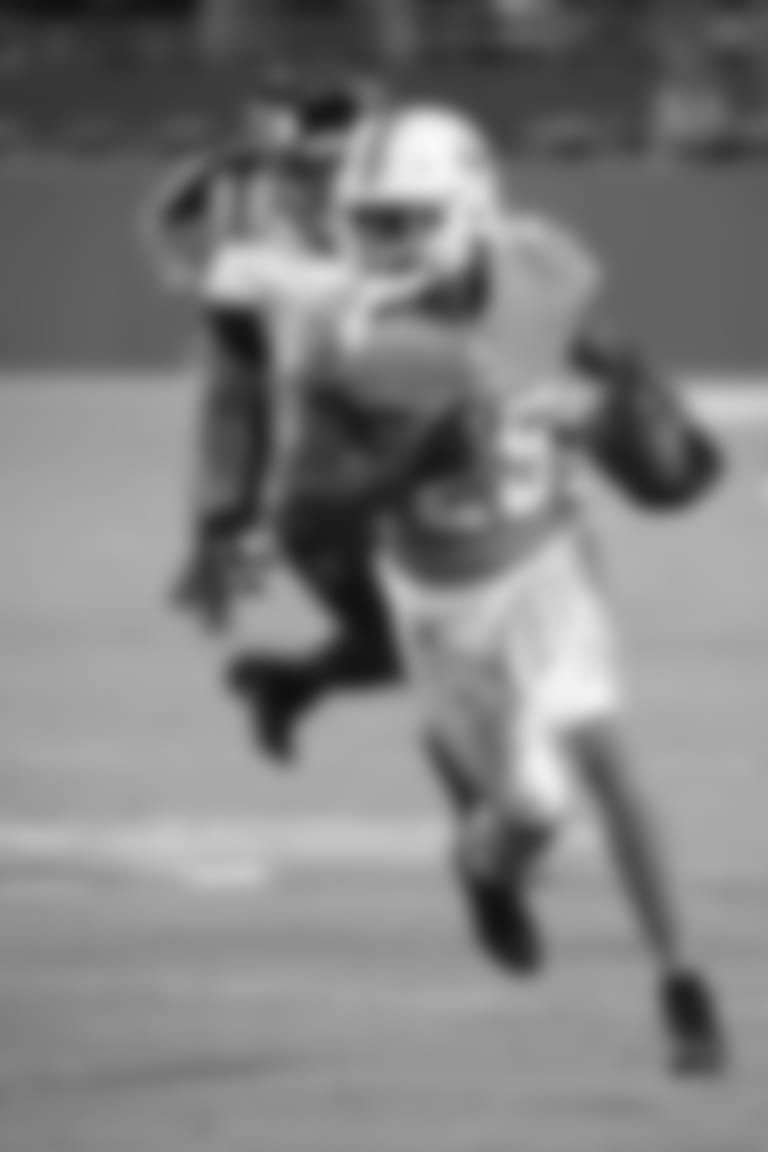 Panthers running back Christian McCaffrey continues to excel as a receiver, and having him back has been a huge boost for the offense — in addition to the fact that Carolina is 4-2 with him in the lineup and 1-4 without him.
Last week, McCaffrey became the fastest running back in league history to reach 3,000 career receiving yards, doing it in 57 games.
He's also getting it done on the ground lately. Since returning from his hamstring strain, he's averaging 5.6 yards per carry, which is fourth among players with more than 30 carries over that span.
Auburn and Alabama will play later today in the annual Iron Bowl game, and then the quarterback alumni of the two schools will face off tomorrow.
Dolphins quarterback Tua Tagovailoa and Panthers quarterback Cam Newton have played each other once before in the pros, with the Dolphins beating Newton's Patriots team 22-12 in Week 15.
Tagovailoa ran for a couple of touchdowns that day, while Newton had the better passing day (17-of-27 for 209 yards, to Tagovailoa's 20-of-26 for 145 yards and an interception).
RUN DEFENSE HAS TO GET BETTER
After giving up 190 yards to Washington last week, the defense has been focused on tightening things up. The Dolphins rank 31st in the league in rushing, but after a bad result, the Panthers can't count on that fixing everything.
The focus has been on details this week, since individual breakdowns led to big runs a week ago.
"That's what the run game is about. It doesn't take extreme talent, and extreme gifts; it just takes being disciplined and being accountable for your gap. That's just how it is."
If the Panthers have gotten used to anything this year, it's adjusting on the fly.
With Newton in at quarterback now (their third starter of the year), that's continuing.
McCaffrey was asked about all the changes this year, and he shrugged and said he's realized that's what the NFL is all about.
"Guys go down, next man up mentality. Things happen. But a mature football team is about each individual making a commitment to strive to get better every day."
That theme has been pretty consistent from a number of players this week, and the Panthers seem pretty on-message. But things get weird in a hurry in the NFL, and being able to adjust is a life skill you have to have.
Get Game Day Ready every week with Harris Teeter, your source for Football food and beverages! Enjoy this recipe from Harris Teeter & McCormick Grill Mates - Bacon & Cheese Stuffed Burgers!
Carolina is 2-4 all-time against Miami, dating back to 1998.