As far as debuts go, DJ Moore's was quiet. Until it wasn't.
The Panthers' first-round pick began Thursday night's preseason game in Buffalo set to return the opening kickoff. Until it went out of the end zone for a touchback.
Moore then had just one catch for 6 yards in his first ever NFL game. Until the second half when he added three more receptions for 69 yards.
"I heard everyone screaming 'ball!' when it was in the air on the sideline," Moore said. "It made me turn around quick, and I was like, 'Oh, there go the ball.' "
And after making an adjustment, there went Moore to go get the ball while boxing out cornerback Levi Wallace, who later was guilty of the second missed tackle on Moore's best highlight of the night:
Watch the routes develop on the play above and you'll see Moore accidentally meet fellow wideout Mose Frazier in the middle of the field.
Yeah, that's not how it was drawn up.
"We weren't supposed to collide," Moore said, "but just the way the defense presented itself we got stuck between the routes."
Yet that presented an opportunity for Moore to showcase one of the biggest reasons the Panthers made him the first wide receiver taken in this spring's draft.
"It's just what I do after the catch," he said.
Not bad, right? Plus, Moore even drew a facemask penalty.
"That kind of slowed me down," he added. "I was kind of upset."
It may have been just one play in a preseason game, but the Panthers surely hope it's a sign of things to come. It will be a lot easier to get quarterback Cam Newton to "take what the defense gives him" if weapons like Moore make a difference after the catch.
"Not just him, but we saw Curtis (Samuel) do it, Christian (McCaffery) do it," head coach Ron Rivera said. "We saw Jarius Wright do it.
"We had guys that run well with the ball in their hand, and that's one thing that we need to be able to do - get the ball in these playmakers hands and let them make plays."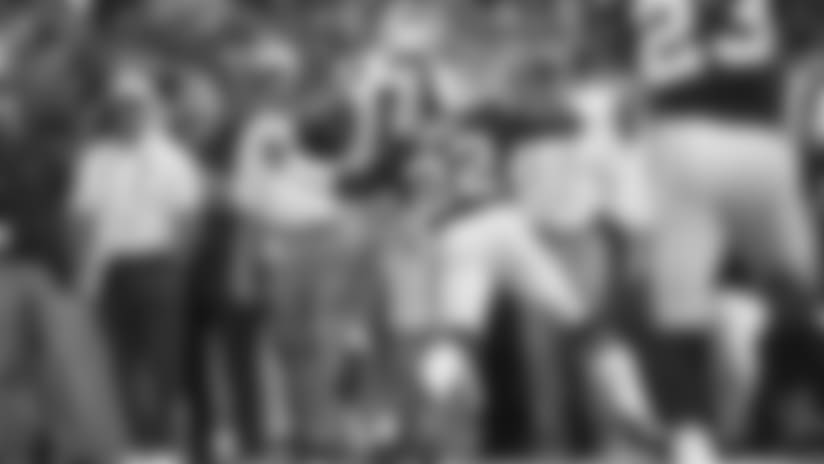 The play would have gone for just 10 yards if the 5-foot-10, 190-pound Wright didn't shake off 207-pound cornerback Vontae Davis.
"I think (Wright) is much more of a physical player than people give him credit for," Rivera said.
But credit is something the Arkansas native is used to not getting.
"I'm a country boy, so I'm kind of tough already," Wright said. "You can't let size judge you or (let) anyone tell you you're too small. That's kind of something I was taught my whole life. They don't measure your heart.
"Like I said, I'm a tough guy, and sometimes I am underrated because I am a smaller guy. But I can play with the best."
"I was kind of hid for a little while," he said. "I think that's why a lot of people don't know about me."
And what most do know of Wright is what earned him the nickname "Mr. Third Down" in Minnesota. During last year alone, eight of his 18 receptions resulted in third-down conversions. But now he's hoping to expand his repertoire.
"I'm working on opening up, being more of an every down guy," Wright joked when told his lone catch Thursday came on second down. "I was just a third-down guy up there. But it's a new team, new beginnings."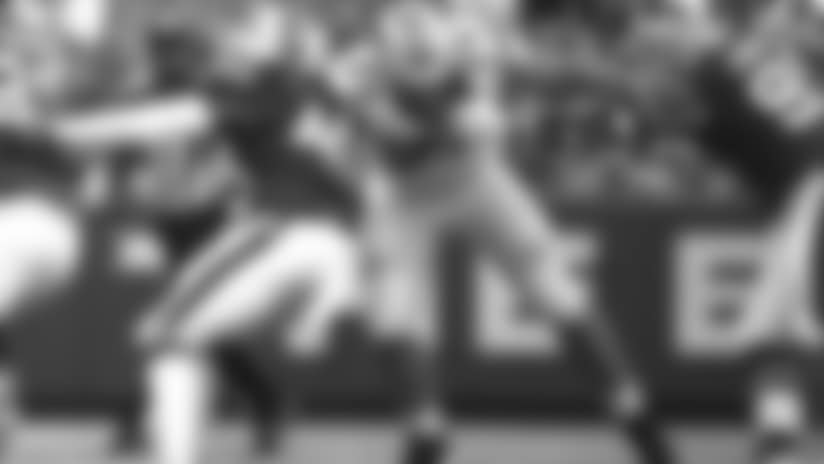 Shortly after Tuesday's practice in Spartanburg, and a few hours before tests revealed a torn meniscus in Amini Silatolu's left knee, Rivera indicated undrafted rookie Brendan Mahon would start at left guard against the Bills. That nod instead went to Greg Van Roten, a four-year veteran who's been largely forgotten in the race to replace Andrew Norwell.
"I think maybe by people that aren't directly involved with the team," Van Roten said when asked if he's been overlooked. "But as far as our coaching staff goes, and the offense, I think they're giving me a good look and I appreciate it. I'm going to take advantage of the opportunity I have now."
Despite playing only 10 snaps on offense last season, Van Roten was the first pending free agent the Panthers re-signed this spring. Since then, he's flown well under the radar as a depth guy.
"There is a vacancy that needs to be filled, and if I can have a good preseason and continue to play well, then I would love to be the left guard," Van Roten said.
At first glance, he didn't appear to do anything to take himself out of the running Thursday night. But the job is far from settled.
Tyler Larsen is another veteran candidate who may have been the top choice at left guard if he wasn't needed at center. And Mahon didn't disappoint while splitting his debut between both guard spots.
"Obviously, the competition was a lot higher (tonight) than in college, but I'm used to bouncing around from left to right, tackle to guard," Mahon said. "I was a little anxious coming into it, but once I got back out there, I remembered it was football and how much I love to play."
By the way, for those of us who haven't been sure how to pronounce his name, Mahon shared a good tip. Think about how you'd say the last name McMahon and then take out the Mc.
The biggest disappointment of the night was the play of the first-team defense, which allowed the Bills to convert two third downs while driving 85 yards on their opening touchdown drive.
"Not good enough, man. Not good enough," linebacker Thomas Davis said. "We left a lot of plays out there. And for us as a defense, in particular, the standard is a lot higher than what we went out there and displayed."
Cornerback Kevon Seymour had a particularly rough series, committing a pass interference penalty and allowing three receptions, including Kelvin Benjamin's 28-yard touchdown.
"When we were off (Seymour), they threw the hitches. When we were on them, they ran the fades. It's very basic things," Rivera said. "It's one of those things that Kevon has to be better. He was up in position on Kelvin, jammed the receiver, the receiver swung him to the side, so he was in a chase position from that point."
For his part, Seymour thought Benjamin made too much contact.
"He grabbed my shoulder pads and threw me off the line. I'm not saying that's why he scored, but the ref didn't see it. I feel like I should've gotten that call. But you live to play another down," said Seymour, who somewhat surprisingly played late into the fourth quarter.
"I had some plays at the beginning that I wish I could have back. But that's part of being a DB. You're going to go through adversity."
5) Carter Continues to Make a Case
After splashing onto the scene with three tackles (two on special teams) and a sack, it's not surprising what linebacker Jermaine Carter found when he returned to his locker.
"My phone is going crazy right now from family and people on social media," the fifth-round pick said.
But Carter also committed a first for the Panthers when he was flagged 15 yards for violating the league's new rule against lowering the head to initiate contact.
"It was probably the right call. I probably came in with my head down," said Carter, who dove in from behind while former wideout Kaelin Clay was being tackled by cornerback Corn Elder. "But I was just trying to run to the ball and play as fast as I can."
Carter was seemingly all over the field, extending an impressive summer where he's seen a steady increase of reps at training camp.
"My first couple plays, I was tight with all the adrenaline running, but I'm just glad I was able to get through it. I just wanted to show my teammates that they can trust me to put me on the field," Carter said.
"I've been an underdog my whole life. It's just keeping the chip on my shoulder. I want to show everybody – not just my teammates, not just my coaches, I want to show everybody that I can play football in the NFL."
It sounds like he's well on his way to winning over at least a couple of those teammates.
"He made a ton of plays," Davis said. "The kid has done that all offseason long. I'm just happy to see that it translated over to the field."
Fellow linebacker Luke Kuechly added, "I don't even know when my first sack was," a split second before his uncanny memory kicked in.
"My first sack might've been in Kansas City."
Yup, in Week 13 of his rookie year.
"So it took me a lot longer than it took (Carter)," Kuechly continued.
"He's good off the edge; he's explosive. We've been good at drafting guys in the fifth round at linebacker. We've got Dave (Mayo) and A.J. (Klein) and (Carter), too. So we've been good."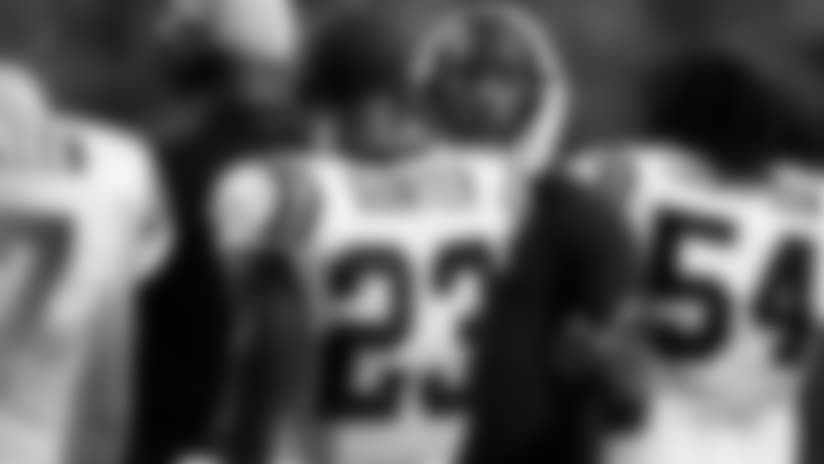 The defense suffered the most notable in-game injuries when seventh-round linebacker Andre Smith pulled a hamstring, safety Damian Parms banged up his right shoulder and cornerback Ladarius Gunter went into the concussion protocol.
The secondary was already shorthanded after the Panthers decided to sit No. 1 corner James Bradberry, who tweaked his groin late in Tuesday's practice. Before the game, Bradberry worked out in front of trainers, who went the precautionary route.
As expected, the Panthers were also cautious with center Ryan Kalil, who was a healthy scratch.
Linebacker Ben Jacobs (groin), wide receiver Fred Ross (hip), offensive lineman Jeremiah Sirles (undisclosed) and defensive end Julius Peppers (shoulder) were the others who made the trip but didn't dress. Peppers, though, did go through a pregame workout as Carolina continues to bring him back slowly.