CHARLOTTE – Three years ago, defensive tackle Larry Ogunjobi blazed a trail for the Charlotte 49ers when he became the first player drafted from the fledgling local program.
Now three 49ers products – running back Benny LeMay, offensive lineman Cameron Clark and EDGE Alex Highsmith – are preparing to participate at the 2020 NFL Scouting Combine. The same trio also performed at the East-West Shrine Bowl.
"To have these three guys at the Shrine Bowl and then at the Combine, it's unbelievable for our program," head coach Will Healy said. "These are three guys that we expect to perform extremely well while they're there and handle themselves really well. They're tremendous ambassadors for our program."
Three Combine participants is the most in school history, and it means Charlotte will have more representation in Indianapolis than UNC and N.C. State.
It's a big deal. And it helps build the program's reputation, which is growing more impressive by the year.
"With the success Nate Davis has had starting for the Titans as a rookie, and Larry Ogunjobi with the Browns – they have paved the way," Healy said of the two players drafted in program history. "Hundreds of NFL personnel have been through our building over the last six months. We've shown that you can accomplish your dreams of playing in the National Football League at our place. We have a really good brand of football with really good players in our program. It's just the beginning, but it is special to have three (Combine participants) in one class."
Here's more from Healy on each of the 49ers who will perform for scouts in Indy later this month: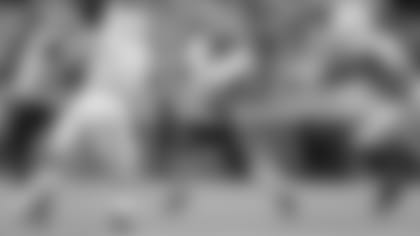 On LeMay: "Benny proved that he has separation speed this year. That was the real question about him. He runs behind his pads and his ability to get to full speed coming out of a cut is as good as anybody I've ever seen. Tremendous hands and body control. He's a threat in the pass game as well."
On Clark: "Cam has some size and athletic ability that is hard to find. He's extremely intelligent. He can make adjustments very quickly. He's been durable. He's tough. He's hard-nosed and a really good leader. He provides versatility, whether it's playing tackle, guard or center at the next level. He is a do-it-all guy."
On Highsmith: "(Alex) is a walk-on. Going from junior to senior year, he goes from 3.0 sacks to 14.0 sacks and finishes second in the country behind (Ohio State DE) Chase Young. He's a self-made hard worker that will do anything and everything you ask him to do, exactly as you ask him to do it. He's grown and improved so much, and he's still learning how to rush the passer. He's going to make a name for himself and will be playing in the league for a long time."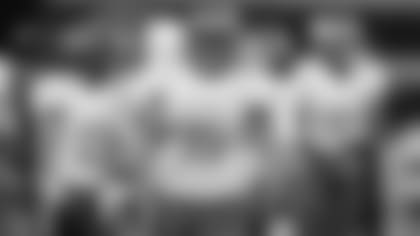 Head coach Matt Rhule and Panthers brass are also preparing for the Combine, among other things on the long to-do list.
After stops at Temple and Baylor, Rhule is now working to lay a foundation in Carolina at the professional level. And Healy believes it's only a matter of time before Rhule turns things around.
"I think he did the best job in college football at Baylor," Healy said. "That program wasn't just in a mess from a win-loss perspective, but also from a culture perspective and a perception perspective. To go from one win to the Sugar Bowl – that's unbelievable. He does it the right way. The job he's done building is something that has been recognized nationally, and it's something I have looked at because those are the type of programs I have inherited."
Healy, 35, just finished his first season at Charlotte with a 7-6 record. Rhule went 7-6 at Baylor in 2018 before the Bears rattled off 11 wins this past season.
Now that they both work in the same city, Healy fully intends to pick Rhule's brain and build a connection with a coach he's long admired.
"I'm a huge Panthers fan and I want talk to him about how he installs culture and holds people accountable for it," Healy said. "I've run into Matt a couple times and I was planning on going to Waco to spend some time with him in the offseason. I don't have to make that trip now. I'll just drive 15 minutes down the road."