CHARLOTTE -- Panthers safety Eric Reid didn't sugarcoat his feelings about some of the participants in Philadelphia on Sunday not wearing a Carolina uniform, notably a game official and a safety on the other sideline.
But Reid put those feelings aside and focused on football, emerging as one of the defensive standouts from the Panthers' historic victory over the Eagles.
"You're starting to see him play faster and faster as he understands and comprehends our scheme," Eric Washington said after Reid was among several contributors the defensive coordinator discussed the day after Carolina erased a 17-point deficit in the fourth quarter and headed home with a 21-17 victory.
"You see him playing faster and faster and more physical and violent when he's rotating down in the box," Washington said following Reid's third game since signing with the Panthers. "I saw a couple of situations yesterday where he's in position to separate the receiver from the ball."
One of the plays everyone was talking about after the game – Reid included – was one where the ball flew wide of a receiver and Reid got in position to possibly cap the comeback with an interception. It was initially ruled a pick that would essentially end the game, but after a replay review, what Reid described as a "terrible call" kept possession with Philly.
"We were just fortunate enough to be able to win the game twice," head coach Ron Rivera said Monday when asked about the reversal.
Reid and the defense remained on the field, and they responded by keeping the Eagles short of the goal line – and short of a first down – over the next three plays to emerge victorious.
"Yes I do (think it was an interception), but at the end of the day it doesn't matter what I thought," Washington said. "We have to go out and play the next snap, and what was called was what was called.
"When the play was being reviewed, the players and our coaching staff were preparing like the play was going to be overturned. There wasn't one person who was headsets off, 'We're good.' Everybody was talking about the next snap, just in case. That put us in position to go out and compete on that snap and win the football game."
That's basically how Rivera described Reid's response to his pre-game exchange with Eagles safety Malcolm Jenkins. The two are among the league's most outspoken players when it comes to social justice issues, but they don't see eye-to-eye about how to go about their causes.
"It's never good when you have people that you know have great hearts and are great men disagreeing on certain things," said Panthers receiver Torrey Smith, who played for the Eagles last season. "Everyone knows how I feel about Eric Reid and Malcolm Jenkins, so that's something personal between them that I'm sure in time, everything will hash itself out."
Reid clearly let his intense feelings pre-game spill over into the game, but aside from an early unnecessary roughness call, he channeled his emotion in a way that helped the defense rather than hurt it.
"I thought he handled himself on the field during the game, the way he needed to," Rivera said. "He played very physical, as he always has for us so far, and he played pretty well, graded out pretty high."
––––––––––––––––––––––––––––––––––––––––––––––––––––––––––––––––––––––––––––––––––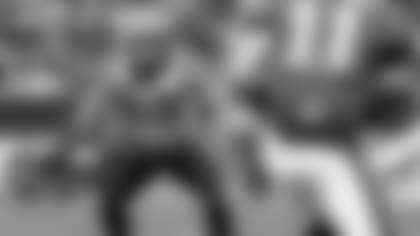 Washington also singled out the effort of a player that usually doesn't need any introduction – linebacker Luke Kuechly.
The numbers were big even for Kuechly: 18 tackles based on coaches' film review, including four tackles for loss and a sack. Perhaps his strongest moment came right after the Panthers finally scored to pull within 17-6 early in the fourth quarter. The offense still needed the ball back ASAP, and Kuechly delivered by dropping receiver Nelson Agholor for a 1-yard loss and then sacking Carson Wentz for seven more yards in the wrong direction to force a third-and-long the Eagles couldn't convert.
Still, that was only part of the story from Washington's vantage.
"His performance was outstanding, whether it was directing and quarterbacking our defense or making plays," Washington said. "The thing that goes a little unseen to the untrained eye is how Luke directs our defense on the field."
Fans don't blare out "LUUUUKE!" in response to the pre-snap adjustments he calls out, but his football IQ is appreciated. Still, on this particular Sunday it stood out even a little more than usual.
"I'm not surprised; that guy, he's a freak," defensive end Mario Addison said. "He studies all day and he's the quarterback of the defense so he knows where plays are going to be at. Luke does a good job of putting himself in the right position to make plays and put others around him too cause he's got to call the play, line everybody up at the same time, so that's a lot of pressure on him.
"For him to do all that and still be the playmaker that he is, that shows his character. That shows how hard that he really works during practice to be able to be so successful during the game. Luke works hard, man."
––––––––––––––––––––––––––––––––––––––––––––––––––––––––––––––––––––––––––––––––––
All that work from Kuechly and Co. might have been for naught if not for the defense's stop on fourth-and-2 in the final seconds.
With 33 seconds remaining and Carolina up by four, Eagles quarterback Carson Wentz dropped back on the Carolina 14 and scanned the field for one last shot at a touchdown.
Before he even had time to blink, Wentz was smothered by a number of Panthers and found himself sans the ball courtesy of the man who is now four sacks away from being third all-time in that category.
Defensive end Julius Peppers recorded a season-high 41 snaps, thanks largely to Addison being limited by an early-game injury, but the 17-year veteran proved with his game-winning strip-sack that he can still be reliable in those moments.
"There was no bigger play than the last play," Washington said. "Julius handled the snaps. He did a nice job as a run defender and he did a nice job of impacting the game as a pass rusher."
Coming into the season, Peppers ranked fourth all-time and needed six sacks to usurp former Panther linebacker Kevin Greene (160) for third. He contributed to that effort with a strip-sack in back-to-back weeks for the first time since 2011.
Washington also commended defensive line coach Brady Hoke for regulating Peppers' usage and keeping him fresh. "We want Julius on the field for occasions like yesterday when we have to have what he does best, what he's done as well as anybody in the history of our game, and that's rushing and pressuring the quarterback," he said.
The gamebook credited Peppers for making the play but, as both he and Washington stated, defensive linemen Kyle Love - who recovered Peppers' forced fumble - and Wes Horton deserve credit for impacting the game, as well.
"Everybody was there. K-Love had a good rush, had pressure up the middle. Wes was in there, but I came through and tipped the ball out," Peppers said. "Officially, I think they're going to give me the sack, but it was collective.
"We all did a great job on that last play."
––––––––––––––––––––––––––––––––––––––––––––––––––––––––––––––––––––––––––––––––––
Digital media intern Jelani Scott contributed to this report.