CHARLOTTE -- When you've been in the league for 13 years, that alone earns you a lot of respect.
But when tight end Greg Olsen was still a young player trying to establish himself in the NFL, words of encouragement from guys on other teams were significant. They still are.
"Now I just think they do it to be nice. They feel bad for me. Just in case this is the last time I ever see you," the 33-year-old Olsen joked. "But I think when you're young, all young players are looking for confirmation, right? From your coach, your teammates – you want their respect. And then when someone you don't know comes out of their way before a game, especially as a young guy trying to figure things out, you stand up a little taller.
"I remember being a young guy in the league hearing one of the opposing coaches mention me in a press conference, and it was like, 'OK, they're planning for me!' I remember those days. You are never too old for somebody to tell you, 'Good job.'"
Olsen didn't provide a specific name of someone who went out of their way to compliment him (probably too many to remember), but others in the Carolina locker room did.
Here's a fun look back at some pre or post-game messages that really resonated with Panthers players.
DT Gerald McCoy: QB Peyton Manning
"We go up to Denver (in 2012), walking out to the captains coin toss and Peyton Manning shakes my hand and says, 'I've been watching you. You're playing great. I respect your game. Keep it going.' Good thing we didn't go out on defense first, because I couldn't focus for the next ten minutes."
LB Shaq Thompson: WR Larry Fitzgerald
"My first, very first respect I ever got in this league was from Larry Fitzgerald in 2015, NFC Championship game. That was my first ever like veteran respect from a different team. After the game he told me that, because me and Larry were going at it that game. He was like, 'Man, I respect your game. You're one hell of a player.' You go back and watch the game, we were locked up. Wherever he was, that's where I was."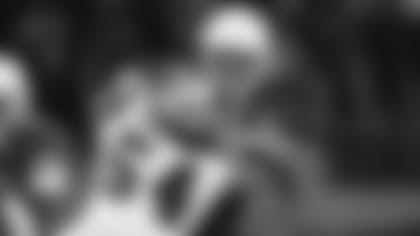 LB Luke Kuechly: RB Adrian Peterson
"AP said, 'You're fun to play against.' That one was cool, because I grew up watching Adrian Peterson. This was after I played him one time when he was with the Vikings and that was cool, because it's Adrian Peterson. Also, I'm a big DeAndre Hopkins fan. I went up to him during the game this year and was just like, 'You're a stud.' I just like how he plays. He's just trying to play ball."
S Tre Boston: QB Russell Wilson
"Honestly, last year was probably one of my biggest ones. I've had a few, but we had a game versus Russell Wilson. After the game he told me I'm one of the best safeties in the league, 'bout time I get what's due for me. So, that was one of the things, you know, I've gone through free agencies and known what type of player I am. To get that reassurance... And he's an MVP candidate this year."
G Trai Turner: DT Gerald McCoy
"Gerald McCoy did, actually. I don't want to say it's acceptance, but it's kind of like a morale booster. It was actually my first game, first game of the season, 2014. Just hearing that from an All-Pro guy, a guy who's been in the league for some time, doing it at a high level. Like I said, just kind of a morale booster, especially coming from an opponent."
WRs Curtis Samuel & DJ Moore: CB Malcolm Butler
"(Butler) told me he respected my game," Samuel said. "It was kind of cool coming from him. I'm a young guy in the league, you know, Super Bowl winner, he caught a big-time pick in the Super Bowl to seal the game, so coming from him it was pretty exciting."
"He said he liked my routes," Moore said. "You get it from all the vets in this locker room, so when you get it from somebody outside the locker room, it's like, maybe you are improving."
CB James Bradberry: CB Richard Sherman
"Richard Sherman said he respected my game after we played (the 49ers). That meant a lot. He's one of the OG's in the game. I watched a lot of film on him coming out of college."
WR Jarius Wright: CB Richard Sherman
"Early in my career I beat him on a double move and after the game we were just kind of talking, chopping it up. Every time I play him, he always gives me my respect and stuff like that. A player like that, such a good player who's been a good player for a long time, to give you your respect and tell you you're doing your thing, it's definitely big."