SPARTANBURG, S.C. – The last time Everette Brown was here was back in 2011.
It was his third training camp at Wofford College, but once it was over, his days playing for the Panthers were over. After six sacks and three starts in two seasons, Brown was cut.
It was a major disappointment for everyone involved. General manager Marty Hurney had traded the team's 2010 first-round pick to the San Francisco 49ers to select the prized prospect with the 43rd overall pick in the second round of the 2009 draft.
Brown, who was widely considered a first-round talent after posting 13.5 sacks in his final year at Florida State, believed he was going to be a true difference-maker for Carolina.
"I came to the league thinking I was going to be a Panther for life, a Hall of Famer, up there with the greats," said Brown, a Greenville, N.C. native. "That's what the mentality was."
The 30-year-old Brown would be entering his ninth season if things went according to plan. But training camp with the Cleveland Browns in 2015 proved to be his last stop as a player in the NFL.
Now he's back in the league in a different capacity. Brown is working with the Panthers' defensive line through the Bill Walsh Minority Coaching Internship, which runs through training camp. He's back on campus at Wofford, and while so much has changed, so much hasn't. Hurney is the GM, and former teammates Julius Peppers and Thomas Davis are still leading the way on defense.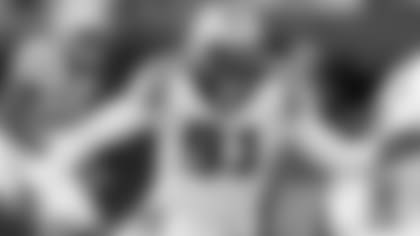 "You don't burn bridges," Brown said. "I have a love for the game and that doesn't just go away. So I said, 'You know what? I'm going to go for it.' I was welcomed back to the organization, and I'm happy to be back."
Considering how Brown's career unfolded, it wouldn't have been at all surprising if he wanted to leave football behind and focus on his business ventures. He spent time with seven different teams. In the six stops after being released by the Panthers, he posted one sack and didn't start a single game.
"I have no regrets. My career may not have panned out the way people thought it should have," Brown said, "but it's a piece of me."
It's an important piece, and not one that Brown runs away from.
"I look at my career path and the things I've learned, the things I've encountered, the things I could have done differently – I want to pass that down," Brown said. "I think it's valuable, and I want to help guys."
The internship is a valuable tool for Brown as he takes the first step toward a potential career in coaching. It's a special opportunity to learn from coaches at the highest level.
And while he soaks up that knowledge, he's hoping to impart some of his own.
"Work ethic, work ethic, work ethic. Have tunnel vision. That's one of the things I had to learn," Brown said of his message to the young guys. "And know that football doesn't define who you are as a person. Try to stay off that roller coaster of, 'I had a bad practice, so now I'm a bad person in life.' Be able to separate the two. That's important long term.
"The things we go through in life shape us. It shows your character. It shows your resilience."