Some call it the "dog days of August."
I call it the "draft days of August."
For serious fantasy football players, the end of training camp signals that it's time to get serious about devising their plan of attack. Again this season, that plan when it comes to poaching Panthers players for your roster is a tricky one at a couple of positions – namely running back and wide receiver.
Quarterback Cam Newton and tight end Greg Olsen again universally project to be elite options. Newton finished second in standard NFL.com scoring among quarterbacks in 2017, boosted by a career-high 754 rushing yards. Olsen was a fantasy non-factor thanks to an injury-riddled season but was a top-three tight end each of his last three healthy seasons.
Rushing yards from a quarterback (even Cam) and injuries are wildcards. It might not be easy, but for Panthers fans who want to succeed in fantasy, it's about guarding against drafting Newton and Olsen too early. Quarterback is the highest-scoring position in NFL leagues (11 of the top 12 scorers in 2017 were QBs) but the separation in points between QBs isn't that great, so it's important to not overpay by drafting one too early. Points aren't nearly as abundant for tight ends – just three finished in the top 80 last season – but the position is top-heavy so Olsen could be a bargain if he lasts for a while after Rob Gronkowski and Travis Kelce are drafted.
Kicker and defense are two spots where Panthers fan can more easily secure fantasy assets with their rooting interests in mind. Graham Gano and the defense are considered borderline startable options in 12-team leagues, yet Gano missed just one field goal last year and the defense almost always ranks among the league's sack leaders. You could do worse, but be sure to wait until most other teams have started to draft these spots.
That brings us to the trickier spots.
RUNNING BACK: Since the days of "Double Trouble," Carolina's running game has caused trouble for opposing teams but also for fantasy owners. That should again be the case in 2018.
Despite rushing for just 435 yards and two touchdowns in 2017, Christian McCaffrey ranked 15th among running backs in the NFL scoring system – even though the system doesn't rewards points for receptions. McCaffrey's receiving ability was still key (651 yards, five touchdowns) and will be again. Meanwhile in Denver, C.J. Anderson ranked just behind McCaffrey in 17th place. Now they're in the same backfield.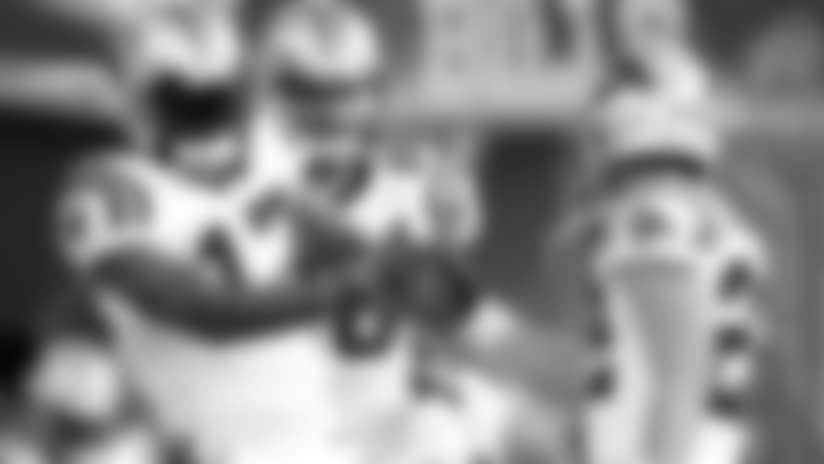 McCaffrey ranks 19th among backs in NFL.com projections, below plenty of proven guys that are bell-cow backs for their team but also below unknown rookies like Royce Freeman of the Broncos and Ronald Jones of the Buccaneers.
Indications are that McCaffrey will be even more involved than last year despite the addition of Anderson, who rushed for 1,000 yards for the Broncos in 2017. McCaffrey appears worthy of being picked among the top 15 backs, but Anderson could be the bargain back. Jonathan Stewart was 35th in fantasy scoring among running backs during a down year in 2017, so even with a more involved McCaffrey, it's possible Anderson cracks the top 30 but could last until to around 40 on draft day. The potential ultra-sleeper is Cameron Artis-Payne, who won't even be selected in most drafts.
WIDE RECEIVER: Devin Funchess wasn't the Panthers' clear-cut No. 1 receiver the first half of last season and was slowed at times by injuries when he was in that role down the stretch, yet still he ranked 21st among receivers in fantasy points. Even if he remains healthy all year and is in the "X" role that fits him best, he might not move up the rankings.
That's a testament to the improvement of the position group, which is good for the team but not necessarily for fantasy owners. As hard as it is to forecast Funchess' fantasy prospects with the additions of DJ Moore, Torrey Smith and Jarius Wright, it's even harder to forecast that trio. Moore will be drafted in most leagues and would be an intriguing addition to any roster as a fourth wide receiver.
Here's something else to consider. Smith, Wright and Curtis Samuel may all go undrafted. Smith is a starter, Samuel is starting to become a bigger factor and Wright will be a factor as a possession receiver/third-down target. If they're available when you make your last pick, think about selecting your favorite and see if you strike gold.