Being the new guy can be lonely, even for a popular NFL star like Gerald McCoy.
The six-time Pro Bowler came to Carolina after nine seasons with Tampa Bay, and let's be honest, no matter who you are, it's hard to start over in a different place.
"I've got a wife and five children, and after signing a contract to be away from them, you want to feel comfortable and not feel homesick or looking over your shoulder like, 'Man, who am I going to connect with?'" McCoy said after a recent training camp practice. "You can feel like a loner."
For anyone in McCoy's situation, it's nice to have someone you can lean on. McCoy found that person quickly in fellow defensive lineman Kawann Short.
"That's been my guy," McCoy said. "The bond we're building is getting to the point where if anybody even looked at him wrong, I'm going to be right there."
And that's been pretty obvious to anyone who was watching the Panthers practice at Wofford College.
McCoy and Short are never too far from one another. Often you'll spot them chatting on the sideline about a play that just happened, or something else entirely. Off the field, it's more of the same.
"It was destined for us to click," Short said.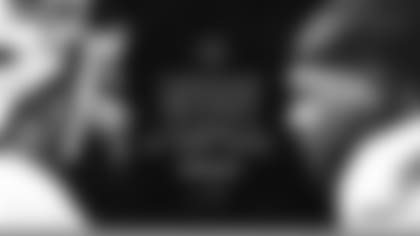 Short was caught off guard – in a good way.
In the days after McCoy signed with the Panthers, Short got a series of text messages from his new teammate. The messages were actually video clips of Short rushing the passer, accompanied by some insight from McCoy.
"He was pointing out little things I could do better," Short said. "He's got so many accolades, he could easily just try to come in and do his own thing. But he wants everybody to succeed.
"His IQ is just unbelievable. He's taught me so much about what to look for. He's elevating my game."
McCoy didn't think much of the videos he sent Short. He didn't debate internally whether or not to send them despite not really knowing KK yet. He said he was simply being himself, trying to help a teammate.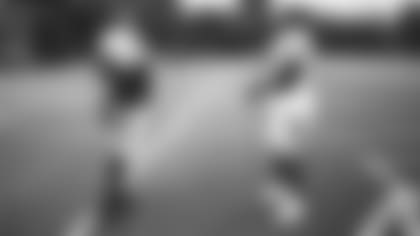 "I've never been about me. I've always been about my team," McCoy said. "I haven't won a lot, but even with us losing in Tampa, I've always been there for my team.
"If I can help, I'm going to say so. And I ask for that same courtesy. If you see something that'll help me, come tell me. Why not help each other? I saw some stuff I thought could help, so I texted him."
The text history has obviously grown a lot since then. Short said he'll occasionally receive messages from McCoy reminding him of what some of the game's best defensive tackles have accomplished.
"From the day he signed he'll shoot me random texts about the last time a D-tackle has done this or that, or the last time a D-tackle duo did this," Short said. "It just motivates you."
It's all music to the ears of the defensive coaches.
"They look to get each other going," defensive line coach Sam Mills III said. "That's what happens when you have two elite players at the same position. They push each other. And they're both very intelligent, so they work off each other seamlessly."
Defensive tackles aren't known to be the swaggiest guys on NFL rosters, but Short and McCoy take their style seriously.
Short has been one of the best dressed Panthers for a few years running, perfecting the smallest of details for his game day ensemble.
McCoy likes what he's seen from Short, and perhaps takes it to another level. He turned heads on arrival day at Wofford with this Lion King look and brought his 'A' game on the road trip to Chicago to open the preseason.
"A lot of people were like, 'Man it's preseason!' I don't care. I'm me. I'm always going to be me," McCoy said. "If it's time to dress up, well, dress up and show up, man."
Short has always been a fan of McCoy's style, which he kept tabs on via Instagram.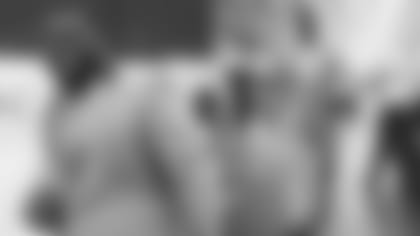 "He got the juice. He got swag," Short said. "He's a Gucci guy. He's all Gucci."
They're likeminded when it comes to fashion. It's a passion for both. Now, Short isn't into comics and superheroes the way McCoy is, but that's OK. They don't have to be carbon copies of one another to develop a bond.
What really makes them gel is the fact that they approach the game of football the same way.
"(Kawann) is not as quiet as you think. When he's in his comfort zone he's like a class clown," McCoy said of Short. "And when it's time to work, he works. He's the hardest working guy on the field.
"But he realizes it's a game, and it's way too difficult to not have fun. That's what I love about him. He knows how to have fun with it."
---
---
Admiring each other's ability
Ask Short what impresses him most about McCoy's skill set, and he'll answer without hesitation.
"That get-off," Short said. "As a three-tech in this league, that's what you need."
McCoy is so explosive off the snap. It puts him in position to win right out the gate. And then his physical gifts take over. It's no accident the man has 54.5 sacks.
How would McCoy answer the same question about Short, who has 32.5 sacks on his resume?
"His hand work," McCoy said. "He knows how to keep his hands moving at all times. My pass rush has been to beat people off the first move or counter. He's a guy that might not beat you on the second, third or fourth move, but he's going to beat you on the fifth. He works his hands non-stop. You may not see him win off the immediate first move, but he's going to eventually win out the down because he'll keep moving those hands and flipping his hips."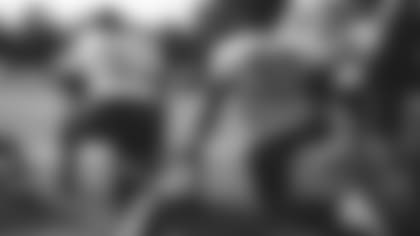 Short, a two-time Pro Bowler himself, has looked up to McCoy since entering the league as a second-round pick in 2013 (McCoy was the third overall pick from Oklahoma in 2010). When the Panthers drafted Short, McCoy was intrigued by the talented Purdue product who kept disrupting the pocket.
They've been in the same division all this time, going against each other twice a year. It's still a little surreal for both that they've teamed up in Carolina.
It's a nightmare for opposing quarterbacks. It's a dream scenario for the dynamic D-line duo.
"Really, it starts with each of us respecting what the other person has been through and what whey bring to this league," McCoy said. "He's played the game like he appreciates what this franchise has done for him, he appreciates being in the NFL. And I respect that.
"I believe he sees the same out of me, to be able to do this at the level I've been doing it, for as long as I've been doing it. It just starts there. After that, we both realize that the closer we are off the field, the closer we'll be on the field."