ATLANTA – Greg Olsen's long day of media appearances in Atlanta ahead of Super Bowl LIII begins at 9:30 Thursday morning.
The Panthers tight end joins "Wingo and Golic" of ESPN Radio to get things started. He discusses his partnership with Coca-Cola's "BIG HEARTS, mini cans" program to help communities.
Then the football conversation begins, and Olsen is asked to provide some advice for the Rams ahead of the big game against the Patriots.
"From the moment that NFC championship game ends to the start of the Super Bowl, I think a lot of the game is won in that time," Olsen explains. "That's a huge advantage the Patriots have. I think there is an advantage for guys who have been in that situation. There are a lot of factors that are very different."
Speaking of learning experiences, he also recalls this "memorable moment" from his early years in Chicago. See the tweet below.
Then the topic turns to adjusting instant replay as a result of the infamous no-call that's still tormenting the Saints.
Olsen is asked if "judgement calls" should be reviewable.
"If I was voting, I would vote no," Olsen says. "And I know the Saints are up in arms and if I were a Saints fan or a player on that team, I would understand living in that moment and understand that you are a pass interference call from going to the Super Bowl. I get that. The reality is, that's not the first blown call in NFL history. If (Greg) Zeurlein misses the field goal, no one is even talking about this because the Saints win anyway."
Olsen then presents a hypothetical situation where an offense converts with a 10-yard run on a critical third-and-1 in the closing minutes.
"If I can challenge that one of the five linemen grabbed someone, are we going to call holding now?" Olsen says. "Retroactive holding penalties? Where does it end? We need to relax a little bit. It was a terrible no-call, but it's the nature of the game."
After completing the off-site interview with ESPN, Olsen arrives at "Radio Row" with his entourage – a term he uses jokingly, but it fits given the size of the group – and a protective boot on his surgically repaired right foot.
"Feeling good," he'll tell everyone who asks.
Olsen runs into safety Mike Adams and Hall of Fame quarterback Kurt Warner. Then he takes a seat with Danny Kanell and Raja Bell from CBS Sports Radio.
Again, Olsen talks about the challenge of preparing for the Super Bowl. "If we got a chance to go back again, we'd be much more prepared mentally."
He's asked about quarterback Cam Newton's shoulder surgery and replies, "It sounds like they're confident what they did was what was needed."
Kansas City tight end Travis Kelce is up next, and he greets Olsen as the interview is winding down. Kelce thinks the interview is done, but cameras are still rolling. Oops.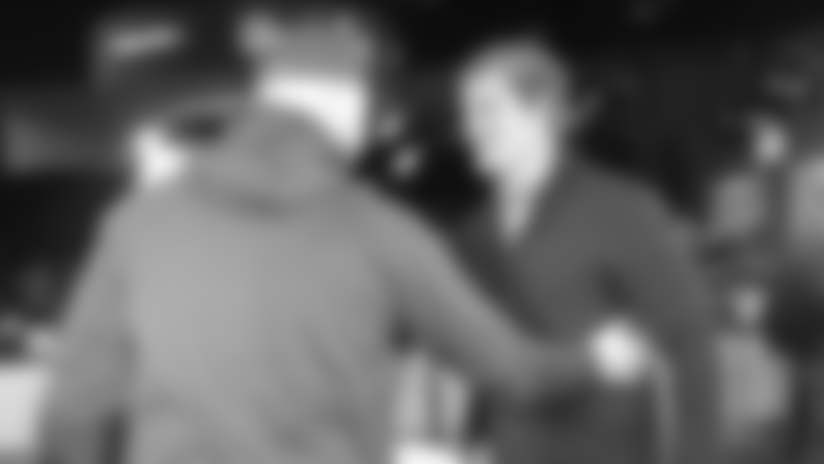 Hunger starts to set in, and a member of the entourage is sent on a Chick-Fil-A run.
"No pickles!" Olsen says with a smile.
After an interview with the Yahoo! Sports podcast, Olsen stops to take a photo with a fan from London.
As he's walking to the next interview, he reaches for his phone and can't find it.
"Do you have my phone?" Olsen asks his agent.
"You have your phone," he replies.
It's in his jacket pocket. Crisis averted.
Olsen is waiting to go on with Joe Thomas and Andrew Hawkins of the "ThomaHawk" show from Uninterrupted.
That's when someone he went to high school with in north Jersey approaches him. She works for Twitter, located in the same booth as the podcast, and Olsen immediately recognizes her and gives her a big hug. She was a cheerleader for the football team that Olsen starred on, and they were close friends.
Her mom sends an old photo which has everyone laughing.
Then Olsen goes on with Thomas and Hawkins and is asked this final question: "Which of your teammates would have fallen for Fyre?"
Olsen pauses and answers: "I think a young me!"
The entourage exits and Olsen shouts: "Can we talk about how good Joe Thomas looks?" The legendary Browns left tackle has lost a ton of weight since retiring. Right on cue the Chick-Fil-A arrives.
Now it's time for an appearance with the Charlotte station, WFNZ. Olsen takes a seat and across the table is none other than former Bears teammate Brian Urlacher.
Olsen lovingly calls Urlacher his "all-time favorite" and heaps praise on the Hall of Famer. Then they talk about the day Olsen found out he was traded to Carolina.
They were together at the time watching the movie "Horrible Bosses" in the theater. Then Olsen got a text from his agent informing him of the looming trade.
"We just sat there for another hour until the movie was over," Olsen recalls.
They laugh about it now, but Urlacher still struggles to comprehend the trade.
"If you can't make Greg fit your system, something is wrong," he says.
Before wrapping up, Olsen is asked about linebacker Thomas Davis' comments that he would welcome the chance to play for the rival Falcons.
"I hope he picks a team we don't play against," Olsen says. "It's tough."
Olsen sits down with SiriusXM Blitz, featuring former quarterback Brady Quinn.
"No one looks as good as you," Olsen quips. "He looked like this when he was 17!"
Olsen and Quinn reminisce about their time together at a high school all-star game (there was a mix-up on a corner route) and when they were together at Notre Dame before Olsen transferred to Miami.
Then comes a discussion about Carolina's 2018 season, and Olsen is brutally honest.
"Worst stretch of football I've ever been a part of," he says of going 7-9 after starting 6-2. "A long year. Been a long two seasons for me. Hopefully better things to come."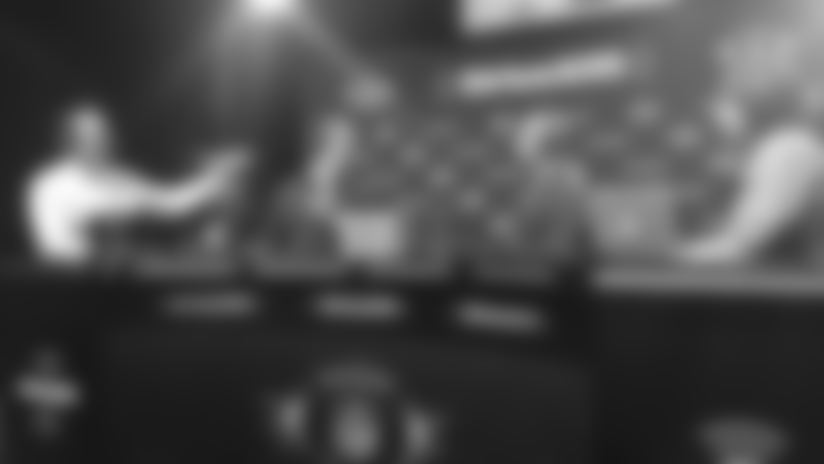 On his way out, Olsen runs into John Clayton, the longtime NFL reporter who was the star of a hilarious "This is SportsCenter" commercial where he's listening to heavy metal in his mom's house.
"Still the best commercial," Olsen tells him.
"Go back to Wayne Hills!" shouts Chris Simms.
It's another walk down memory lane. Simms, hosting the Pro Football Talk show with Mike Florio, played quarterback for Ramapo, the rival high school, and that leads to some good banter.
Olsen then talks about Super Bowl 50, Newton's health and owner David Tepper's mission to modernize the organization.
Before he goes, he implores Florio to stop writing stories about the no-call in New Orleans, and he talks about his future in broadcasting (Olsen will be part of ESPN's Super Bowl pregame show like he was last year).
"There are only a handful of these seats," Olsen says.
We all know there will be one waiting for him.
But now it's off to the next appearance. Incredibly, the day is only halfway done.