When tight end Chris Manhertz called to deliver the good news, both women were instantly in tears.
Sizeable donations were heading their way thanks to the Panthers' Player Impact Committee.
"It drew some emotion out of me knowing that it impacted somebody so much in a positive way," Manhertz said of making those calls. "It's a very empowering feeling."
The Panthers' Player Impact Committee recently convened for an exciting project to benefit the people of the Carolinas.
After the players collected grant funds during the 2018 season, and with team ownership matching the total, the Panthers had more than $300,000 for nonprofit organizations at their disposal.
It was then up to the players to decide where to allocate the funds.
The committee met in late May and zeroed in on the following focus areas: police and community relations, teen pregnancy, literacy, affordable housing, bail reform and re-entry after incarceration.
The players were each presented with a binder packed with info sheets on dozens of charitable organizations. Manhertz, wide receiver Torrey Smith, linebacker Luke Kuechly, defensive tackle Dontari Poe and recently retired legend Julius Peppers participated in the decision-making process and mapped out a plan.
"It was a lot to select from," Manhertz said. "But this group of guys wants to take the initiative when it comes to giving back to the community and helping certain charities. We take a lot of pride in it."
With their selections made, Manhertz got on the phone to personally deliver the news to each organization. Monday afternoon, a group of players dispersed to present checks to eight Charlotte-based organizations and interact more closely with the people working so hard to help our region.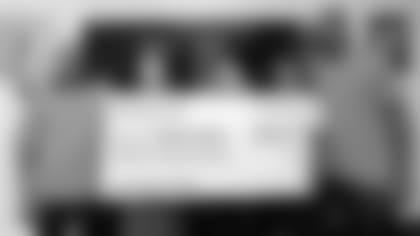 ---
---
The Panthers elected to donate $25,000 to A Better World – one of the largest checks written. The local nonprofit aims to uplift underserved youth by enriching their physical, mental and spiritual development. They utilize small classroom sizes to complement students' schoolwork while also supplying hot meals.
This was Manhertz's first stop Monday.
Executive director Kamilah North answered the phone when Manhertz called on behalf of the Panthers. It was completely out of the blue. And it stirred up some emotions.
"I just think about the kids and the things that they're going through. We can now provide more for them. That was my emotion – I see their faces," North said. "Their home environments may not be the best, they may not have the basic necessities.
"We can now reach more kids and give them the best support that we can with all that we do. Then they can come out to our community and give back, serve and show others the way."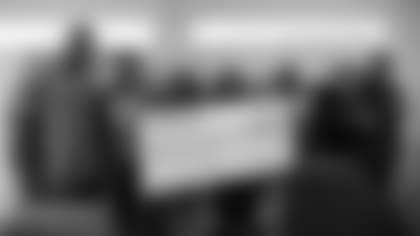 Manhertz then made the short drive to the Beatties Ford Road Vocational Center, an organization that specializes in teaching unemployed men or formerly incarcerated men who are re-entering the community construction trade skills.
Manhertz was greeted by the smiling face of Frances Hall, the founder who also serves as an instructor. Last week, Hall was having a rough day. Then Manhertz called and everything changed.
"We were getting calls from young men who were calling saying they wanted to come to the school. We were trying to figure out, 'How do we do this? How do we continue to finance these young people that are actually showing an interest of getting a trade so they can be on a path and get a career?' I was getting so frustrated," Hall said. "I bowed my head and I said, 'God, please help us. Give us some kind of sign that we are on the right path – that we're doing what you want us to do.'
"Then the call came in and when (Chris) started talking I could barely speak. The tears. It was just, like, joy. We are on the right path and there is someone out there noticing what we're doing."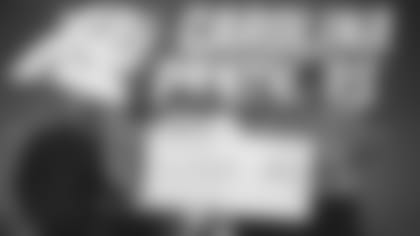 ---
---
On the steps of Bank of America Stadium, wide receiver Torrey Smith addressed the media along with representatives from Cops & Barbers and Project BOLT.
"BOLT stands for 'Building Outstanding Lives Together,'" founder Gemini Boyd said.
Those words encapsulated the day.
"The same way the community supports us on the field," Smith said, "it's our responsibility to support them off the field."
Smith continued: "You can't talk about this day and not mention Colin Kaepernick. I know people kind of want him to go away, but the reality is we wouldn't be standing here if he had never decided to take a knee."
Moments earlier, Smith along with teammates Cam Newton and DJ Moore presented Boyd with a $10,000 check and Cops & Barbers executive director Shaun Corbett with a check for $15,000.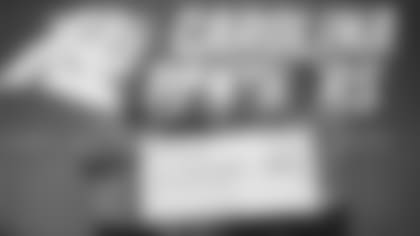 "We're very grateful to the Carolina Panthers," said Corbett, whose organization provides educational opportunities for aspiring young barbers while also fostering relationships between them and police officers in training. "Because working directly in the inner city, these professional athletes have a great impact on their lives. They look up to these guys.
"This is a great thing and a great step forward."
Boyd founded Project BOLT while serving a 20-year sentence in federal prison, aiming to respond to what he was seeing behind bars – an increasingly young prison population.
Last summer when Smith was new to Charlotte and the Panthers, Smith attended a community forum that included Boyd and became interested in his work.
"I'm so grateful that I met Torrey. Ever since I met him, there's been nothing but love and respect from both sides," Boyd said. "He has not been the NFL player; he's been someone that's genuine. He recognizes that we're all humans in this struggle and fight.
"I'd like to thank the Panthers organization for recognizing that I am in the streets trying to fight for everything that's going on, especially to marginalized individuals."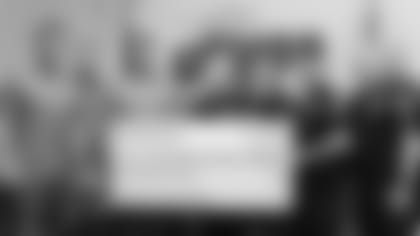 ---
---
With the relationship between police and the public more important than ever, Kuechly represented the player committee and had plenty of company to help him deliver funds to a pair of organizations focused on those relationships.
Christian McCaffrey, Shaq Thompson and Chris Hogan joined Kuechly in presenting $5,000 checks to both Bears Behind the Badge and the Charlotte-Mecklenburg Police Foundation.
"Blown away. Absolutely blown away," CMPD officer Chad Webster said. "We couldn't appreciate it any more."
While the Charlotte-Mecklenburg Police Foundation has worked the past 15 years to provide funding in support of the police force, Bears Behind the Badge is a relative newcomer that is working to help those new to this world. Webster, also a published author of a children's book, reads to elementary school kids while trying to ease the fear that young children sometimes feel around police.
Chrissy Elder, the wife of a former CMPD officer, wanted to do something about that uneasiness so she started a program that bonded the groups by putting stuffed animals in the hands of police officers to deliver to elementary school students. With Webster onboard, the program now also includes reading, with him and other officers getting in front of every classroom in the six elementary schools in their district each school year.
Webster said the Panthers' donation would allow the organization to switch from donated stuffed animals to new bears that will, well, bear the organization's name.
"It started two years ago, and it's done nothing but grow," Webster said. "We have had a lot of amazing turnarounds with kids. When we first get there, some of them are scared, so of them are crying. And then by the end, they're holding onto us and they don't want us to go. That happens in a matter of 30 minutes."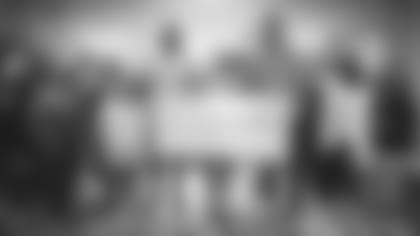 ---
---
Julius Peppers and Dontari Poe made their way to Florence Crittenton Services of North Carolina, whose mission is to empower and equip young girls and women with the resources they need to become self-sufficient.
The organization has programs in place to help pregnant women from underserved counties in the Carolinas and teen mothers who need a nurturing, supportive environment.
"The most important impact is to help them begin to heal from trauma. Most of them are coming from some type of abuse, neglect or poverty," said Sarah Smith Hyde, director of development and public relations. "They have a lot of barriers and challenges they're dealing with.
"We are so grateful. The financial support is one piece, but I think also the recognition and awareness from the Panthers. For us, we're not as big as other nonprofits. But we are impacting lives every day and we're being recognized for that."
The last stop of the day was at the Charlotte-Mecklenburg Police Athletic Activities Leagues, which provides opportunities for youth to foster leadership and citizenship skills.
"There are so many great organizations out there doing the work on the ground," Peppers said. "We want to offer them some assistance. These checks are going to support the programs they already have in place. It's a way for us to serve the community."