CHARLOTTE – "You have to incorporate modern ideas. I just want to make sure analytics are applied… You want to do everything you can to give yourself every edge you can on that field."
Taylor Rajack is now a former Eagles employee. The 27-year-old is the first director of football analytics for the Panthers.
"Because of Mr. Tepper's comments," Rajack said, "Carolina was a target for me."
Before getting into Rajack's new venture with the Panthers, let's review his journey to this point.
Rajack attended the Massachusetts Institute of Technology with the intention of studying engineering before changing course and going the economics route with a focus on data analysis.
"I thought I'd end up finance, but I liked the sports data analysis projects," Rajack said. "I was doing some basketball stuff on the side and really enjoyed that. I saw an internship posting with the Eagles and was with them between my junior and senior year."
After impressing as an intern, Rajack was offered a full-time position with the Eagles upon graduation. He spent five seasons in Philadelphia, reaching the mountaintop when the Eagles won Super Bowl LII and learning how to successfully integrate analytics with an NFL team.
"Working there, we were very well researched in every decision we made. Trying to gain that edge," Rajack said. "We wanted to understand the risks and understand the expectation with any decision to make smarter choices. Why would you ignore information that's out there? It's the idea of bringing all the pieces together.
"In Philadelphia, we became identified as one of the more analytically inclined teams. That paved the way for me to get here and start something new."
Rajack applied for the director job in Carolina when he saw it posted by the search firm Coleman Lew. The Panthers identified him as a top candidate as they searched for someone to lead this soon-to-be implemented analytics department. The process moved quickly, especially with another team expressing interest in his services.
"We were really looking for someone with the ability to communicate effectively," said Rob Rogers, executive director of player finance and football research. "It's one thing to put together the charts and do the analysis, but you have to be able to get your message across and build trust. Taylor's communication skills were immediately apparent and I've seen it in action already."
Rajack got started in Carolina a few weeks ago. Since settling into his office at Bank of America Stadium, his to-do list grows larger and larger by the hour.
So what exactly will Rajack do for the Panthers as he begins building this department?
First, let's review what the organization had in place before Rajack's arrival. The Panthers have had at least one person dedicated to exploring analytics since 2013, so some groundwork has already been laid. Tepper's arrival has led to an acceleration of those efforts, and the analytics department Rajack is building will be more involved in all aspects of the operation.
"We want to be supportive in any way possible and help better the decision-making – integration with respect to helping everyone achieve the best that they can," Rajack said.
The work entails testing theories, studying trends for coaches, reviewing game prep process and game-planning on the personnel side, trade analysis, assessing the contract negotiation space. On the college side, Rajack can help create projections for prospects.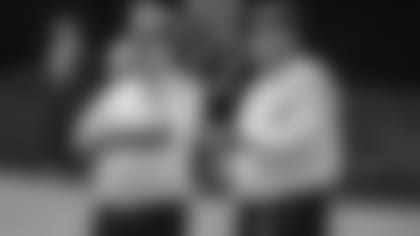 "We have approached building out this area with an eye towards how using analytics can help us improve all aspects of our football processes," general manager Marty Hurney said. "Taylor has already shown himself to be a bright young man, and we look forward to his efforts being a complimentary piece to what we do."
Said head coach Ron Rivera: "The thing I'm learning about Taylor and what he brings to the table is that he has some new ideas and different ways to look at the game. He will fit right in with the conversations we'd already started regarding game management and game situations, and he is going to help us as we go forward."
As a trailblazer of sorts when it comes to this new era of emphasis for analytics in the Panthers organization, Rajack didn't know how exactly his skill set would be received.
He quickly learned that he's viewed as a welcome asset.
"It's blown my mind," Rajack said. "From Day One, Marty has included me in conversations. He's had me sit in on meetings, he's invited me to attend pro scouting meetings that are going to happen. It's just been entire openness.
"With Ron, we've already had several meetings with him to get this going. It's all been incredibly positive. They all recognize that it's a tool to help them. I'm just here to be in a support role and hopefully find some way to contribute to the decision-making process."
They all share a common goal. And if there is an edge to be had, Rajack wants to help the Panthers utilize it.
"If we think it's going to improve the team – short term or long term – or improve our chances of winning," Rajack said, "then we're going to pursue it."