This first picture above was one of my favorite images captured this year, and in my photography career thus far.
Week 1, before the Panthers faced the Raiders, a bunch of guys got together in the locker room for a moment of prayer. With all they had been through in the previous months — not knowing whether or not there was going to be a season, and having family and friends affected by COVID-19 — this was a time for the team to come together and pray, not only as a group of football players but as a family.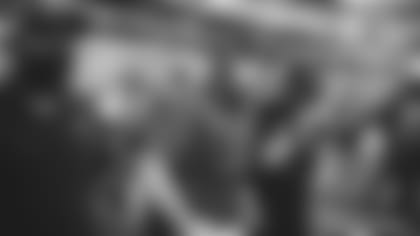 After back-to-back losses in Weeks 1 and 2, the season was off to a rough start. Many naysayers believed the Panthers were in store for another rough season, but the players and coaching staff kept faith in the system that Matt Rhule was trying to implement.
During the Week 3 visit to the Los Angeles Chargers, the defense showed up big and helped earn Rhule his first win as an NFL head coach. As the clock struck triple zero, I sprinted over to Rhule to capture his reaction. Due to COVID-19 restrictions, I wasn't allowed in the locker room post-game, but this image captured an unforgettable moment for Rhule.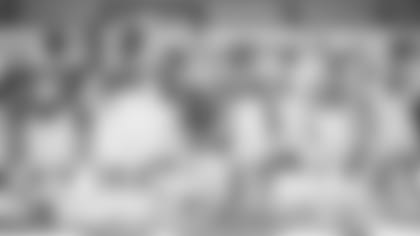 Most of 2020 was a rough year, not only because of COVID, but also due to social injustices that we continued to face in our country. Many teams displayed acts of protest during the national anthem. Members of the Panthers decided to take a knee and raise fists of power to show their support to social justice movements such as Black Lives Matter. Even though this was not the first, this was definitely one of the most powerful on-field forms of protest that I've captured in my years as a photographer.
Players such as safety Tre Boston and linebacker Shaq Thompson were extremely vocal in the offseason, speaking out on the issues. They were at the forefront of protests that took over Charlotte's streets and used their platform as professional athletes to shed light on the injustices that many people of color face in our country.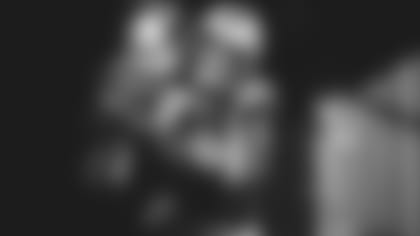 In my two years at the Panthers, I've documented the friendship between wide receivers Curtis Samuel and DJ Moore. Both on and off the field, they display a brotherly love for one another and are as tight as two teammates can be. With Samuel a pending free agent, many assume the young, talented wideout could go to another team in the offseason. In this moment, I captured the two wide receiver brothers embracing each other for what may have been the last time as teammates. Only time will tell if this dynamic duo will remain.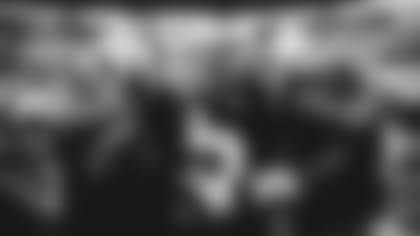 Faith, Family, and Football — that was the story of the 2020 season. This frame captured what encapsulated those three words. Quarterback P.J. Walker holding the football perfectly centered in the frame as the quarterbacks and offensive line huddled up, embracing each other in a moment of prayer. This spoke to the football season in its entirety. Faith was a huge driving force in a season of uncertainty both on and off the field. Every day these band of Brothers looked out for one another, doing the right things to make sure they kept each other safe both in the building and at home.