That's the word defensive tackle Gerald McCoy used to describe Carolina's defensive performance against Tom Brady and the Patriots last week in the third preseason game.
Upon hearing about McCoy's remarks, head coach Ron Rivera ran with that same word to describe the defense thus far.
"But honestly, solid is not going to get it," McCoy said. "Solid will get you 8-8. That's not the goal. We're trying to win a Super Bowl. We got to be a lot better."
Fortunately, it's still August. No team is a finished product at this point in the year. The Panthers defense, as talented as it might be, needs time.
"It is a work in progress," Rivera said.
Rivera, who will call plays for the defense, feels good about the way the players have adapted to the 3-4 scheme. He feels good about the capabilities on all three levels.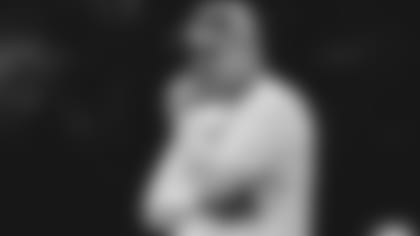 ---
---
But there are several new pieces playing crucial roles – McCoy starting at defensive end, Bruce Irvin starting at outside linebacker and Tre Boston starting at safety.
And new pieces take time to adjust.
"You can't just be like, 'OK, we got all these good names, let's put them all together and everything will just click,'" Irvin said. "It don't work like that. It just takes time to jell.
"You can't fast forward through that. It's something you can't force. It happens when you play with guys and get used to their tendencies -- knowing when a guy is going to go under, knowing when a corner is going to jump a route."
The jelling is beginning to take place, though. The unspoken communication – Rivera can see it. And he's heard it from members of the defense.
"When he does this, I know I can do that – that's what you're looking for," Rivera said. "When you develop that feel for each other … it's like watching Shaq (Thompson) and Luke (Kuechly). You see those guys and the way they talk and play off one another, that's what you're looking for with all 11 guys."
Kuechly and Thompson have played alongside each other for the past four seasons. They've established a rapport.
McCoy, Irvin and Boston, all free agent signings in 2019, are looking to do the same at their positions.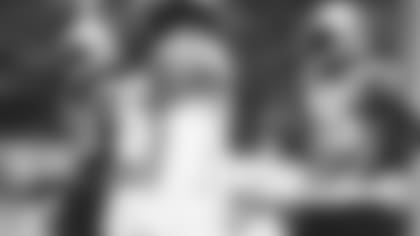 ---
---
"You definitely need reps," said Boston, who signed with the team midway through training camp. "Me and (fellow safety) E. Reid love to talk to each other each play because we might see things differently. We want to know how we're both seeing it. We want to get to a point where we don't even have to talk.
"Right now we have to talk everything out. But if you can eliminate a second of talking and focus more on playing the game inside the game knowing what the offense is doing, that can help us out a little more. But it does take time. That takes trust and you have to build that."
McCoy spent the first nine years of his career with Tampa Bay, but he grew accustomed to change as new coaches came in with new ideas. And with the Bucs, he always had a full offseason to get acclimated.
He didn't have that luxury this time. Once he decided to sign with Carolina, McCoy was only able to get three spring practices under his belt before the long break leading up to training camp.
"I'm still getting used to how things are done here because I'm so used to it being different," McCoy said. "I've had to make a lot of adjustments with what I'm used to."
The six-time Pro Bowler mentioned a specific moment against New England where he second-guessed himself and missed out on the chance to make a play.
"There was an opportunity early in the game on Thursday that we didn't take advantage of that I've been seeing for seven years now, easily. I see it every time. And I didn't because I was worried about what we do here opposed to what I've done in the past," McCoy said.
"Great thing about being a vet and doing this long enough, I can fix it. Just seeing it once, it's fixed. It won't happen again."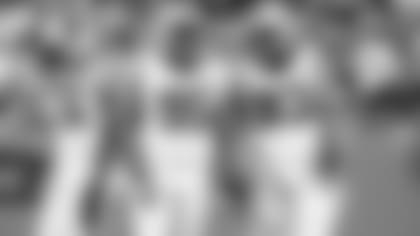 ---
---
It's all part of the process. Making mistakes and learning from them; trusting that everyone is on the same page.
And in Rivera's view, what separates a truly great defense from a solid one is the players' ability to instinctively know how their teammates will react to what they see.
That's what this summer has largely been about for Carolina's new-look defense.
"Until Eric (Reid) and Tre (Boston) know, without having to say a word, what's coming; when Bruce (Irvin) and Gerald (McCoy) and KK (Short) can communicate without really saying anything, then you feel like you're in the flow and you're better than solid," Rivera said, "then you've taken that next step."
Of course every team wants to play flawless football in Week 1, but that's not really how it works. Preseason reps are scant for the starters, and teams end up figuring themselves out a bit in the first few weeks of the regular season.
"Yeah, you want to be your best when the season starts, but the best teams get better as they go," Boston said.
"I'll say by about Week 3 or Week 4 you'll start seeing dudes playing off each other and more fluid communication," Irvin added.
The sooner the better. And this experienced group is confident it's only a matter of time.
"We are a group of veterans, so we've all seen it before," Boston said. "Now how can we see it together? We are building that glue, building that bond."