BUFFALO – The best throw of Thursday's preseason opener was obvious to everyone except the guy who threw it.
"Gosh," quarterback Garrett Gilbert said when asked to name the night's best toss, "I don't know."
Gilbert's 26-yard yard touchdown pass to wide receiver Mose Frazier was the definition of precise. Gilbert stood tall in the pocket and delivered the ball perfectly over Frazier's shoulder, leaving Bills cornerback Taron Johnson with no chance in the front corner of the end zone.
"I couldn't have put it there without the route," Gilbert said. "(Mose) did a heck of a job and the line did a good job of protecting. They gave me enough time to give him a chance to make a play."
In the ongoing competition to be Cam Newton's backup, that dime of a throw will only help Gilbert's cause. Maybe his humility will, too. At any rate, he had a solid night overall, completing 7-of-12 passes for 93 yards while leading the second unit.
But Taylor Heinicke, the other signal-caller vying for the backup job, was solid in his own right. After Gilbert checked out of the game, Heinicke completed 7-of-9 passes for 121 yards and a touchdown for a passer rating of 155.8. He also ran twice for 14 yards.
Heinicke's touchdown strike wasn't as impressive – running back Elijah Hood was almost five yards away from the defender in coverage after he burst out of the backfield – but the 21-yard connection did showcase Heinicke's ability to read the defense and learn from a mistake.
"It's funny because we just got the same look in practice. I actually passed up on him and it would have been an easy touchdown," Heinicke said. "I'm glad that came up and it was pretty much the same look today."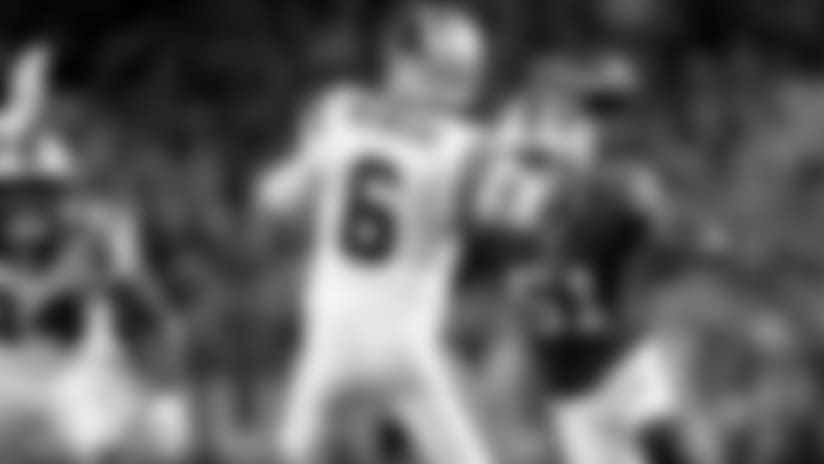 Both Heinicke and Gilbert admitted they got off to slow starts, and that's expected in the preseason opener.
It's an entirely different game once the red practice jerseys come off.
"You saw what happened when we were able to get in a little bit of a rhythm offensively… Even getting hit once or twice is nice," Gilbert said. "You have to start to feel the game again."
Heinicke sure felt it when he launched a deep ball to rookie wide receiver DJ Moore in the third quarter. Bills linebacker Julian Stanford leveled him in the pocket, but Moore was able to locate the ball and adjust to it for a 32-yard gain.
"Haven't gotten hit like that in a while," Heinicke said. "When you're on the ground and then glance up and see your guy caught the ball, it always feels better."
With veteran Derek Anderson no longer around, head coach Ron Rivera has been hoping to see Gilbert or Heinicke grab hold of the backup job, and the preseason games serve as the true test.
Thursday night was encouraging for both.
"Once they settled in, you saw a little bit better pinpoint passing, you saw some good mix of running and throwing," Rivera said. "I thought the play calling was excellent and was very diverse. We really utilized the different formations and personnel sets that we have. Both of them threw some nice touch passes when they had to.
"Both guys played well, both guys did some really nice things."