Panthers Television and Radio | Carolina Panthers - Panthers.com

Panthers Television
The Carolina Panthers Television Network provides fans with extensive coverage of the team throughout the year. The Carolina Panthers Television Network extends into every major television market in the Carolinas.
Preseason Television
Fans can watch Panthers preseason games that are not nationally televised on the Carolina Panthers Television Network. New in 2021, play-by-play announcer Taylor Zarzour will be joined by Panthers legend Steve Smith Sr. in the booth.
Preseason games will be aired over the air on the stations listed above as well as on Panthers.com and the Panthers app for free within the region's coverage area.
Panthers Huddle
If you want the inside line on the Carolina Panthers, then step into the huddle, The Panthers Huddle - a weekly show that focuses on the Panthers upcoming opponent and highlights the players' on and off the field adventures. Head coach Matt Rhule appears every week on The Panthers Huddle and gives fans exclusive insights on what they will see on the field on Sunday. From the locker room to the sideline, right into the huddle, The Panthers Huddle is the only place for diehard Panthers fans to get the latest on their favorite team.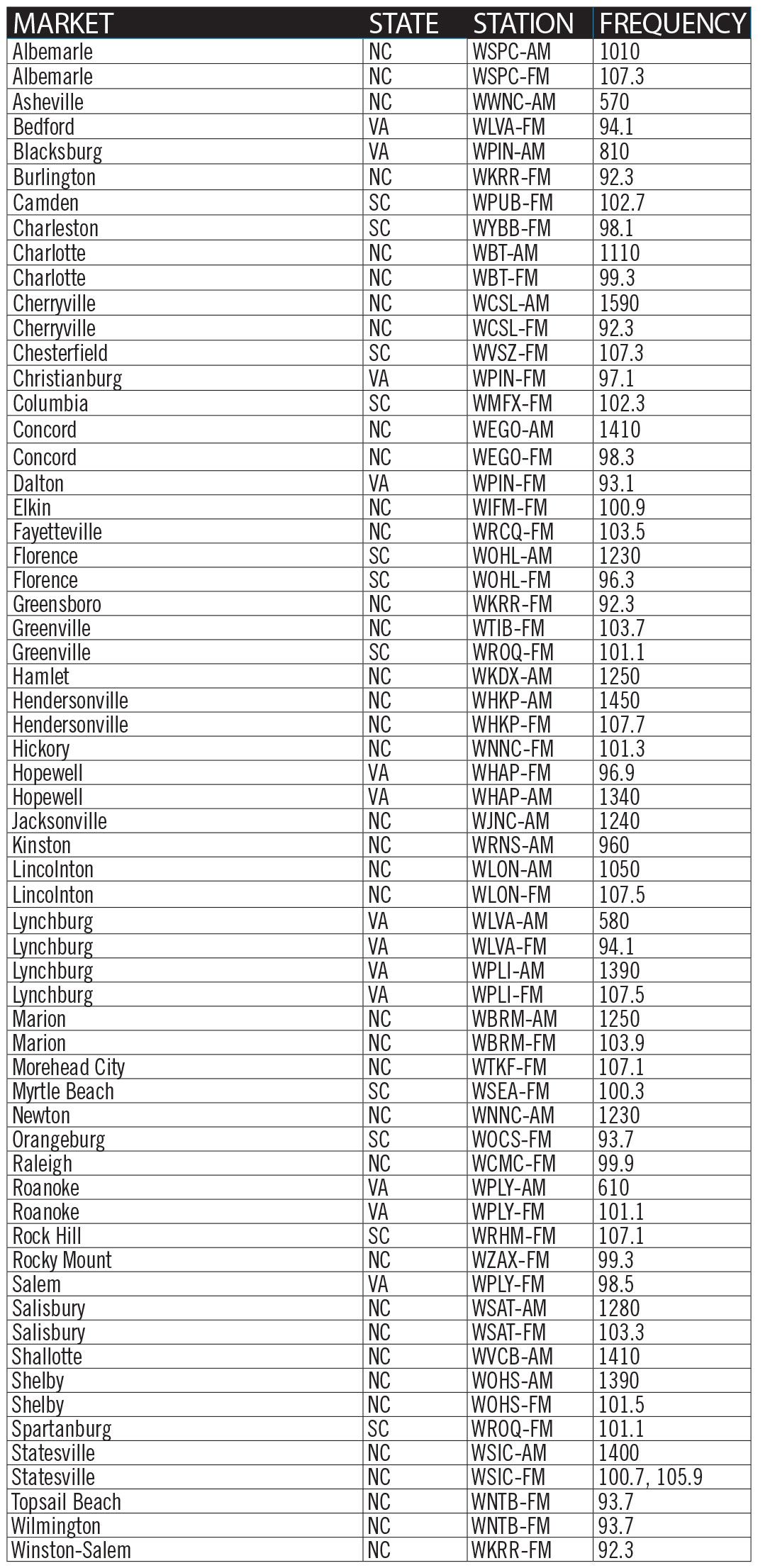 Panthers Radio
Listen to extensive game day programming, Panthers Updates, Panther Talk and much more on the Carolina Panthers Radio Network. The Panthers can be heard throughout the Carolinas on flagship station WBT 1110 AM and on the Carolina Panthers Radio Network.
Game Day Coverage
Seven hours of game day coverage, all coordinated by executive producer David Langton, begin three hours before kickoff on WBT 1110 AM/99.3 FM with the Panthers Stadium Show. Hosted by Jim Szoke, the pregame show provides a comprehensive preview and analysis of the Panthers and the day's game. Szoke then joins broadcasters Mick Mixon, the play-by-play voice of the Panthers, and analysts Jake Delhomme and Jordan Gross for pregame, in-game and postgame coverage that concludes with two hours of wrap up reaction and analysis after every game.
Listen to Game Day Radio (desktop) | Listen to Game Day Radio (app)
Panther Talk
Join your Panthers radio team for interviews with head coach Matt Rhule and other special guests from the Panthers and around the league every Monday night from 6:00-7:00 pm (Tuesday if the Panthers play on Monday night).
Panther Talk can be heard on the Panthers Radio Network or Panthers.com.