INDIANAPOLIS — Panthers general manager Scott Fitterer on Wednesday made it clear that the team has a pair of priorities this offseason, and they're familiar ones.
Fitterer spent most of his time at his Scouting Combine media availability discussing the clear need to upgrade the offensive line, as well as finding a long-term solution at quarterback.
The quarterback question is complicated, for multiple reasons.
The Panthers are on the hook for $18.9 million guaranteed after picking up Sam Darnold's fifth-year option last offseason, at a time when they were hopeful he'd develop into the version of himself we saw in the first four games of the 2021 season. But after Christian McCaffrey's injury, Darnold struggled, and then was injured in midseason.
"I'd say Sam would be the first to tell you he didn't play as consistent as he needed to last year," Fitterer said. "There were a lot of different factors in that, including the offensive line, injuries with Christian. But he does need to take that next step.
"We need stability at the quarterback position, whether that is Sam or somebody else. Somebody needs to take hold of that position and own that. Right now, it's open. If Sam does it, that'd be great. But it's open."
Of course, the Panthers have been working on this for a few years, since signing, then parting ways with Teddy Bridgewater after a year, and then bringing in Darnold last season. That creates a natural pressure for the Panthers to get it as right as they can as soon as they can, but Fitterer said you can't move out of desperation, either.
"You don't ever want to force a quarterback decision," he said. "But we're going to be aggressive about it and look at every single option out there. You can't just sit to the back and let things happen. we're going to explore every option, and if it makes sense, we're going to do it, and we're going to be aggressive about it."
He also acknowledged the pressure that comes with that need for an aggressive move.
"Winning can't happen fast enough around here," Fitterer said. "There is urgency, and there's an opportunity this year, and as long as we make good decisions one after another and keep tracking and building in the right way, it'll happen. I know for Mr. Tepper and Nicole (Tepper), it can't happen fast enough, or for myself or for (head coach Matt Rhule).
"I get the frustration from the fan base. We need to push it. That's our responsibility. We need to put a product on the field that can win, and so that's our emphasis, and I would love for it to be this year."
The Panthers also have to address the elephant in the room that is quarterback Cam Newton, who is an unrestricted free agent. He played well in a limited role in his comeback game against the Cardinals, and then the following week against Washington. After that, he struggled to pass the ball effectively, and he sat in favor of Darnold the final two weeks of the season.
Fitterer said bringing back Newton remains a possibility at some level, but they didn't want to say too much before sitting down face-to-face with the former No. 1 overall pick, which is what they said they'd do when they met with him in November at owner David Tepper's home. That next meeting will happen before the start of free agency on March 16.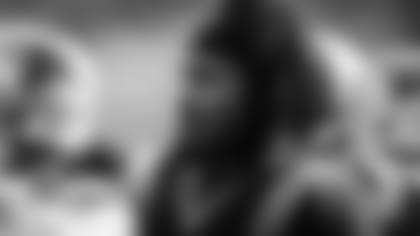 "We're still open to Cam," Fitterer said. "But again, we want to have that conversation with him directly."
Regardless of the options, the reality in the NFL is that you either have a quarterback capable of taking you far in the playoffs, or you're looking for one. And it's clear they're still looking.
"It's definitely nice when you have one," Fitterer said. "You can sleep better at night. It's not like you can't win a Super Bowl with a good starting quarterback. You don't need to have the elite guy. And I think you've seen that over time. But you need to surround them with players that can compensate for maybe some of their weaknesses – maybe some receivers or running back or an offensive line where you can protect him more.
"I think it's great to have stars. And these elite quarterbacks, they're fun to watch. But I think there's ways you can go about if you don't have one, compensating for that. It is harder. Everyone wants that No. 1 guy. I'd love to have that, but we'll see where that goes."
Needing to find a long-term answer at left tackle (which the Panthers haven't enjoyed since Jordan Gross retired after the 2013 season) would also help, which creates a choice when it comes to the draft. Deciding between a rookie quarterback like Pittsburgh's Kenny Pickett or Liberty's Malik Willis has to be balanced against dipping into a deep group of cornerstone tackles.
"It's going to be best available," Fitterer said of the choice with the sixth overall pick. "We went into this offseason with an emphasis on the offensive line. We see a lot of different options through free agency and through the draft, how we can address the offensive line, as well as quarterback.
"The biggest thing we want to do is have options at pick 6. Do we move back? Do we stay there and pick a franchise-type player? Is it the quarterback? Is it the offensive lineman? That'll come into focus. We feel like there'll be a really good player there."