Junior TopCats | Carolina Panthers - Panthers.com
Junior TopCats Summer Camps
Junior TopCats Summer Camps
Allow your future TopCat to join the Carolina Panthers Cheerleaders for engaging, fun-filled cheerleading and dance camps this summer. These high-energy camps offer the opportunity to learn routines, as well as dance and cheer technique from one of the premier dance and cheer squads in the NFL.
For 2019, the Carolina Panthers and TopCats Cheerleaders are excited to offer two camps hosted at Bank of America Stadium, as well as a three-day camp on-site at Panthers Training Camp. All participants must be between the ages of 6 and 14 by the first day of the camp(s) in which they are participating.
Each participant will be assigned a TopCat mentor for the entirety of the camp and will receive individual attention throughout. TopCats will instruct cheer and dance techniques, lead exercises in team spirit and teach dance routines.
2019 Camp Dates
Week 1 | June 24-28 | 8:30 am-12:30 pm | Bank of America Stadium, Charlotte, N.C.
Week 2 | July 8-12 | 8:30 am-12:30 pm | Bank of America Stadium, Charlotte, N.C.
3-day camp | July 23-25 | 8:30 am-12:30 pm | Wofford College, Spartanburg, S.C.
All three juniors' camps will be invited to partake in the Training Camp Kickoff Show! This opportunity will require attendance to Camp 3 on July 25 (same day as Kickoff Performance) for review and field formations. This opportunity is not required, but an added bonus in living the full TopCats experience.
Program Includes
Camps 1 and 2 include five (5) days of dance and cheer instruction. Camp 3 includes three (3) days of dance and cheer instruction with a final performance at the Panthers Training Camp Kickoff Party
T-Shirt
Poms
Group picture
Pictures and autographs with members of the TopCats
Snacks and beverages each day
Positive motivational environment
Pricing
Camp 1 | June 24-28 = $200
Camp 2 | July 8-12 = $200
Camp 3 | July 23-25 = $150
Junior TopCats Fall and Winter Clinic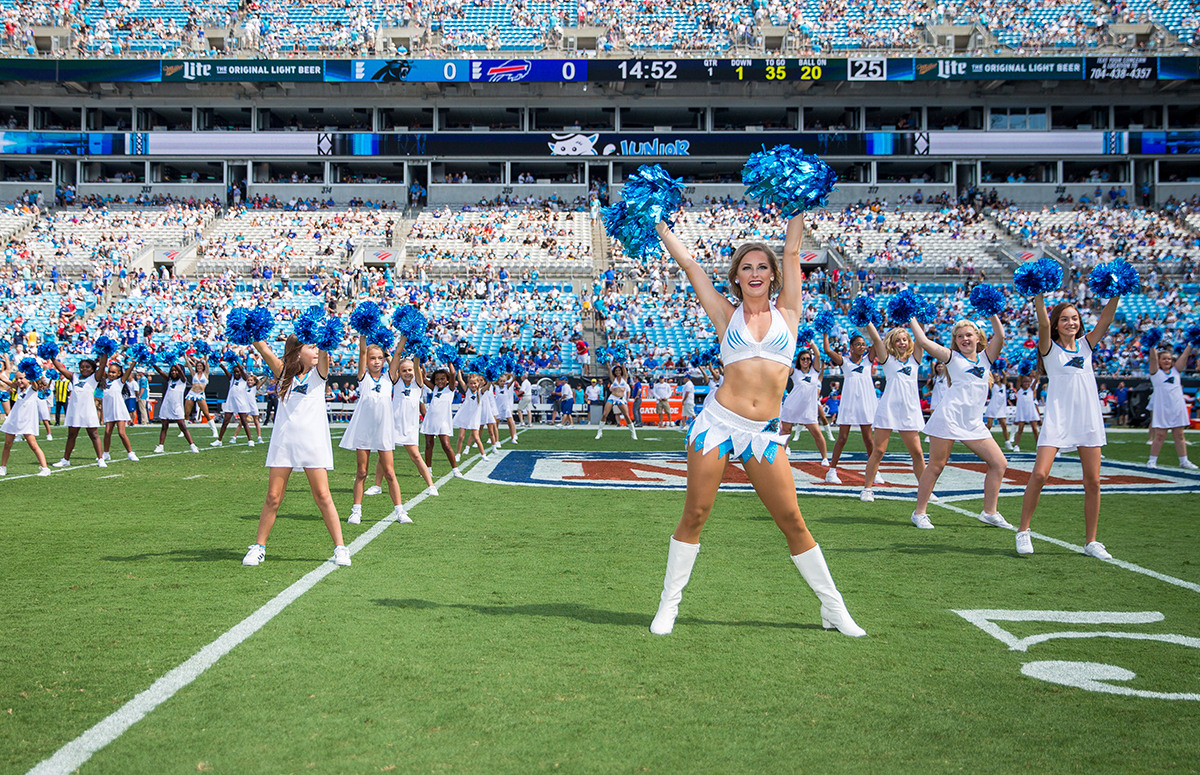 Junior TopCats Fall and Winter Clinic