This Day in Panthers History | Carolina Panthers - Panthers.com
This Day in Panthers History
June 19, 2001 - Steve Smith signs rookie contract
Wide receiver Steve Smith, the Panthers third-round choice in the 2001 NFL Draft, signs his rookie contract. Smith would lead the NFC and rank second in the NFL with a 25.6-yard kickoff return average in 2001 and be the only rookie selected to the 2001 Pro Bowl. He would play 13 seasons Carolina and ranks as the team's all-time leader with 836 catches, 12,197 receiving yards and 67 receiving touchdowns.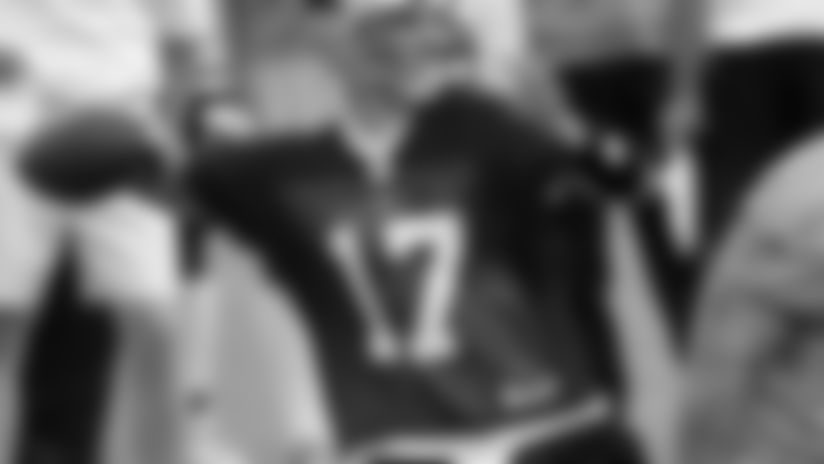 June 17, 2004 - Jake Delhomme signs contract extension
Quarterback Jake Delhomme signs a five-year contract extension just one year after joining the Panthers as an unrestricted free agent. In his first season as a starting quarterback in the NFL in 2003, Delhomme led Carolina to the NFC South title while throwing for 3,219 yards and 19 touchdowns and engineering seven game-winning drives. In the playoffs, he helped the Panthers win the NFC Championship and ended the postseason with a 106.1 quarterback rating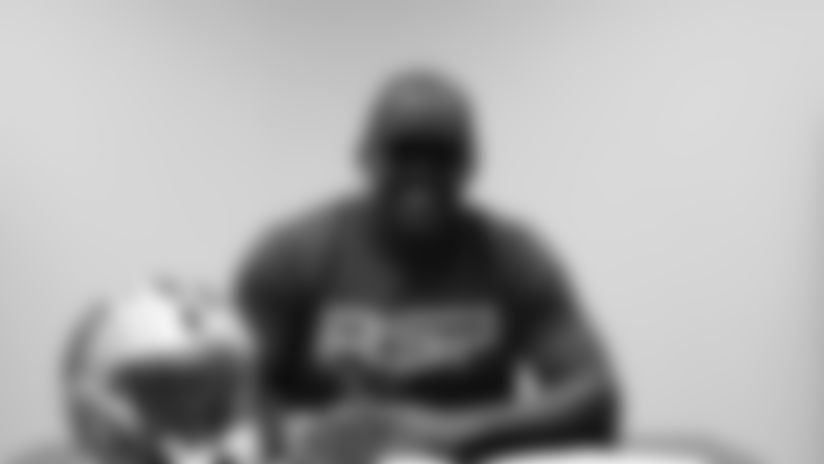 June 15, 2015 - Thomas Davis signs contract extension
Linebacker Thomas Davis signs a two-year contract extension through the 2017 season. Since 2012 when he became the first known player to successfully come back from three anterior cruciate ligament surgeries on the same (right) knee, Davis has been one of the best outside linebackers in the NFL, posting at least 100 tackles each season in 2012, 2013 and 2014. His resurgence comes after he missed most of the 2009, 2010 and 2011 seasons.
June 14, 2004 - Mark Fields returns to practice
Linebacker Mark Fields practices for the first time since being diagnosed with Hodgkin's disease during training camp the previous August. He lines up at strongside linebacker with the first team during the Panthers summer school sessions at the team's practice facility at Bank of America Stadium.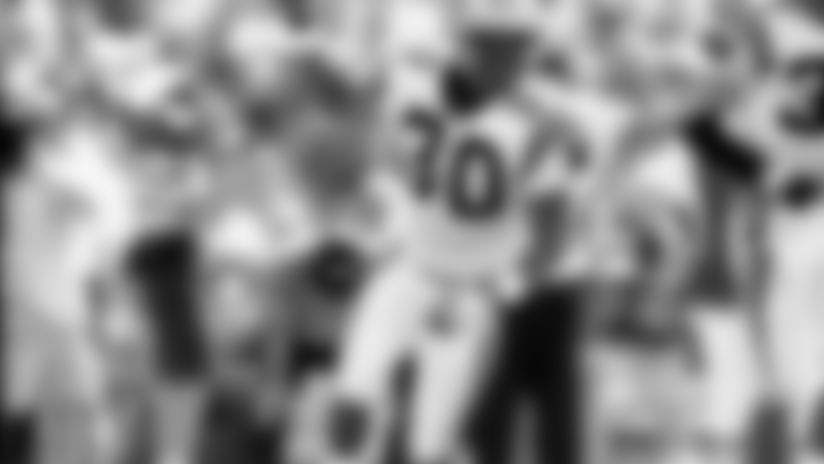 June 12, 1997 - Panthers sign draft-choice Mike Minter
Panthers sign 1997 second-round draft choice (56th overall) Mike Minter. The safety from Nebraska would play in 148 games with 141 starts in 10 seasons from 1997-2006. He ranks third in team history with 953 tackles, fourth with 17 interceptions, first with 421 interception return yards, second with four interception returns for touchdowns and tied for first with 11 fumble recoveries.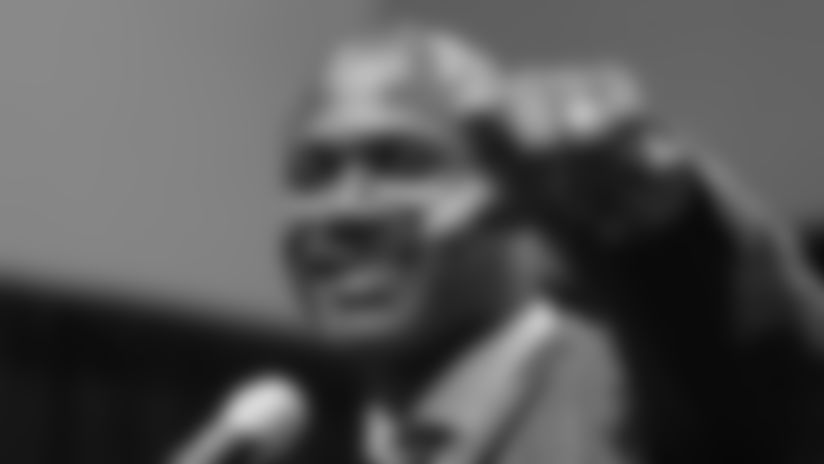 June 10, 2010 - Muhsin Muhammad retires
Wide receiver Muhsin Muhammad retires following a 14-year NFL career. A second-round draft choice in 1996, Muhammad spent the first nine years of his career with the Panthers and then three with the Chicago Bears before returning to Carolina in 2008 for his final two seasons. He ranks second in team history with 696 catches, 9,255 receiving yards, 50 receiving touchdowns and 27 100-yard receiving games and holds the team record for the most receiving touchdowns in a season with 16 in 2004.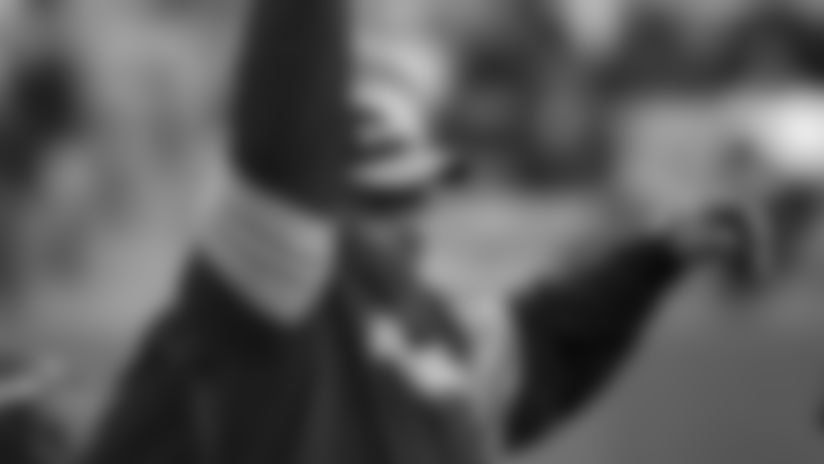 June 9, 2004 - Sam Mills receives George S. Halas Award
Linebackers coach Sam Mills wins the George S. Halas Award from the Pro Football Writers of America. The award goes to a player or coach who performs his duties at a high level despite injuries or personal difficulties off the field. Mills was diagnosed with cancer of the small intestine in August 2003. While receiving chemotherapy and radiation treatments, he continued to help coach the linebackers as the Panthers reached the Super Bowl.
June 6, 2016 - Ryan Kalil signs contract extension
Center Ryan Kalil signs a two-year contract extension that will keep him with the Panthers through the 2018 season. He was set to be an unrestricted free agent after the 2016 season. Selected in the second round (59th overall) of the 2007 NFL Draft by Carolina, Kalil has been named to the Pro Bowl five times and earned AP All-Pro first-team honors in 2013 and 2015 and AP All-Pro second-team recognition in 2011.
June 5, 2019 - S.C. Governor Henry McMaster signs Professional Sports Team Incentive Act
S.C. Gov. Henry McMaster ceremoniously signs the Professional Sports Team Incentive Act of 2019, which will provide a $115 million tax break for the Panthers to move their headquarters to South Carolina, at a pep rally at Fountain Park in Rock Hill, South Carolina. Owner David Tepper says, "This is going to be a showcase down here. We're going to bring people down to the region. We'll have just a sense of excellence, not only up there for the football team, but everything we do down here in Rock Hill, South Carolina."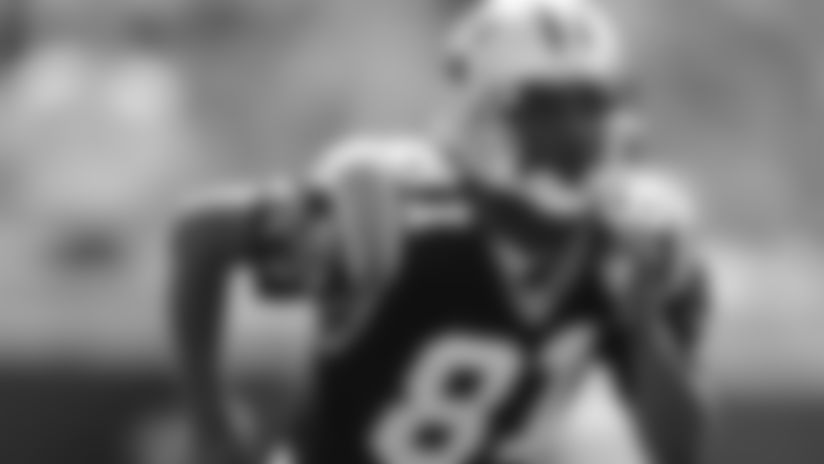 June 2, 1998 - Panthers re-sign WR Raghib 'Rocket' Ismail
Panthers re-sign wide receiver Raghib "Rocket" Ismail. He would lead the team with 69 catches, 1,024 receiving yards and 8 touchdowns in 1998 to become the team's second-ever 1,000-yard receiver.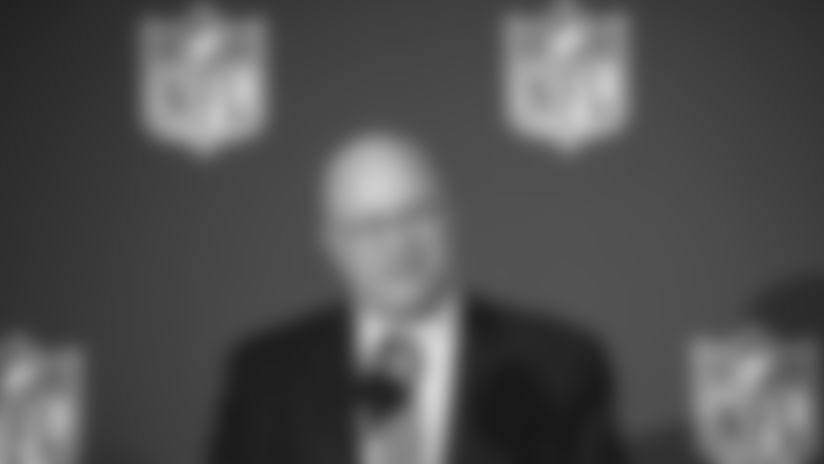 May 22, 2018 - NFL owners to approve David Tepper as owner
NFL owners vote unanimously to approve David Tepper as the new owner of the Panthers at league meetings at The Whitley Hotel in Atlanta. At his first press conference Tepper says, "If I'm moving someplace and we're doing this in Carolina, the first thing I care about is winning. The second thing I care about is winning. And the third thing I care about is…you guys are smart. That's on and off the field. That includes the charity aspect, the community aspect and how we make a community better. You win in a lot of ways, and I don't like to lose in any way."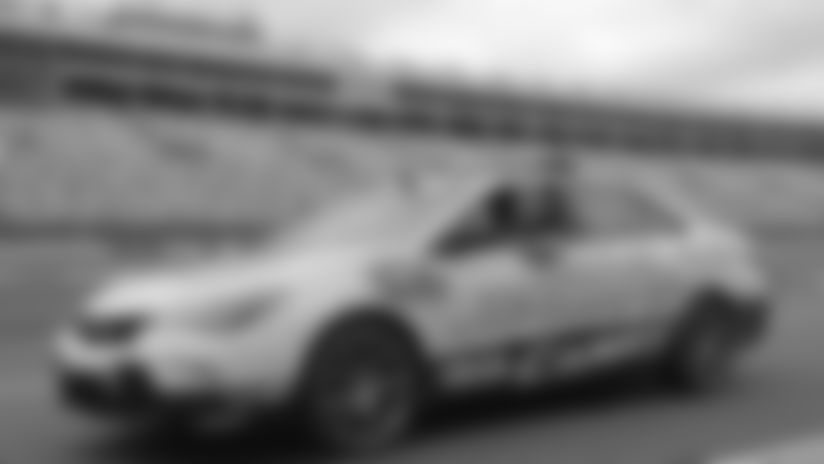 May 21, 2016 - Greg Olsen drives pace car
Tight end Greg Olsen drives the pace car before NASCAR's Sprint All-Star Race at Charlotte Motor Speedway.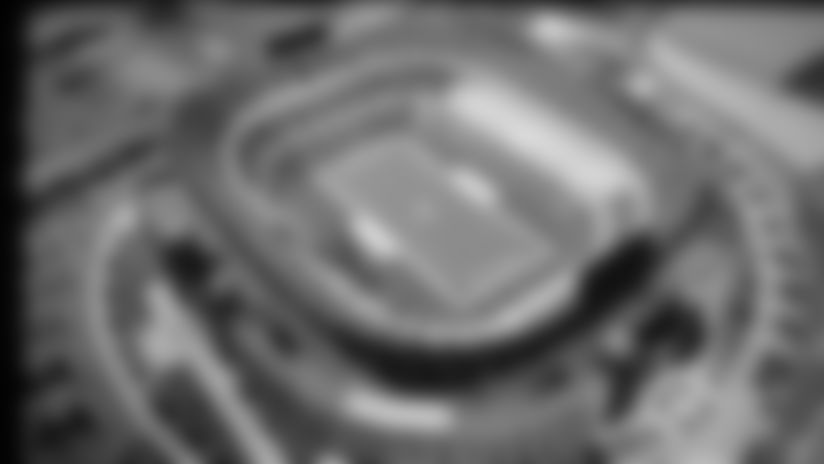 May 20, 1993 - Panthers reveal stadium renderings
Jerry Richardson unveils a model and renderings of a royal blue, silver and black, 72,300-seat stadium that would be home to an NFL expansion team for the Carolinas.
May 19, 2005 - Panthers trade for Jason Baker
Panthers acquire punter Jason Baker and a 2006 seventh-round draft choice (237th overall) in a trade with the Denver Broncos in exchange for punter Todd Sauerbrun. Baker would play seven seasons for the Panthers from 2005-2011 and ranks first in team history with 570 punts, 25,064 gross punting yards and 169 punts inside the 20.
May 13, 2015 - Braylon Beam gets surprise visit
Braylon Beam, a 6-year old boy from Denver, North Carolina, battling brain cancer, gets a surprise from head coach Ron Rivera and quarterback Cam Newton while on "The Ellen DeGeneres Show." Rivera invites Beam to be the "Keep Pounding" drummer during a 2015 home game, and Newton sends him a Panthers gift basket with an autographed helmet and personalized jersey.
May 10, 2013 - Panthers sign 12 undrafted free agents
Panthers sign 12 undrafted rookie free agents including cornerback Melvin White from Louisiana-Lafayette. White would start the final 10 games of the season and pick off a pass by quarterback Matt Ryan and return it 8 yards for a touchdown in the Panthers 21-20 NFC South division-clinching win over the Atlanta Falcons at the Georgia Dome (12/29/13).
May 8, 2013 - John Kasay retires as a Panther
Kicker John Kasay signs a one-day contract and retires as a Panther. Kasay played 16 of his 21 NFL seasons with the Panthers from 1995-2010 and was one of the first two unrestricted free agents ever signed by the team. He ranks first in team history with 221 games played, 1,482 points scored, 429 extra points, 438 extra point attempts, 351 field goals and 424 field goal attempts.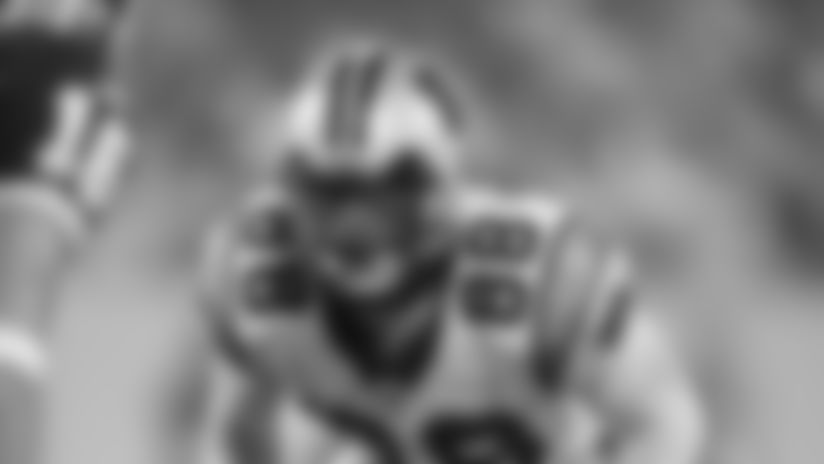 May 7, 2001 - Panthers re-sign Karl Hankton
After tendering restricted free agent Karl Hankton in March, Panthers sign the backup wide receiver and special teams standout to a four-year contract. He ranks as the team's all-time leader with 94 special teams tackles and was elected as Carolina's special teams captain five times in seven seasons from 2000-2006.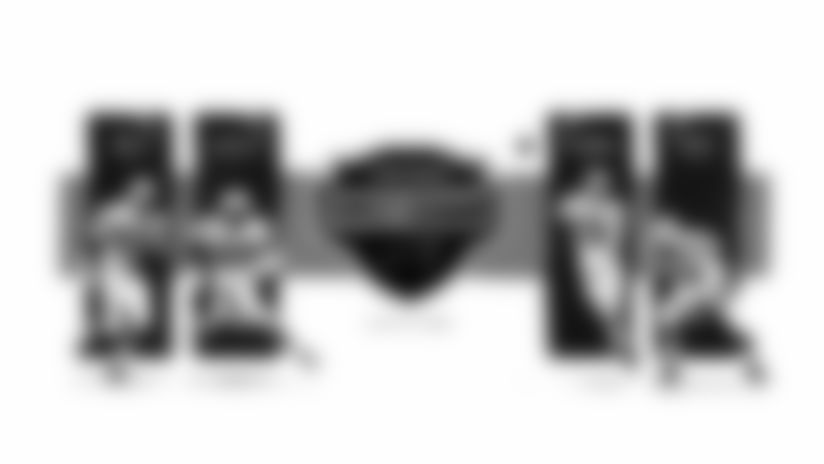 May 6, 2019 - Panthers announce plans to expand Hall of Honor
Owner David Tepper announces plans to induct four players – quarterback Jake Delhomme, offensive tackle Jordan Gross, wide receiver Steve Smith Sr., and tight end Wesley Walls – into the Panthers Hall of Honor during the 2019 season. They will be the first additions to the Hall of Honor since 2004. Previous inductees are former team president Mike McCormack in 1997, linebacker Sam Mills in 1998 and the team's PSL Owners in 2004.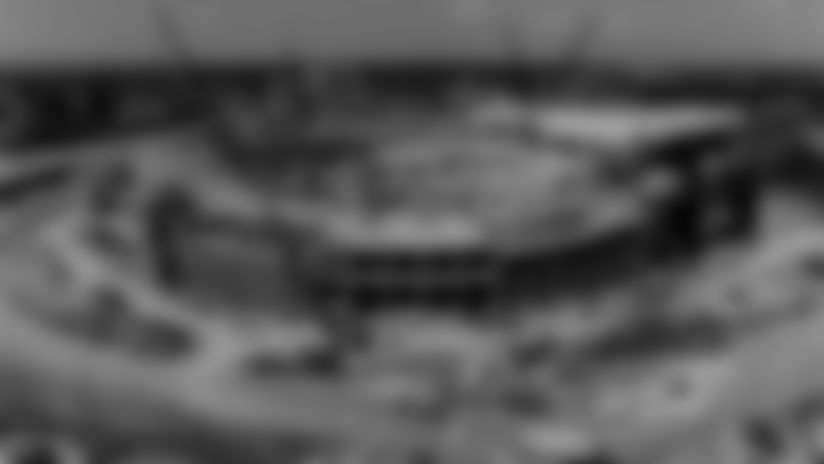 May 5, 1995 - Panthers stadium holds topping out ceremony
Carolinas Stadium Corp hosts topping out ceremonies at the stadium, recognizing that construction has reached its highest point.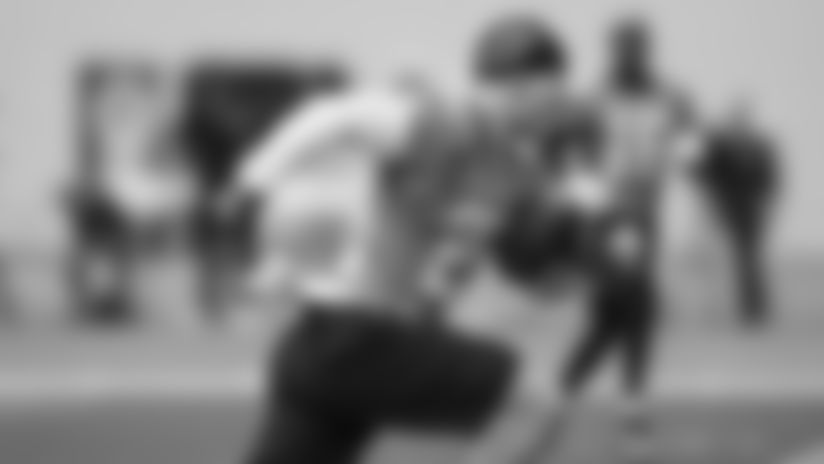 May 4, 2017 - Christian McCaffrey signs his rookie deal
Running back Christian McCaffrey becomes the first first-round draft choice from the 2017 NFL Draft to sign his rookie deal. McCaffrey, selected eighth overall, signs a four-year contract with a fifth-year team option on the eve of the Panthers two-day rookie minicamp.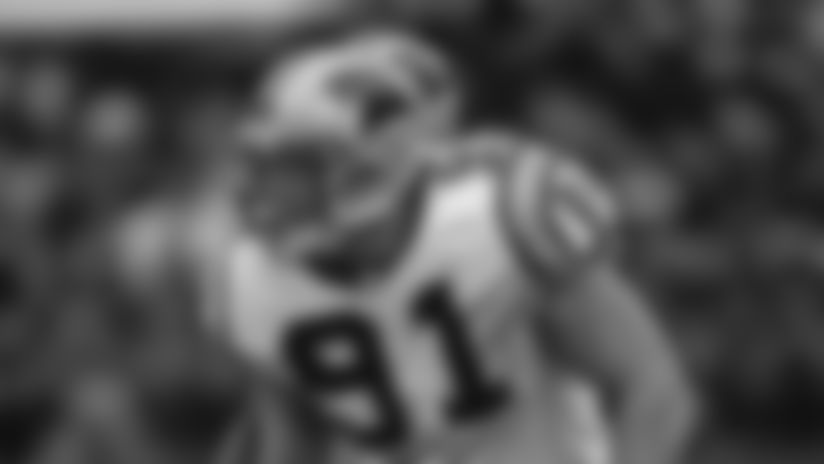 May 3, 1996 - Panthers agree to terms with Kevin Greene
Panthers agree to terms with unrestricted free agent linebacker Kevin Greene from the Pittsburgh Steelers. Greene would lead the NFL with 14.5 sacks, still the third-highest total in team history, to earn Pro Bowl honors and team with linebacker Lamar Lathon to form the tandem nicknamed "Salt and Pepper" that would help the Panthers set at team record with 60 sacks.
May 1, 2019 - First annual Keep Pounding Day
Panthers staff and volunteers complete 25 service projects in the areas of beautification, education, hunger relief and youth health and wellness in communities across North and South Carolina on Keep Pounding Day. The date, 5-1, honors the late Panthers player and coach Sam Mills, who wore number 51 and coined the term "Keep Pounding" during an emotional halftime speech during the 2003 postseason. The 25 projects were symbolic of the team's 25th season in 2019.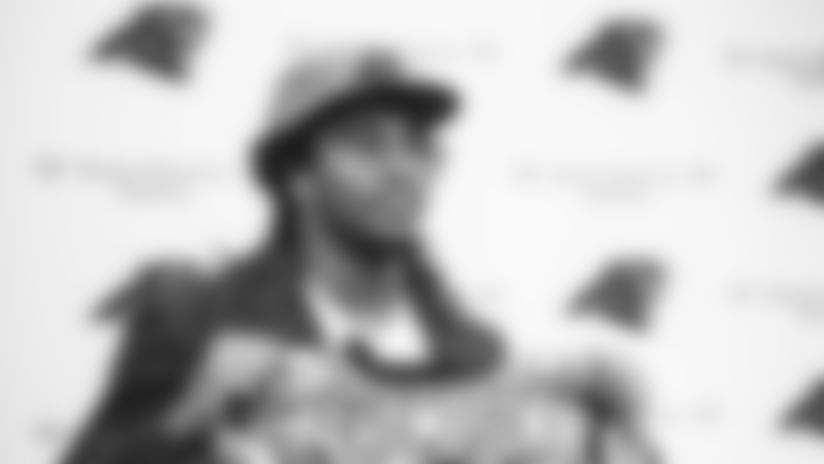 April 30, 2015 - Panthers draft Shaq Thompson in first round
Panthers select linebacker Shaq Thompson from Washington in the first round (25th overall) of the 2015 NFL Draft at the Auditorium Theatre at Roosevelt University in Chicago. This is the first time the draft is held outside of New York City since 1964 when it also took place in Chicago. As a rookie, Thompson would play in 14 games with 10 starts at strongside linebacker and record 61 tackles. He would also start all three postseason games, including Super Bowl 50.
April 29, 2006 - Panthers draft DeAngelo Williams in first round
Panthers select running back DeAngelo Williams from Memphis in the first round (27th overall) of the 2006 NFL Draft at Radio City Music Hall in New York. He would play in 117 games with 82 starts in nine seasons from 2006-2014. Williams ranks first in team history with 18 100-yard rushing games, second with 6,846 rushing yards and 1,432 rushing attempts and third with 46 rushing touchdowns. He set team records with 1,515 rushing yards and 15 rushing touchdowns in 2008 when he earned AP All-Pro second-team honors.