The Panthers visit the Texans at NRG Stadium on Sunday for a Week 4 matchup. Here are five things to watch.
Can Kyle Allen do it again?
It's the biggest question on everyone's minds. With franchise quarterback Cam Newton ruled out for another week, backup Kyle Allen will be under center once again, but can he replicate last week's success?
There's no denying Allen lit it up in Arizona, going 19-for-26 for 261 yards and four touchdowns while posting a QB rating of 144.4. But the truth is, as magical as those numbers are, they came against a less than stellar Cardinals defense that's third-worst in total yards allowed (444.3) and fourth-worst in points allowed (29.3).
Not to take anything away from Allen's incredible performance, but he'll need to put a few more wins on his resume before he's handed the keys to the city. This week in Houston is his first chance to prove his 2019 debut wasn't a fluke.
Allen will be facing not only a tougher defense, but as Texans head coach Bill O'Brien said earlier this week, a defense whose schemes Allen has yet to see. Houston is tied for sixth in the league in sacks (10) and ranks sixth in QB hits (22), so Allen will have his work cut out for him.
But wide receiver Jarius Wright has a message for those still holding out on Allen or diminishing his performance against a "lesser" defense.
"The first thing I would say is there's a reason you're not in the NFL," Wright said of the doubters. "If anybody could do this, everybody would be doing it."
"It don't matter who you're playing, it's hard to do this stuff against air. We're just going to keep showing you every week that Kyle can be a guy in this league."
Containing Deshaun Watson
Under center on the other side is a player who should be very familiar to fans in the Carolinas: Clemson legend Deshaun Watson.
And he's on a roll. Last week Watson took home AFC Offensive Player of the Week after the Texans victory over the Chargers. On the season, Watson is 61-for-93 for 778 yards, six touchdowns and only one interception. He's also added 63 yards and two touchdowns on the ground.
Similar to Kyler Murray last week, Watson is known for his mobility and ability to extend plays by escaping pressure. That means another week of the front seven working to contain the pocket and lengthy coverage snaps for the secondary.
"You've just got to stick with your assignments," cornerback Donte Jackson said of facing Watson. "We know he's a guy who can extend plays and he can actually throw the ball while he's extending plays. You've just got to lock on your assignment and know that the play can take a little bit longer to end with a quarterback like him."
Where Watson differs from other mobile quarterbacks is his size. At 6-2 and 220 pounds, Watson poses a unique blend of speed and strength.
"Those are the guys that are the scariest," linebacker Luke Kuechly said. "The guys that can beat you in the pocket and the guys that can also beat you running around."
"He's big and strong, he's real strong, and that's one of his biggest attributes. He's willing to get hit, I don't think he minds getting hit. I watched a couple games and he got smacked a few times and he just gets right up and shakes it off."
When Watson is able to stay upright, he's proven himself to be one of the league's most dangerous quarterbacks. However, the whole staying upright thing is another challenge. We'll get to that.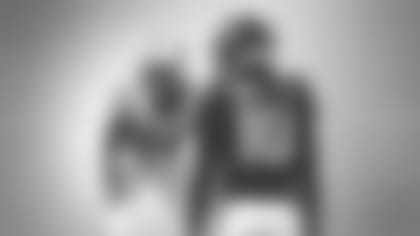 The "Nuk" Hopkins problem
It seems like every week James Bradberry is matched up against one of the best wide receivers in the league, but that's just the life of a No. 1 cornerback – particularly in the NFC South. The receiver lined up across from Bradberry this week may be less familiar, but certainly no less dangerous.
Houston's DeAndre Hopkins is widely considered one of, if not the best, wide receivers in the NFL, and it's no secret the Texans offense runs through No. 10. Houston always wants Hopkins heavily involved, and since entering the league in 2013, he has the third-most targets of all receivers (192). So far this season, Hopkins has totaled 19 receptions for 218 yards and two touchdowns. He's been targeted 28 times already, 11 more than the next closest Texan, wide receiver Will Fuller.
So what is it that makes Hopkins so effective?
"He's got strong hands, physical receiver, very competitive, all around great receiver," Bradberry said. "Even when the catch is contested, he usually comes down with it."
But Bradberry isn't intimidated going against a guy with a track record like Hopkins. Instead, he sees it as another opportunity to prove he belongs in the top tier of cornerbacks in the league.
"I'm a football player, I'm a natural competitor. Anytime I get to go against one of the top guys in the league, it kind of gives you a little fire," Bradberry said. "It's a team game, but you can only control what you can do. At the end of the day I just want to get the respect from my peers."
Sunday will be the perfect opportunity for him to do just that.
Another opportunity for the defense to dominate
It's not easy to top an eight-sack performance.
Coming off one of the best pass rushing efforts in franchise history, the Panthers will be looking for similar results against the Texans. But defensive tackle Gerald McCoy emphasized the team can't dwell on its past success.
"We threw that away. That's gone, it don't exist no more," McCoy said. "We started worrying about Houston. What people have done in the past, we let everybody outside the building talk about. It's a week-to-week league."
This week, the defense will have plenty of opportunities to get after Watson – a quarterback known for taking a beating. This season the Texans have given up 12 sacks (5th most) and allowed 21 QB hits (T-7th). Houston starts two rookies on the offensive line: left guard Max Scharping and right tackle Tytus Howard. The Panthers will get a boost from the debut of defensive end Bruce Irvin, who missed the first three games of the season with a hamstring injury.
After a game like last week, numbers like that have defensive end Brian Burns itching to get to game day.
"I'm going to lick my chops about any opportunity to get after a quarterback, but with him being sacked that many times… I mean, shoot," Burns said. "That's another opportunity for us to go make some numbers and really take this defense to a new level."
The Texans made a big move just before the start of the season to sure up their offensive line, bringing in left tackle Laremy Tunsil just before Week 1 via a trade with Miami – a move that head coach Ron Rivera thinks will pay dividends for the team.
"I can tell you right now, their offensive line with a guy like that, with a physical presence at left tackle, it's really helped them," Rivera said of Tunsil. "They've got a good offensive line."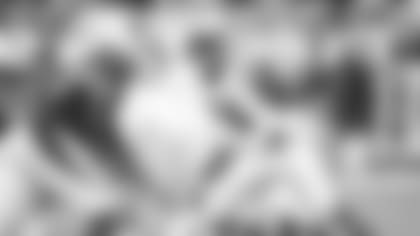 The status of Carolina's O-line
On the flip side, one of the biggest question marks heading into Sunday's matchup with the Texans will be the Panthers' offensive line.
Last week saw the introduction of rookie left tackle Greg Little as he rotated with Daryl Williams, but after right guard Trai Turner went down with an ankle injury, the line up became jumbled. Williams, who had been playing left tackle, shifted not only from left side to right side, but from outside to inside at right guard. That ability to adapt is something Rivera looks for in his players.
"Position flexibility is huge, and you know I've always talked about that. I think that's important, and not just on the offensive line, but other positions on this football team," Rivera said. "You've got to be able to have guys you can plug into another position and just keep going. You can't afford to miss a beat."
Before this season, Williams previously started at right tackle, so making the transition back to that side of the line shouldn't be too big an issue for him.
"He is a right-handed guy, that's kind of where he made his bones as a player in this league," Rivera said. "It's one of those things, until we have everybody set and rolling and where we need them to be, we have to have guys that are flexible."
It'll be interesting to see how the makeshift O-line handles Houston's beasts like star defensive end J.J. Watt and linebacker Whitney Mercilus, who leads the team with four sacks. The Texans are coming off their best pass-rushing performance of the season, sacking Chargers quarterback Philip Rivers five times and recording 12 QB hits in their 27-20 victory.
"They're very, very athletic. They're fast, they're physical," offensive coordinator Norv Turner said. "They've got a good scheme. They give you a lot of different looks. They've expanded what they're doing and they've got a good pressure package. We just have to, when we can, stay one step ahead, because they are going to create some negative plays."
Carolina is 3-2 all-time against the Texans.