The Panthers visit the undefeated 49ers on Sunday for Carolina's toughest test yet. Here are five things to watch in the Week 8 NFC battle.
The battle in the trenches
Head coach Ron Rivera said it best: "Everything's going to start up front, and that's just the way it is. This is going to be a physical, point of attack game."
That's because this week will pit Panthers star running back Christian McCaffrey against one of the league's best defenses. The 49ers' defense ranks second in the NFL in total yards allowed per game (223.5).
A large part of San Fran's defensive dominance stems from the team's defensive line, which includes an impressive five first-round picks. With depth like that, it's easy to see why the defense ranks second in points allowed per game (10.7) and fifth in total sacks (20). Defensive end Dee Ford leads the group with 4.5 sacks, followed closely by rookie defensive end Nick Bosa with four sacks.
The 49ers defense will pose a huge challenge for the Panthers O-line – a unit that's slowly making its way back to 100 percent. If this week's practices were any indicator, veteran right guard Trai Turner should be back in action for the Panthers on Sunday. With Turner returning to his spot at right guard, that frees up the Panthers to mix and match as they see fit along the offensive line, as Daryl Williams and rookie Dennis Daley have each seen time at left tackle.
Can the Panthers sustain drives?
With a defense as suffocating as the 49ers, more often than not opposing offenses get stuffed on first and second down, pinning them behind the sticks and forcing long third downs. As a result, most of the 49ers opponents have had trouble sustaining drives, or even getting them started in the first place. San Francisco has forced three-and-outs on 31.3 percent of drives, ranking 2nd in the league. For comparison, the Panthers defense, which already seems dominant enough, has forced three-and-outs on 22.8 percent of drives (7th).
"It's going to be tough picking up long third downs. That's going to be a challenge. We've got to keep ourselves out of third-and-8, 10-plus," tight end Greg Olsen said. "That's kind of a staple of their defense right now, getting off the field. The last couple teams that have played them have barely cracked 50 plays, lot of that has to do with three-and-outs, not staying on the field maintaining drives."
The 49ers D has done an excellent job getting off the field this season, averaging a league low 55.6 defensive plays per game. With that in mind, the Panthers offense knows it will have to not only sustain drives, but capitalize on any scoring opportunities, because they're sure to be few and far between.
"They're playing with a lot of confidence right now. They've got a lot of things rolling and understandably so," Olsen said. "Arguably, at least statistically, the top defense in the league in a lot of categories, so we've got our work cut out for us, but looking forward to the challenge."
As overwhelming as the Panthers defense has been, tallying up sacks and interceptions left and right, there are definitely a few weaknesses. For a unit that led the NFL in pass defense just a few weeks ago, things have changed dramatically.
The Panthers D has given up 774 passing yards in its last two outings. One of the unit's most vulnerable areas has been the middle of the field – a location the 49ers offense excels in thanks to Pro Bowl tight end George Kittle.
Kittle has proven to be quarterback Jimmy Garoppolo's favorite target through the 49ers first six games, recording team highs in both receptions (34) and receiving yards (376).
"They feature him as a single receiver, he aligns in the core, they move him around frequently on first and second down," defensive coordinator Eric Washington said. "He's a moving target and he has exceptional receiving skills. He'll be a tough matchup for us. We just have to be aware of where he is as it pertains to the part of the game plan where he's featured."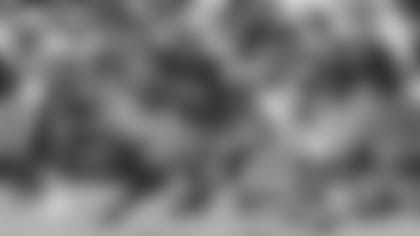 A new threat at wideout for the 49ers
Kittle isn't the only big threat San Francisco's offense possesses. Midway through the Panthers preparation for the 49ers, they added a new element to consider. On Tuesday, the 49ers traded two draft picks to the Broncos in exchange for wide receiver Emmanuel Sanders.
So far this season Sanders has hauled in 30 receptions for 367 yards and two touchdowns, but Washington said the wideout will be a better match on his new team.
"He really fits with what they like to do," Washington said. "There were some things in Denver that are very similar to what the 49ers are doing relative to the passing game. We'll prepare for their overall scheme and we're also aware of his explosive potential and the kind of player he is when he gets the ball in his hands."
As big of a threat as Sanders may be, Washington said his presence didn't force the defense to adjust its game plan. Instead, it's just a matter of figuring out what role the new receiver will play.
"He's a fantastic player, an explosive receiver, a guy that's been highly productive for a long time," Washington said. "I've looked at him, I'm aware of what he can do, and how I believe he fits into their overall scheme."
Eric Reid faces his former team
If road trips to Arizona and Houston were Kyle Allen's homecoming games, then this weekend's visit to San Francisco can be seen as safety Eric Reid's. Only the feelings aren't as warm and fuzzy as they were for Allen.
"Bitter?" Reid said. "I wouldn't call it bitter. I just don't forget."
After five seasons with the 49ers, the franchise decided not to resign Reid. That decision, combined with the organization's treatment of Reid's close friend and teammate Colin Kaepernick, made for a messy split between the safety and his former team.
"I remember they changed my position in my contract year," Reid said. "I remember they released NaVorro Bowman, who led the league in tackles the year before and asked me to play his position. That'll be on my mind when I get there."
Reid agreed to the position change because he was told it was "what's best for the team," although he said he believed keeping the NFL's leading tackler on the roster would have been better for the team.
"I'll definitely say hey to some guys, but they know what it is when the whistle starts. They know, maybe better than the guys here, what kind of player I am, so I'll be ready, and I know they will be too."
View photos from past games between the Carolina Panthers and San Francisco 49ers. Carolina holds a 13-8 edge in the all-time series.