Like in Week 1, rookie wide receiver DJ Moore didn't play as much against the Falcons as many would hope for a first-round draft pick.
With 2:30 left, Moore had returned two punts, one kickoff and was still without his first NFL reception.
Then he caught one. And kept going.
"Once I got the ball I knew I had to beat one defender, well two, because I knew someone was coming from behind," Moore said. "After I caught it I just tried to make somebody miss and turn on the jets and go score."
Moore's 51-yard touchdown highlighted why the Panthers were so enamored with him in the pre-draft process. Most of those yards came after the catch. Or more specifically, after he stiff-armed linebacker Duke Riley to the turf at the 30-yard line.
That score and a three-and-out by the defense gave the Panthers life. Down seven, they had one final shot from the Atlanta 31. As time expired, quarterback Cam Newton targeted Moore.
"I'm just trying to get somebody an opportunity to make a play," Newton said. "From what I did see before I got hit, that was as close of a one-on-one as anybody had as I surveyed the field. I just tried to give him a chance."
It's not like the ball hit Moore in the hands. It was actually his right arm and then left hand while he tried to fight off two defenders. But it was a chance.
"It was up there for a minute and I knew the linebacker was in front of me. He kind of dropped it and I had to go underneath him to try and catch the ball. I just tried to reel it in," Moore said.
"I had a good shot at it. It just came down so fast through his arms. I couldn't react fast enough. It's real frustrating. You want to make that play for the team."
Much of why Moore may be seeing limited snaps right now is the Panthers have asked him to learn all three receiver positions. Because that takes time, veterans like Torrey Smith and Jarius Wright have a better grasp of the offense. But after the late spark Moore provided Sunday, perhaps he'll soon start seeing more opportunities to make plays.
2) Going too fast at times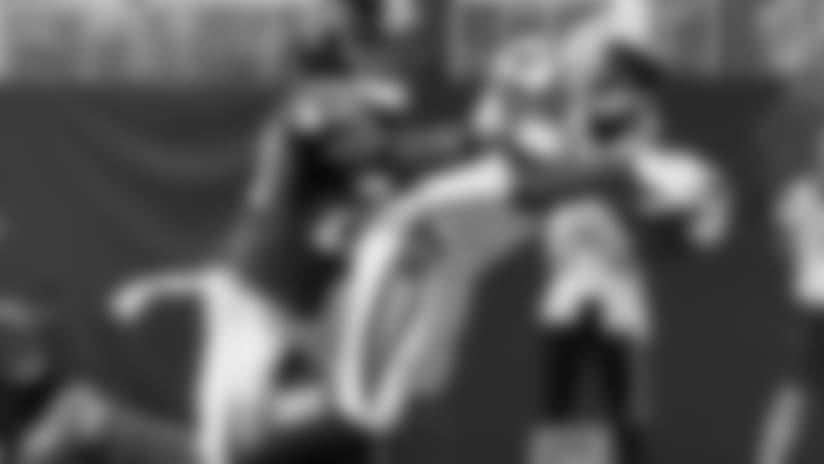 Of the seven penalties called against the Panthers, four were for false starts. Two of those were by wideout Torrey Smith.
"When you're watching the ball and you see somebody else flinch, it's always kind of hard. But that's still not an excuse," said Smith, who came into the game with 10 false starts in his eight-year career. "I'm supposed to move when the ball moves regardless of what else happens. That's unacceptable."
The Panthers traded for Smith this offseason with hopes that his speed could help stretch the field. But through his first seven quarters in Carolina, his only catch was a 15-yarder against the Cowboys. He eventually got untracked in the fourth quarter Sunday, drawing a pass interference penalty on a drive that ended with Smith snagging a 3-yard bullet from Newton in the end zone.
"You just want to make plays. And everything was near misses, near misses, near misses," said Smith, who finished with 33 yards on three receptions. "To be able to come down with it on something we've been practicing for a while was pretty cool, but ultimately it doesn't matter. We came up short."
After years of trying to get Newton to take "layups," it's clear he's gotten the message from new offensive coordinator Norv Turner. Through two games, Newton's completion percentage is an even 69 percent, putting him on pace to shatter his career best of 61.7 in 2013.
It helps when you have a weapon like Christian McCaffrey, who Newton used early and often while completing a career-high 32 passes against the Falcons. Fourteen of those went to McCaffrey - 14 catches on 15 targets. That's remarkable efficiency.
Of course, it's not ideal if Newton overcorrects into Check-Down Cam. While McCaffrey tied Steve Smith's franchise record for most receptions in a game, Smith's 14-catch performance against the Bears in 2005 came with a 12.1 average. McCaffrey's average Sunday was 7.3.
Before the Falcons dropped into a zone in the fourth quarter, Newton and Co. had yet to complete a pass of 20-plus yards in 2018. A banged-up offensive line has made the task tougher, and perhaps Curtis Samuel can help when he returns, but the Panthers have to find a way to get vertical more often to really reap the rewards of Newton's newfound efficiency.
4) Clark in "a candy store"
While the Panthers were opening their season with a win over the Cowboys, Chris Clark was on his couch.
"I was sitting there watching it with my wife and kids and I said, 'It's time for me to go. I can't do this,'" said Clark, Sunday's starter at left tackle. "That's how I knew I've still got juice and ready to play."
For someone who was watching football seven days earlier, Clark played exceptionally well. And for someone who hadn't been on an NFL roster since November, that he played the entire game was an accomplishment in itself. Oh, and then there was the not-so-insignificant matter of spending just two practices with his new team.
"I honestly wouldn't even know how to describe it to someone who doesn't play football," left guard Greg Van Roten said when asked how much Clark had to cram the past few days. "Just because we spend all of OTAs, minicamp, training camp and preseason familiarizing ourselves with an offense and a system and getting used to playing with each other.
"So for a guy to show up Wednesday during practice and then play in the game Sunday and play the whole game on the road – it's not easy to do. I don't know many people who have ever done that, and I thought he did a really good job today."
A veteran of nine seasons and 106 games, Clark at least had a decent foundation to build on this week. Still, it was a long way from his couch.
"I'm like a kid in a candy store all over again," he said. "I'm disappointed about the loss, but being able to get back there with the camaraderie of this brotherhood, it is serious. It's an honor to be here and play with these guys."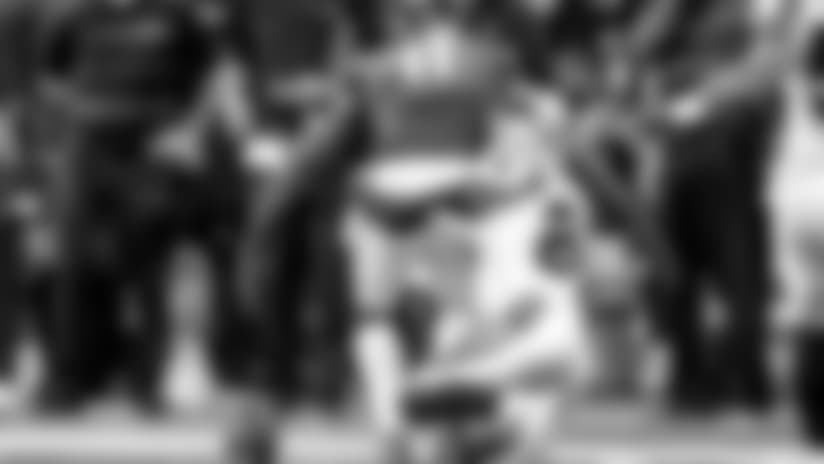 If you blinked, you might have missed it – actual emotion from cornerback James Bradberry.
It happened late in the first quarter when Bradberry hovered over Julio Jones to force an incompletion.
"That was my goal going into the game was start off strong. That PBU kind of built some confidence in me, and the emotion showed," said the soft-spoken Bradberry, whose mini-celebration really only featured him shooting out his arms to make an "incompletion" signal.
But once again, Bradberry more than held his own against the wideout many consider to be the league's best.
Jones' final line: five receptions, 64 yards and no touchdowns.
"Julio had his catches here and there, but that's going to happen with a great receiver," Bradberry said. "Overall I think I did pretty good."
Since Jones' 300-yard explosion in 2016, a game Bradberry left early after injuring his toe, Jones has been relatively quiet against the Panthers. His line in his last four meetings while being covered mostly by Bradberry: 20 receptions, 322 yards and no touchdowns.
"We held down their guy for the most part. (Bradberry) did a great job," safety Mike Adams said. "We gave him a challenge, and he stood up to that challenge. Respect to him. He deserves a lot of credit today."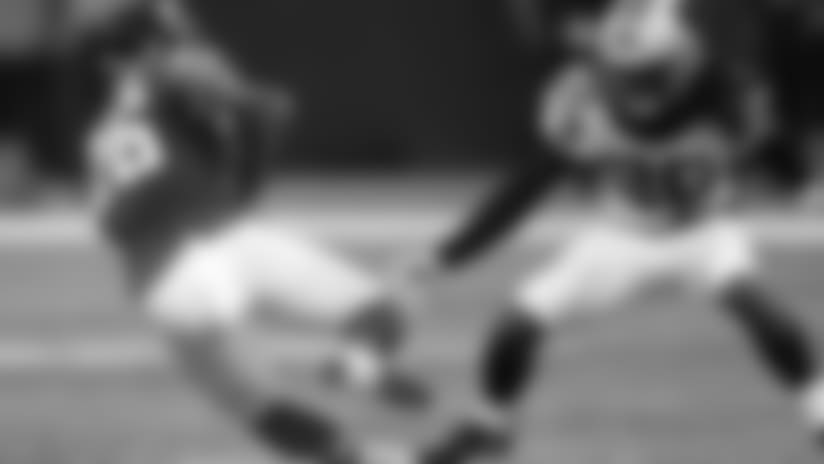 It was a rookie kind of day for Donte Jackson.
There was some good – like his first career interception on an airmailed ball from quarterback Matt Ryan, who appeared to have been hit as he threw by defensive end Wes Horton.
"The ball was in the air for like two hours," Jackson said.
And there was some bad – like getting juked at the line by running back Tevin Coleman.
"I just got out-leveraged, gave him too much space," Jackson said. "Was able to come back from behind and make a play on the ball, but I wouldn't have to make that play if I would've got him when I was supposed to get him."
There was also a second pass interference penalty against Jackson in as many weeks. But like the iffy decision against the Cowboys, this one was questionable at best.
"I was going to get the ball. I read the out route all the way. Incidental contact. I can't help if somebody trips over my feet if we're both going for the ball," Jackson said.
"(It was a) horrible call. I wouldn't have given up a touchdown if they wouldn't have called that."
But they did, turning a Falcons' third-and-9 into a first down. Seven plays later, Jackson found himself a step behind a slanting Calvin Ridley, who hauled in an 11-yard score. Jackson eventually made amends with his interception only to see his afternoon end early with a hamstring strain midway through the third quarter.
It was just that kind of day.
"If you're a competitor, stuff like that just eats you alive sitting on the sideline watching your team go to war. They'd rather me be healthy than out there hurting," Jackson said before vowing, "I'm more than 100 percent that I'll be in the lineup next week. This was precautionary."