1) Defense sets up offense
Sure, the Panthers made it interesting. A bit too interesting when the Buccaneers got to within seven points early in the fourth quarter. But Carolina did avoid becoming just the fourth team in NFL history to lose a game it had led by at least 28 points.
So let's focus this 6-pack on six plays that helped the Panthers jump out to what proved an insurmountable lead in the opening half.
First up: Eric Reid's first interception as a Panther. Or his second, depending on if you believe he caught that ball against the Eagles a couple of weeks back.
"Don't drop it," Reid said when asked what he was thinking when he saw the ball floating his way. "I knew it was going to go over the top of the receiver, so I went to my knees and said, 'Don't drop it.'"
Not only did Reid not drop it, but he got up and stiff-armed Evans en route to a 39-yard return, setting the Panthers up at the Bucs' 10-yard line. That, and his willingness to play through a banged-up shoulder late in the game earned Reid the game ball.
"The young man came in and had a big interception, a big return and set us up for a touchdown which was great and helped kind of start the momentum for us, which I think we needed obviously because of their ability to score," head coach Ron Rivera said.
"Then to watch him fight through that shoulder sprain was very admirable. Again, just a great effort on his part."
––––––––––––––––––––––––––––––––––––––––––––––––––––––––––––––––––––––––––––––––
2) McCaffrey's "got hops"
The Panthers turned Reid's pick into a 1-yard touchdown plunge by Alex Armah.
Then the fireworks began.
McCaffrey made a couple of similar plays as a rookie – one against the 49ers and another versus the Saints – but this was the most memorable. For us, at least.
"I'd love to sit here and go through my mindset during that, but I don't remember," McCaffrey said. "Football's a very instinctual game and it's all very fast-paced. You kind of just react."
Yeah, but it can't be as easy as he makes it sound.
"I'm running down the field on the other sideline and I see Christian jump over someone," wideout Curtis Samuel said, "and I'm like, 'OK, Christian – you've got hops!'"
Which led to some obvious reactions from teammates.
"'White men can jump.' I got a lot of those," McCaffrey said.
Meanwhile, Cam Newton went with a more recent reference.
"I know we all saw that commercial of him and JB Smoove," Newton said. "The cat, he was like a cat right there."
––––––––––––––––––––––––––––––––––––––––––––––––––––––––––––––––––––––––––––––––
McCaffrey's 32-yard gain allowed offensive coordinator Norv Turner to start messing with the Bucs.
On the very next play, Newton faked a handoff to McCaffrey, sending the defense crashing toward him. That opened up the left side of the field for DJ Moore.
"You're worried about Cam and what he can do with it. You're worried about McCaffrey," Tampa Bay head coach Dirk Koetter said. "They don't send you a text message and let you know they're going to run a reverse on the next one."
After taking the reverse, Moore did what he's done to so many defenders in his short time as a pro – made them miss.
"I just remember getting it from Cam and I saw two people – I had to split them," he said. "Then there was one more person. I just stiff-armed him."
That was cornerback Brent Grimes, who Moore threw to the turf before he went down at the 7-yard line after a 32-yard pickup. Two plays later, McCaffrey went in from the 3 to put the Panthers ahead, 14-0.
"Our reverse game right now is on point," tight end Greg Olsen quipped.
"We've got a lot of dynamic guys that with the ball in their hands, both as runners and as receivers, are pretty special. So it's pretty fun to see those young guys run around like that and us older guys just kind of do our part."
––––––––––––––––––––––––––––––––––––––––––––––––––––––––––––––––––––––––––––––––
But on the Panthers' next dynamic play, Olsen admitted it was hard even to do his part.
"I'm not sure what I was doing," he said with a laugh. "Those guys are so fast and they run all over the place, it's exhausting blocking for them."
And Olsen wasn't the only Panther who got turned around during Samuel's latest spectacular effort.
"I had to stop on that one," right guard Trai Turner said. "I didn't know where he was going."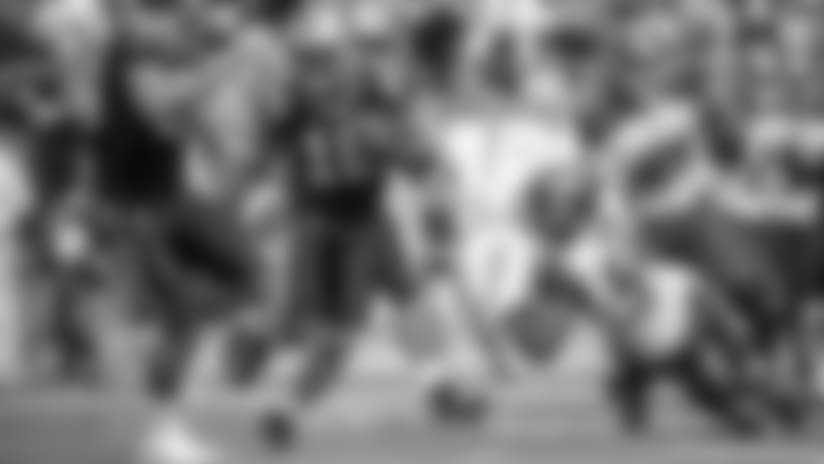 "(I) saw the whole sideline was open," Samuel said, "but as I took off and started to get closer, I felt like the defense was closing down and I didn't feel like tiptoeing the sideline."
"You're kind of following the play and then all of the sudden it comes back to you," Olsen said. "I tried to get out in front of Curtis. That didn't obviously go as planned. Then I tried to not block the guy in the back, so I ended up just falling down."
Added Moore: "I thought he was going to get hit, like get knocked out when he was crossing back field. But somehow he did some Madden-like stuff on the joystick and got through there."
According to NFL Next Gen Stats, Samuel traveled nearly 104 yards on his 33-yard touchdown even though it felt to him like "about 50 yards."
"Hey, I was just running so fast I didn't feel nothing," Samuel said. "I didn't know what was going on. I saw everybody overflowing and I'm like, 'It's time to make something happen.'
"I'm just out here making plays. I'm a playmaker. I told y'all that's only a little bit of what I can do. There's more and more and more I'm going to show y'all."
If you consider Samuel's touches (11) to touchdown (4) ratio, it's tough to doubt him.
"He's Super Mario. He took the star and he …" said Funchess, who then to began to imitate this famous sound:
––––––––––––––––––––––––––––––––––––––––––––––––––––––––––––––––––––––––––––––––
Last week, the Panthers were fortunate a penalty negated what would have been a successful fake punt by the Ravens deep inside their own territory. Sunday, Koetter tried a similar move from the Bucs' 26 in a 28-7 game midway through the second quarter.
"We felt like since we hadn't been getting any turnovers that we needed to try and steal the possession," Koetter said. "You're either going to look real smart or you're going to look dumb if it doesn't work. So that's on me."
It's also on the Panthers who helped shut the play down, starting with Ben Jacobs, who pressured punter Bryan Anger into a wobbly throw.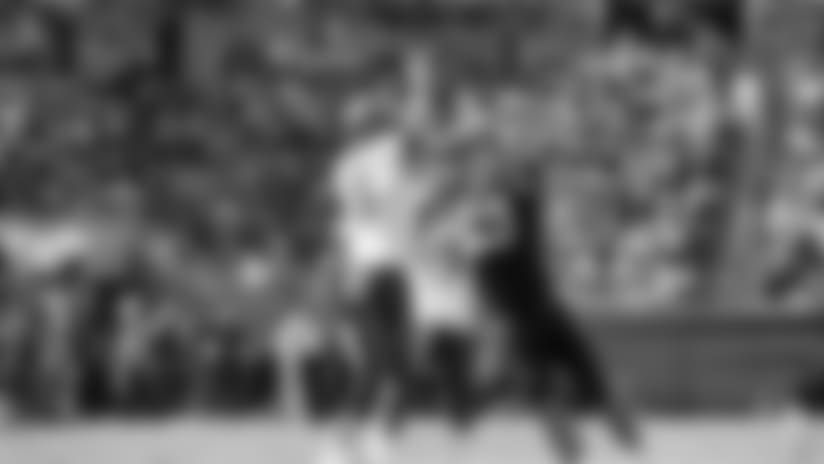 "I knew I just had to keep rushing and trust the guys behind me," Jacobs said.
Ten yards behind Jacobs, David Mayo got a hand on the pass as Colin Jones and Samuel converged on the intended target, third-string tight end Alan Cross.
"I thought our gunner, Curtis Samuel, was very aware. When the guy tried to cut back inside with the ball, Curtis was in the area," Rivera said. "It just speaks well to what (special teams coordinator Chase Blackburn) is doing when they work our guys and they talk about those things."
––––––––––––––––––––––––––––––––––––––––––––––––––––––––––––––––––––––––––––––––
The failed fake put the Panthers in prime position to throw a knockout punch.
The kids – McCaffrey, Moore and Samuel – had each made highlight-worthy plays. Then Olsen reminded us all that the old guard can still get it done, too.
"I just try to catch them all. It's like Pokémon. Just catch them all. Sometimes they're easier than others. That's why you don't apologize for the easy ones cause sometimes they make you earn it. We earned that one, but they all count the same."
The throw was a bit high and behind Olsen, but he revealed that's exactly where it was supposed to be and that he and Newton worked on the play during a special teams period at practice this week.
The one-handed part was just a little something extra, and perhaps even more impressive considering …
"I don't wear the sticky gloves. So you can add that to the story," Olsen said. "I wear like a composite non-stick glove. So make that known. Everybody in the league wears a sticky glove except me."
"Well, Mr. Reliable, it doesn't matter what you wear. If he goes out there naked, hell, I'm a big fan of Greg Olsen," said Newton of his tight end who caught all six of his targets for 76 yards. "I just know when that ball goes in the air, he's coming down with it a high percentage of the time.
"I don't care if he wears sticky gloves, un-sticky gloves, latex gloves, hospital gloves, small gloves, big gloves, kitchen gloves. He'd catch it."