1) Defensive back duo draws praise
Add the ages of Donte Jackson and Rashaan Gaulden and you get 45. The quarterback they faced Friday night is 41 and arguably the best to ever play the game.
That Jackson and Gaulden helped keep Tom Brady out of the end zone – even for just one half in a preseason game – is a notable accomplishment for the rookie defensive backs.
Brady, who was 12-of-18 for 102 yards in three series, is still trying to gel with a thin wide receiving corps and with five-time Pro Bowl tight end Rob Gronkowski seeing just one target in his limited action. But the night was a nice confidence booster for Jackson, who's started all three games this preseason, and Gaulden, who made his first NFL start in place of Da'Norris Searcy (concussion protocol).
"I thought (Gaulden's) ability to see the field and move and put himself in position showed. He still has a long way to go. He's a young guy that does some good things though," head coach Ron Rivera said. "I like how he came up inside a couple times on the run, and I also liked how he controlled some of the communications that went on out there. We made a check and he got Mike Adams back, and he came down and fit the box nicely."
Before that, Jackson made a big play on the Patriots' first drive.
Facing a third-and-4 from his 32-yard line, Brady fired to running back James White, who was a yard ahead of the first down marker. As White was coming down with the catch, Jackson undercut him, setting the Bank of America Stadium crowd on fire.
"I felt like that set the tone," Jackson said. "A lot of older guys were fired up about that, and that made me even more fired up about it. But that was a great play – trusted my zone, trusted my read, played with good eyes and came down and made the play."
It wasn't a perfect night for Jackson, though. Early in the second quarter, Phillip Dorsett juked past Jackson for a gain of 16 on a wide receiver screen.
"I just took a bad angle," Jackson admitted. "I was supposed to turn it back in, but I took a bad angle to the ball and he was able to get outside of me. That's a play I make 10 times in a row if it comes back around. That play really did upset me a little bit."
Still, there was more good than bad from Jackson and Gaulden. And against Brady – even in the preseason – that's a win.
"I was pretty excited about them," Rivera said. "Those young guys really stepped up and did some nice things."
2) Defensive end duo "bring some energy"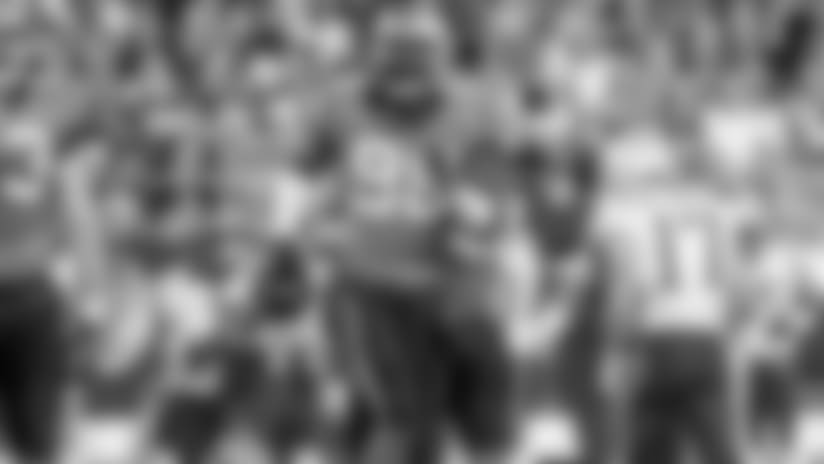 One week from Saturday, the Panthers will likely keep five defensive ends on their final 53-man roster.
You've got Mario Addison, Wes Horton, and that Julius Peppers guy is probably safe, too.
Judging by what we saw Friday, Marquis Haynes and Bryan Cox Jr. are heavy favorites.
"When you watch what they did, and you see the things that they do, they bring some energy to the group," Rivera said.
Haynes and Cox both saw a lot of run with the starting defense before they each played into the third quarter. That's when Haynes recovered a fumble. But the fourth-round pick was active before that, even while giving up 145 pounds in a matchup with Patriots left tackle Trent Brown.
"Speed kills. I got to learn how to use my speed to my full potential. I've got the fastest get off and I've got to be able to use that to affect the quarterback and affect offensive tackles," Haynes said.
"I feel like my first three games have been progressing. I'm getting better and better each game. The coaches see it and Mario (Addison) and some of the veterans, they see it."
The first of Haynes' two tackles was set up by Cox, whose penetration forced running back Mike Gillislee to slow down before Haynes stuck him into the ground. Cox also finished with a pair of tackles but seemed more disruptive than the stat sheet indicated – especially against the run.
It seemed like a showing that could have cemented Cox's spot on the final roster. He disagreed.
"By my standards, no, I don't think it was one of those performances," Cox said. "I just feel like I've got so much more to offer. Just knowing what I can do, I feel like I can do more."
That's fair, but it sounds like Kawann Short's on my side.
"I think he's matured," he said of Cox, who saw limited time in seven games as an undrafted rookie last season. "Just sitting in meetings and watching him answers the questions as soon as the coach asks. He's not hesitant about his answer and you see that out there in the practice field and the games. I think he's stepped up from last year tremendously."
3) That No. 59 is pretty good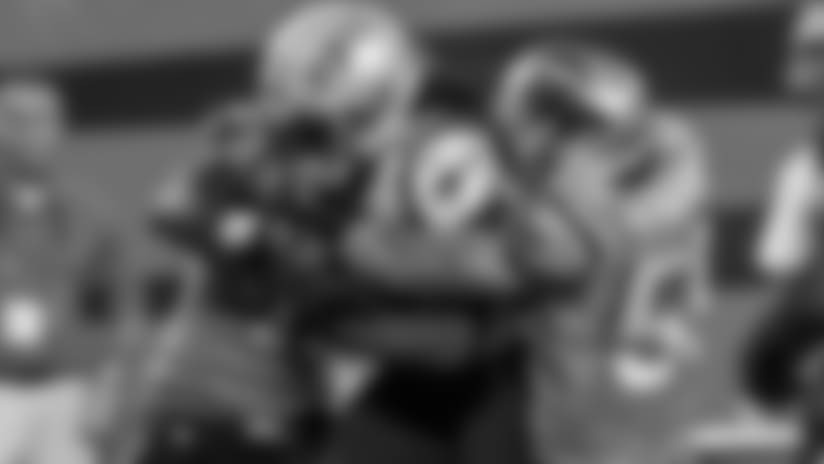 The closest Brady got to the end zone was early in the second quarter when the Patriots drove to the Panthers' 4.
Then Luke Kuechly made a goal-line stand.
Sure, there were 10 other defenders out there, but all three plays were finished by the Panthers' perennial Pro Bowl linebacker.
On first down, Kuechly dropped running back Jeremy Hill for no gain. Then, after a penalty pushed New England back 15 yards, Kuechly teamed with Captain Munnerlyn to limit running back Brandon Bolden to a gain of 6. And on third down, Kuechly seemed to spook James Develin, who dropped the ball inside the 5.
"Sometimes the plays come to you, sometimes they don't," Kuechly said in his awe shucks way.
Because we don't pay close attention to these kinds of stats, and because he only combined for 40 snaps against the Bills and Dolphins, it went unnoticed that Kuechly had totaled just two tackles this preseason. But Friday he tied Shaq Thompson and Lorenzo Doss with a game-high seven tackles. So he'll probably be fine.
"The first two games, just the way the games went, I didn't have a lot of action. But this game I had quite a bit and it feels good to get back out there, mix it up a little bit and get around the ball," Kuechly said. "So going (into the regular season) I feel pretty good. Give us another week to get ready and prepare and once we hit that Dallas week I think we'll be in good shape."
Cam Newton gives everyone nicknames, including himself. There's Ace Boogie, and Friday he introduced us to "The Unincorporated Assigned Coach for Swag."
OK, that title probably won't catch on. But let him explain:
"I'm the unincorporated assigned coach for swag on the Carolina Panthers. I'm still looking to find a person to send these invoices to because I feel like I'm responsible for a lot of people upping their swag, which leads into better game play."
"I'm not used to seeing myself feel like this, so it's getting to me," he said. "But what to do?
"I'm just going to find a lot of ice on this off day and soak in it."
5) Another night, another injury on the O-line
The hits just keep coming on the offensive line.
With three projected starters already sidelined, it took just eight plays before another lineman was lost. Right tackle Jeremiah Sirles pulled a hamstring, and since he was ruled out immediately after getting carted off, he could be facing an extended absence.
Instead of lamenting the line's continued bad luck, Rivera saw plenty of positives in a night when neither Newton nor his backups were sacked and the run game finished one yard shy of triple digits.
"I thought our offensive line as a whole played very well," Rivera said. "I was very pleased with some of the things the veterans did in protecting the quarterback, giving him time to throw the ball. Some things that we did right early on I was really happy about that."
Sirles was replaced by Blaine Clausell at right tackle while Taylor Moton, the guy who had stepped in at right tackle for Daryl Williams, spent the first half filling in for Matt Kalil at left tackle.
At first watch, it appeared Moton had a solid showing. Especially for someone who's a natural right tackle and who spent the bulk of the spring at guard.
"I think I did alright, just got to clean some things up," said the soft-spoken Moton. "There's a lot of ways to get better and learn.
"Ultimately, I just want to come out and get better. Just focus on doing my job each and every play."
6) Olsen went out of bounds, no?
We all saw it. We all didn't understand it.
As the Panthers drove deep inside Patriots' territory late in the first half, tight end Greg Olsen appeared to slide out of bounds at the 5 with 11 seconds left. But officials kept the clock running.
Despite the confusion, Newton was able to get the offense set before spiking the ball with one tick remaining. Graham Gano and the field goal unit then came on to give the Panthers a 9-3 lead.
"I'm (happy) with the fact that we didn't let it deter us from clocking the ball and keeping that one second on the clock," Newton said. "We don't know, it may come back up during the season, and everyone having the wherewithal to get to the line of scrimmage and get set is very pivotal."
But why did officials not stop the clock after Olsen went out of bounds?
"After halftime they talked to Ron, they came up to me. I think from their angle they thought I got touched while inbounds," said Olsen, who was clearly much calmer than he was at the end of the half. "They were very good about it. It happens. We would've like to have had another attempt at the end zone, but at least we were able to at least spike the ball and get the points."
"It's preseason for all of us."