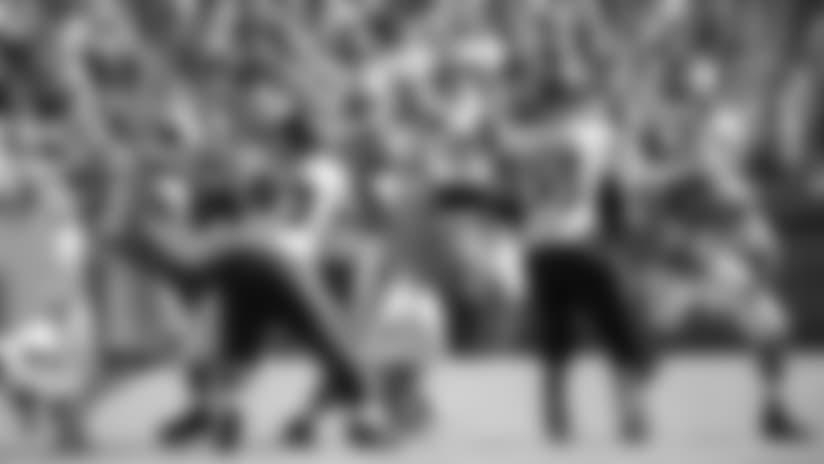 It's not like they were the '85 Bears, but the Ravens were clearly the league's top defense through the early part of the season. Shoot, if you read anything about this Week 8 game the past few days, you're well aware they led or were near the top of nearly every defensive category. No need to run through all that again.
Especially after what the Panthers did.
"With the top-ranked defense and the way they lost last week, we knew they would be excited about playing us," left tackle Chris Clark said. "We knew we would get their best punch. We made sure they got our best punch.
He's not wrong. Carolina's offensive line was better – on Sunday, at least.
"We don't get in the newspaper or anything like that, so when a challenge like that presents itself, we hit it with a full head of steam," Clark continued.
"Getting a chance to play against the number one defense? We lick our chops against that."
For the most part, the Panthers controlled the line of scrimmage for both facets of the offense. The Ravens allowed a season-worst 154 rushing yards, and quarterback Cam Newton was kept almost completely clean as he went 21-for-29 for 219 yards with two touchdowns and a 116.9 passer rating.
According to the NFL's official stat book, Newton was hit four times. But he was never sacked. Not bad considering Baltimore topped the league in both QB hits and sacks and was two weeks removed from bringing down Titans quarterback Marcus Mariota 11 times.
"Our offensive line is playing as confident as they ever have," said Newton, whose 10 sacks are the fewest he's taken through the first seven games of a season. "For guys labeled as undesirables or misfits, they sure are doing a great job."
"I think it was personal for Coach Matsko," right guard Trai Turner said. "He wanted to get this win against his old team. He knows a lot of those guys over there, and I think it was a little bit of redemption."
For both Matsko and a line that was much-maligned after an injury-filled summer.
"We know our responsibility to this team. We're the big brothers," Turner said. "The little brothers get all the shine, and we have no problem with that. Little bro thanks us, and that's all we need."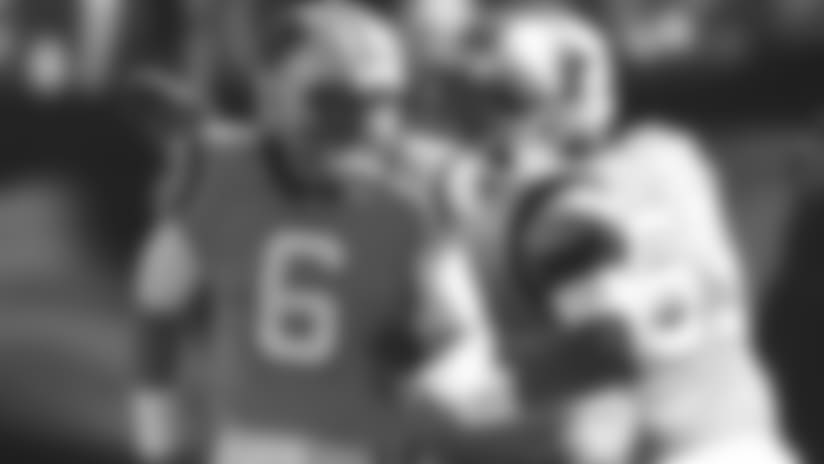 So what the heck happened just before the half? You know, that whole delay of game-Taylor Heinicke-Graham Gano 54-yard field goal sequence?
Let's have those who were involved explain.
Head coach Ron Rivera: "No, the delay was not intentional. Because at that point, in all honesty, Cam just didn't kneel, didn't want to throw it."
Heinicke: "Cam didn't feel comfortable not practicing this week and trying to make that throw. So he took the delay of game and then we were still trying to figure out what to do. It was chaos there for a good second."
Tight end Greg Olsen: "We were torn between kicking a field goal – the wind was crazy – or throwing a Hail Mary."
Rivera: "(Special teams coordinator) Chase Blackburn had told me prior to that, that there was crosswind coming through on that side and (Gano) wasn't as accurate from that."
Newton: "I knew how I was feeling at that time and felt that Heineken put our team in the best situation."
Heinicke: "They were like, 'Taylor, can you throw it that far?' I was like, 'Yeah!' So they were like, 'Go in there, then!' I was like, 'Get on the ball! Hail Mary, go, go, go, go!' Next thing you know, I saw like eight guys on the line, so I knew they were going to try to pressure me."
Ravens head coach John Harbaugh: "That was not the call we wanted to be in right there."
Olsen: "All of the sudden the guy that was out on me (linebacker Terrell Suggs) started walking in to rush the passer, so I just started screaming for Taylor."
Heinicke: "Greg was yelling at me while he was going out for the route. 'Taylor! Taylor! Taylor!' That's all he was yelling as the ball was getting snapped."
Olsen: "I don't know if he heard me or if he saw the same thing. I didn't really do anything, I just kind of flowed off the line and you've just got to try and catch it and then obviously it's a race to get out of bounds."
Heinicke: "He did the smart thing of just getting as much as he could, got out of bounds and gave Graham a shot and he made it. Hopefully that doesn't happen again. It was pretty chaotic, but at least we got points out of it."
Olsen: "It was one of the craziest plays I've ever been a part of … You get a pick and then the next thing you know you turn it into three points. It's a huge. It's a huge difference in a game like this."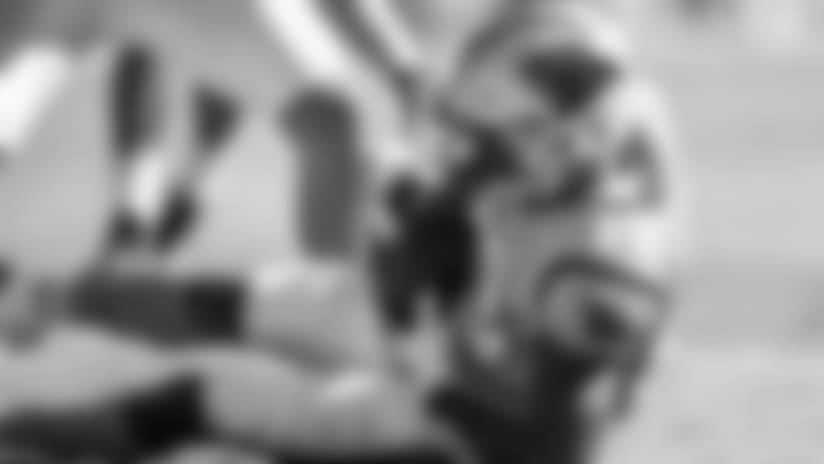 Now that we know the full 60-minute result of 15-point win that seemed bigger than the final margin, perhaps it's silly to call this play the turning point. But it certainly loomed large early.
After the Ravens opened the game with an 11-play, 75-yard touchdown drive, the Panthers' offense countered with a pair of first downs before sputtering near midfield. All the momentum from last week's historic comeback in Philadelphia was in danger of disappearing.
Then Curtis Samuel made a play. On special teams.
"It was a great punt," Samuel said of Michael Palardy's boot that landed at the Ravens' 4-yard line. "The ball bounced perfectly and it went straight up in the air."
What happened next wasn't pretty.
"I tried to slow myself down," Samuel continued, "but I ended up slipping and falling."
Still, Samuel regained his balance and downed the ball while falling backward at the 1.
Baltimore went three and out on its ensuing drive, giving Carolina great field position at its own 46. Four plays later, Christian McCaffrey scampered 11 yards into the end zone.
"That was one of those things that gives you an opportunity," Rivera said of Samuel's latest special play on special teams. "Because if you can hold him down there, you'll get the ball with good field position and that's exactly what happened that led to our first score."
Two plays and 42 seconds later, the Panthers got the ball back when Kyle Love came through the line untouched to smack running back Alex Collins just as he was taking the handoff.
"To the untrained eye, a guy busted through there," Ravens quarterback Joe Flacco said.
To be fair, it doesn't take a trained eye to see Baltimore blew a block on the play. Which one it was? That we don't know. But it doesn't take a football savant to know someone probably should've put a body on Love.
"Your eyes get kind of big," the 315-pound defensive tackle said. "It's like when you're playing baseball and the pitcher just lobs you a ball up there."
The job wasn't done once Love separated Collins from the ball, though. Linebacker Luke Kuechly had a bead on the hot potato, but it bounced away. That's when Vernon Butler saved the day.
"I just saw the ball go up in the air," he said. "Then I saw Luke – he went to go scoop it. He missed it, but he kept it rolling. I was just trying to track the ball, and next thing you know it's laying right there between Luke and the running back. I just dove on it.
"Pretty hectic play, everybody was trying to get it, but I wasn't letting it go."
Butler's recovery, the second of his career and first since the 2016 season finale, set the Panthers up at the Ravens 12. Three plays after that, Newton found Olsen to give the Panthers a lead they'd never give up.
"Offense got the ball, scored," Butler said, "and we didn't look back after that."
The Ravens began to get on a roll again on their next drive, quickly picking up a pair of first downs to cross midfield. But on second-and-10 at the Panthers' 47, defensive coordinator Eric Washington called a perfectly timed blitz for Donte Jackson.
In three seasons at LSU, the cornerback had one sack. He's now equaled that total as a pro.
"When the receiver lined up in the tight split and I knew that the play was on, I said, 'Got 'em' cause I knew nobody was going to pick me up," Jackson said.
"We pride ourselves on rushing the passer, and the one thing they always tell us is anybody can rush. We're gonna get to the quarterback, but anybody can do it. It was just great to get back there, and now I have something to talk about with the big boys next week."
Of course, covering guys is Jackson's main role, and he did that exceptionally in one of those matchups the Panthers had in mind when they used a second-round pick on Jackson this spring. They've never before had someone with his kind of speed to counter a wideout as fast as Baltimore's John Brown. So when Jackson found out his assignment this week, he assured teammates like safety Mike Adams he was ready.
"The rookie is so funny. He knew that guy was fast," Adams recalled. "He said, 'You know how you stop a bullet? You put a bullet on him.'"
The Panthers' bullet shot down Brown, whose 19.9 yards per reception was best among the NFL's top 15 wideouts in receiving yards. Brown's longest gain Sunday was 14 yards, and a week after he racked up 134 yards against the Saints, he managed just 28 while catching only three of his seven targets.
"(Jackson's) pretty good. I tip my hat off to him and I give credit when credit due," Brown said. "He's a good dude and will be great in the future."
6) The Secondary's Elder Statesmen
It's hard to believe Captain Munnerlyn's third-quarter interception was the cornerback's first since 2015. He now has 12 in his 10-year career, or 18 fewer than Adams.
"He's still getting it done, even at his old age," quipped Munnerlyn, who's always ragging on the 37-year-old Adams.
It's not like the player they call "Pops" is an innocent victim, though.
"We talk to each other like we've known each other for years," Adams said. "Everybody's mad that we didn't fight yet."
It's actually pretty obvious why Munnerlyn and Adams have grown so close – in their unique way – over the past year and a half.
"Being told you're too small, being told you're too slow, being told that you can never make it to the NFL, I'm very proud of him," said Munnerlyn, echoing a lot of what's been written about him since he was at South Carolina.
"It's that edge," Adams added. "When somebody's saying, 'You're too small. You can't do this. You can't do that.' Then you finally surpass all that and you see another little guy who's been through the same thing that you've been through – now you've got to pick at each other."
For his second-quarter interception, Adams was awarded a game ball. Really, it was for his body of work. Thirty interceptions for a guy who went undrafted out of Delaware? Not too shabby.
"It means a lot. I started to tear up a little bit," Adams admitted. "A lot of people don't know my story.
"I was on the practice squad for eight games. Got off the practice squad, and once I saw that practice squad check and I got activated for eight games, and I saw that check – the difference – I said, 'I'm never going back there again.' It fueled me to work and bust my ass. Bust my ass."
A few months before Adams worked his way off the 49ers practice squad as a rookie in 2004, his mother passed away from cancer. It was two days before he graduated with a degree in Human Services. Fifteen seasons later, he knows she's still watching.
"I just wish my mother could be here to see that," said Adams, with tears again beginning to form in his eyes. "It feels good cause the first pick I got, I dedicated to her cause she passed away. Now this is 30, a milestone for me. So it feels good."