1. A history-making moment
I'm not sure about you, but I thought the game was over. And what a brutal loss it was going to be for the Panthers, who were about to drop to 2-2 after blowing an 11-point fourth-quarter lead before heading on the road for games against resurgent Washington and reigning Super Bowl champion Philadelphia.
Then Graham Gano made history. Or tied it, to be exact.
Only one other time in NFL history had a kicker nailed as long a boot to win a game. That was 48 years ago when the Saints' Tom Dempsey drilled a 63-yarder against the Lions. You've likely seen the grainy video dozens of times. This footage is more clear and will live on as one of the, what, top-10, top-5 most memorable plays in Carolina's first quarter-century as a franchise?
So fortunately for the Panthers, Gano and his special teams mates weren't as convinced as I was as I saw the play clock dwindle while they sprinted onto the field to try a last-second miracle. From that moment to when the ball went through the uprights – with plenty of room to spare, by the way – here's what was going through the heads of Gano, long snapper J.J. Jansen and holder Michael Palardy.
Palardy: "When you run out onto the field, we're as calm as can be and as confident in one another as we can be."
Gano: "I'm just treating it like any other kick. Trying to see where the wind's at, making sure my footing's good, making sure Mike knows where the spot's at."
Jansen: "The funny thing is Graham and I have done that kick before to win a game. Left hash, 45-yard line, 63-yard kick – the whole thing on that exact spot in 2014 versus the Falcons in Week 11 right before the bye."
Gano: "That was 63 that was tipped at the line, so that was in my mind. Just get the ball in the air."
Jansen: "You kind of know that it's a long kick. So you're going out and you're saying, 'I'm just trying to focus on my job.' But you know the play clock's running."
Gano: "A lot of times on a game-winner, you get pretty excited and want to rush it a little bit. In my mind, I try to tell myself to take my time. Funny enough, the kick I had in Denver a few years back, that was a terrible moment for me, but it was a learning opportunity. So that helped me in the game today. Looking back at those moments, you don't want them to happen, but you try to learn from them."
Jansen: "As the ball left my hand, I knew it was a good ball. Then I heard the sound, and it sounded good, but you still don't know. I looked up and I threw my hands up in the air cause I knew it was good with 30 yards to go, but Mike threw his hands up right away. He knew it right before anyone else did."
Palardy: "As soon as the ball left his foot – before it even reached the uprights – I knew it was good. I went from cool, calm and collected to ecstatic. Yes, for the team, but for Graham to hit a big-time kick like that, man, it's really cool to see."
Gano: "Mike's reaction told me that it was good. Then I saw the guys running on the field and I was trying not to get crushed, so I took off running the other way. It was a lot of fun. I'm very thankful and I feel very blessed to have those moments."
Jansen: "So many times when that happens, I've usually been mauled on the ground, so I rushed to go hug him because most of the time I miss it. But the sports nerd that I am, I see that they've got one second left. Everyone's jumping on him and excited, and I'm thinking, 'Oh my gosh, Cam's on top of him. Everyone's on him. Please nobody hurt him. But that's OK; Mike can kick off, so we're fine.' But really, it was a cool experience."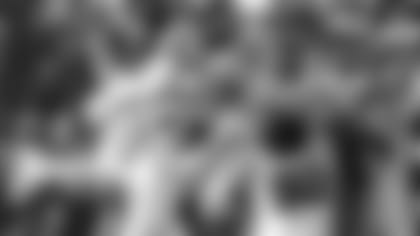 ––––––––––––––––––––––––––––––––––––––––––––––––––––––––––––––––––––––––––––––––––
2. Serious specialists
"We like to have fun, we have good personalities and it's nice to showcase that," Palardy said. "But at the end of the day, none of that matters if we don't come out here on Sundays and perform."
So moments like Sunday sure help the trio gain some locker room cred.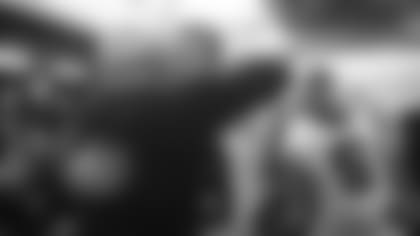 "There's a time and a place for goofing around and having fun like that, but we take our jobs very seriously," Gano said. "We felt very confident in our preparation, and I trusted the guys in front of me to do their job."
"It's a cool once-in-a-lifetime opportunity that I can only feel blessed by God that it's happened. This stuff's not supposed to happen. The way the game played out the way it did, the fact that it would come down to an NFL record for a game-winning field goal. It's such an incredible experience that we get to do this together.
"But we're going to have to bring our heart rate down and our egos down because we'll be made fun of in the team meeting tomorrow and we'll find our place and that'll be perfect by us."
––––––––––––––––––––––––––––––––––––––––––––––––––––––––––––––––––––––––––––––––––
3. Special teams touchdown
Yeah, that storyline sure came together nicely, eh?
For the first time in the Rivera era, special teams was introduced before Sunday's kickoff. Then those guys went out and won the game.
Gano's kick was one bookend. The other was Colin Jones' fumble recovery in the end zone when the Giants botched a punt return early in the second quarter.
"See ball, get ball," Jones said when asked what he was thinking when he saw the hot potato waiting for him.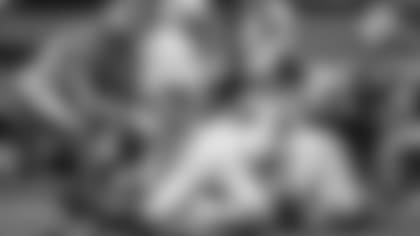 For Jones, it was his first score since he returned an interception 30 yards for TCU in a win over UNLV in 2010.
"It's been a while. Eight years," he said. "But I waited 30 years to spike a ball in an NFL game, so I checked that off the list."
Jones gets credit for the touchdown, but assists really should go to DJ Moore and Curtis Samuel. Moore, for getting downfield as a gunner and getting in the head of returner Odell Beckman Jr., who attempted to push Moore out of bounds.
"He tried to blast me," Moore said. "I was looking up for the ball, then I just looked down for some reason and he tried to hit me. When he hit me, the ball hit him.
"Then I saw (Janoris Jenkins) try to scoop it up, but he dropped it."
"My job is go and finish the play off," he said. "DJ got it started, and then I just finished it off."
Not technically. There was still one more intervention left.
"Then (Eli Apple) tried to get it in the end zone and I had to knock it out of his hand," Moore said.
Which led to easy pickings' for Jones, who admitted, "I must be living right."
––––––––––––––––––––––––––––––––––––––––––––––––––––––––––––––––––––––––––––––––––
4. Slippery Samuel
Just over a month ago, Chris Clark was unemployed and watching his 5-year-old son play flag football.
"Somebody pushed him to the ground and I said, 'Son, you don't see daddy get pushed down like that. He fights back,'" Clark recalled. "Then he said, 'Daddy, you don't play football anymore.' It hurt."
On Sunday, Clark's pregnant wife and two kids were at Bank of America Stadium, visiting from Houston.
"He was here so I can't wait to see him and tell him, 'I told you daddy can still play,'" a beaming Clark said.
In his third straight solid performance at left tackle, Clark was part of an offensive line that allowed just one sack of Newton. Clark also helped escort Samuel during his 25-yard touchdown in the first quarter.
"As an O-lineman, whenever we get in space, that's camera time for us," Clark said.
The line certainly shined at that moment, but the spotlight was brightest on Samuel, who broke no less than four tackles before diving into the end zone for his first career touchdown.
"There were people flying around all over the place. The linemen were getting people up off the ground. Me, I just saw people in front of me and I'm just running behind everybody trying to find a lane," Samuel said. "There's guys shooting in trying to tackle me, and I'm just slipping and dodging them. I'm just trying to get in the end zone. I know I can't go down. I ain't trying to have the running back run it in."
It was an incredible moment for a guy who went 11 months without touching a ball in a regular season game. And it was a reminder that Samuel was a running back not long ago.
"That's somebody you've gotta bottle up for real," Moore said. "Besides me, I've never seen somebody able to do that and not slow down."
––––––––––––––––––––––––––––––––––––––––––––––––––––––––––––––––––––––––––––––––––
5. As advertised
That's high praise from Moore because the next time he goes down on initial contact will be the first.
Carolina's first-round pick still isn't getting as many snaps as perhaps he deserves, but a one-month sample size has shown why the Panthers were so enamored with his ability to run through defenders.
"It's a mentality just not to go down," said Moore, who totaled 67 yards on five touches. "The game is to not get tackled. So that's what's going on in my mind – don't get tackled with the ball in my hands. So I just don't want to get tackled."
OK, but lots of guys who don't want to get tackled do. How does Moore manage to break through so often?
"(He's) an athlete," wide receiver Devin Funchess said. "You're born with stuff like that. Can't coach that."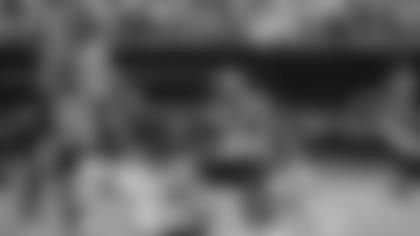 But before Moore plowed his way for 18 yards on a rush in the first quarter, he was helped by a block from his quarterback. And as you can see in the photo above, Newton sure was proud of what he did to 6-foot-6, 265-pound linebacker Kareem Martin.
"Did you see it?" Newton asked gleefully. "Did (Thomas Davis) see it? I want to make sure TD saw it. We've got us a thing and now he's back at practice and I can't wait to show him. Matter of fact, he's going to come watch film with us just so I can tell him that he's lucky I wear the red jersey in practice.
"At the end of the day, I was just trying to do my job. I always say, whatever Coach asks from me: running the football, throwing the football, blocking, catching. I'm a football player."
––––––––––––––––––––––––––––––––––––––––––––––––––––––––––––––––––––––––––––––––––
6. Two picks for "Pops"
It wasn't a great day for the Panthers defense, which allowed the Giants to snap their 36-game slump of failing to score more than 30 points.
It could've been worse if not for Mike Adams.
First, he countered a Newton interception with one of his own to thwart a Giants drive late in the third quarter.
"I think they were already in field goal position, so I feel like I took points off the board," Adams said. "I disguised, I was down low and I just popped out. I don't think he ever saw me."
Yup, that's exactly what happened.
"I thought I would hold him in the box and he ran right away on the snap, and I just didn't see him," Giants quarterback Eli Manning confirmed.
On Manning's very next throw, he tried to force a pass to Sterling Shepard. Instead, it was another pick for Adams, whose 45 career takeaways are now most among active players.
"My old guy, he always says he's my pops. Mike had a tremendous game," cornerback Captain Munnerlyn said. "We know what he's capable of doing. He still looks young. I always tell him, 'You've still got a lot of football left in you,' and I truly believe that.
"He's a smart player. He knows how to put himself in position to make plays and he still can run. He came up huge for us."