CHARLOTTE – Will Grier has had to stay ready.
The rookie quarterback recorded his last game action in the preseason finale against Pittsburgh and knew he'd enter the regular season third on the Panthers' depth chart. For most third-string quarterbacks, that means a spot on the practice squad, but as an early draft pick, Grier had at least secured his place on the 53-man roster.
When the Panthers opted to select Grier in the third round back in April, it raised some questions in the Carolinas. Franchise quarterback Cam Newton was on the mend after a series of injuries, but using the 100th-overall pick to draft Grier seemed a little dramatic. Fans were convinced Newton would be back in no time, with a surgically repaired shoulder ready to guide him back to MVP candidacy. They couldn't see the bigger picture.
Now, six games into the season and with Newton once again sidelined, selecting Grier is looking smarter and smarter by the week. Grier may not have been the one actually quarterbacking the offense down the field during the Panthers' four-game winning streak – that duty has fallen to backup Kyle Allen – but his role is equally important.
Grier captains the Panthers' scout team, emulating a different opposing quarterback each week. It may not sound like a glamorous position, but it carries a lot of weight. Not only is Grier responsible for preparing the Panthers defense for their next opponent, but the reps serve as the closest thing to game action the new No. 2 quarterback sees on a week to week basis. Grier knows that with Newton on the shelf, he's now just a play away from seeing his first regular season action, and he's used the extra reps in practice to make sure he'll be ready.
"The reps help a ton. Reps are the key to getting better, at least the fastest way of getting better," Grier said. "It's a good mix of learning and developing and also giving them the right look and a good look."
For most quarterbacks, the transition to scout team isn't an easy one – especially those with a background like Grier. In high school Grier was named the Parade All-American Player of the Year, and during his college career at West Virginia he capped his senior season by finishing fourth place in votes for the Heisman Trophy. It's safe to say Grier has never spent much time on the sideline, but he's embraced his new role.
"It's definitely different, but it's taking on the mindset of chipping away at greatness," Grier said. "Just trying to come in and learn and work every day and realize that that's my role right now. All I can do is get better and be ready to go if they need me."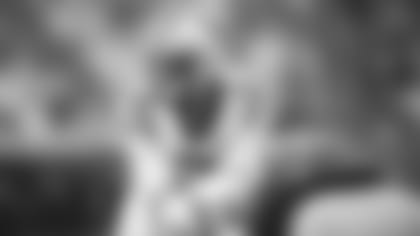 One of the biggest changes Grier has noticed since taking a backseat is actually having time to reflect on his own development.
"As a starter it's just always next week, next week," Grier said. "I think there's a lot more time as a backup to kind of look inward and see where you can get better. It's been an interesting adjustment, but I've enjoyed it so far."
Grier's not the only one who's noticed his growth, though.
"Will's been outstanding. He's preparing every week like he's going to play," quarterbacks coach Scott Turner said. "Obviously, he's got to be ready, he's one play away from going in and having to play. I think if something God forbid ever happened, then he'd be ready to go and play well."
Head coach Ron Rivera has kept a close eye on his No. 2 quarterback's development, too.
"It's been really cool to watch Will," Rivera said. "It's funny because he does a lot of the show team stuff for us, and a lot of times the coaches have a tendency to circle where they want the ball thrown."
But as Rivera has seen Grier become more accustomed to NFL-style football, he's loosened the reins on the scout team quarterback, letting him decide on his own which routes to throw.
"I told Will, 'Don't do that. That's the worst thing you can do, because now you're no longer reading, you're just anticipating when to throw it,'" Rivera said. "I said, 'I want you to go out there and try and beat us,' and he's done a great job."
Other than Grier's increased workload on scout team during his shift from third-string to second-string quarterback, he's done his best to keep the rest of his preparation the same. For a rookie who wasn't even made active until the Panthers' third game of the season, it might seem hard to keep the same mindset knowing he's now just a helmet malfunction or a twisted ankle away from going in.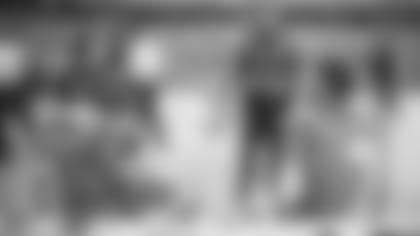 "Preparation is still the same. You've got to prepare like you're going to play, even if you're the third, fourth guy," Grier said. "It's a different mindset when you get to throw the pads on on game day. You've got to be locked in and ready to go, but the key is preparing like that every week."
Part of the way Grier makes sure to prepare like a starter is by taking all of the reps the Panthers' first-team offense takes. Occasionally, offensive coordinator Norv Turner will throw Grier into a live team period in practice just to keep him on his toes, but more often than not, these throws come after everyone else has left the practice field.
Before Allen was bumped up to be the starter, he would join Grier after practice and the two quarterbacks would each run through the offense's entire script of plays to make sure they would be just as prepared as Newton. Now, with Allen taking those reps during practice, it's just Grier putting in the extra work after practice, thanks to some help from the equipment managers.
Clearly those additional reps paid off for Allen, and he said he believes the same will be true for Grier, should his number be called.
"You've just got to find a way to prepare yourself," Allen said. "And he's always been prepared and ready to go."
Until that moment comes, Grier is embracing everything that comes with backing up Allen.
"He's just been a really good No. 2," Allen said. "When I come off to the sideline he always there talking stuff through with me on the (tablet) and telling me what he sees. He's keeping good energy, he's lighthearted, just making jokes, laughing, keeping the energy up."