CHARLOTTE – The Panthers defense is preparing to face rookie sensation Saquon Barkley for the first time on Sunday.
But rookie linebacker Jermaine Carter knows all about the 2018 second overall pick from their college days in the Big Ten.
Carter was a three-year starter at Maryland, and he played against Barkley and the Nittany Lions all three years.
With the Giants coming to town, make it four years in a row.
"It was fun playing against him and I always looked forward to the challenge," said Carter, who Carolina selected in the fifth round. "I knew he was a highly rated guy, and I wanted to show what I was capable of."
The heavily favored Nittany Lions won each of those games against the Terrapins from 2015-17.
A week prior to that first meeting, Carter watched Barkley rack up 194 yards against the vaunted Ohio State Buckeyes as a true freshman. In that moment, he knew he was watching an NFL back.
"I was like, 'OK, he's special,'" Carter recalled.
But to Carter and the Maryland defense's credit, Barkley ran for just 65 yards against them the next week. In 2016, however, Barkley ran wild and finished with 202 rushing yards against Carter and the Terps. In 2017, Barkley ran for a modest 77 yards (plus two scores) while Carter finished with 11 stops.
All this is to say Carter has a pretty good idea of what Barkley does well at the running back position.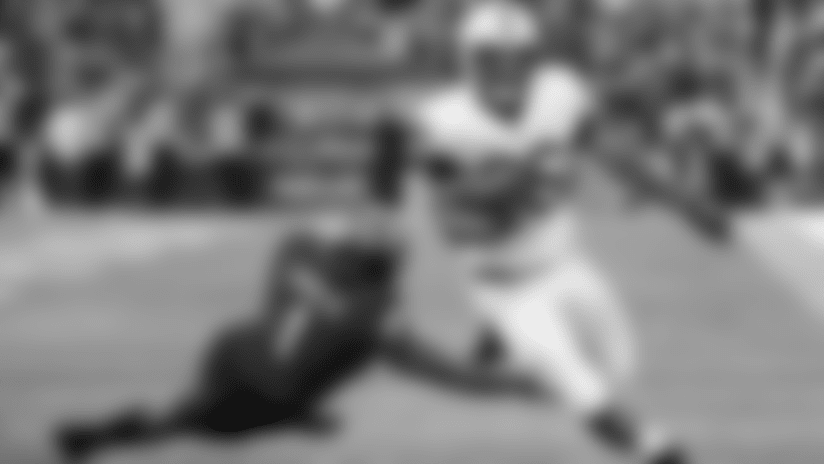 "He's got great balance. That's his No. 1 asset I believe," Carter said when asked for his scouting report on Barkley. "He plays so low to the ground, so he's not easy to tackle.
"And he's got that really good jump cut. I've told our guys they've got to be aware of that."
Defensive coordinator Eric Washington has seen all that and more on film.
"This young man is unique in his own right. If you like pro football and you like the run game, you are going to like this guy. Now I don't like him because he's on the other side," Washington joked. "Great contact balance. He's already broken some runs. He's going to be a tough guy to get down. We've got to suffocate him with as much population and as many bodies to the football – even away from your gap assignment. You may be assigned here, but once that thing declares somewhere else, you've got to get over there. We've been really stressing and emphasizing that."
Carter put it this way: "You've got to run to the ball as a team to get him on the ground."
Barkley was a marked man in college as a Heisman candidate. He's a marked man in the pros as the No. 2 overall pick. Defensive players like Carter relish that challenge, and the opportunity to talk some smack.
"He's not going to initiate it, but if you talk trash to him, he's not going to back down," Carter said. "I was a big trash-talker, so every time I tackled him I would let him know about it. I was an underdog and I knew he was highly publicized, so I had to talk my talk."
Carter, who has been working primarily on special teams, is eager for more opportunities to make some plays and do some talking. He played three defensive snaps against the Bengals before the bye week, and the Panthers could look for ways to get him more involved.
That admittedly won't get any easier to accomplish once Pro Bowl linebacker Thomas Davis returns from suspension in Week 6.
"I'm definitely preparing for that possibly of playing more," Carter said. "I want to continue to have my role grow. I think I've shown the coaches with the small sample size I've had that I know what I'm doing on the field. I take pride in knowing where I have to be.
"I just have to wait for my time."