CHARLOTTE – Quarterback Cam Newton said he had a hard time looking his defensive teammates in the eye after Thursday night's 20-14 loss to the Buccaneers.
Linebacker Luke Kuechly was having none of that, though. In typical Luke fashion, the man with a game-high 17 tackles (his second-most in a single game all-time) looked inward.
"We still got to get the ball out on defense," Kuechly said. "Tonight, I dropped a pick. Got to catch that ball. We did some good things, we played well for the majority of the game, but on the defensive side we have to do a better job getting the ball out. That's something we always work on."
Kuechly and the defense may not have created a takeaway, but they did contribute two points to the cause, as the star linebacker stopped Bucs running back Peyton Barber in the end zone for his first career safety to make it a 17-14 game in the fourth quarter.
"KK (Short) made the play," Kuechly said. "Everyone is going to see that I tackled him, but KK made the play on that. He shot a gap and opened it up clean for me. I was just kind of the beneficiary."
But the offense failed to capitalize following the safety. And the Panthers were left to answer questions after another narrow defeat to start the season.
"I think all the pieces are there," Kuechly said. "You just have to make the plays."
Tough night for McCoy against his former team
Ahead of the Week 2 matchup, defensive lineman Gerald McCoy said he knew how the Buccaneers were going to block him.
Maybe he was alluding to some after-the-whistle stuff from Tampa Bay center Ryan Jensen. Maybe he wasn't. Either way, Jensen pushed McCoy's buttons and drew a personal foul penalty at a critical moment in the game.
"I don't think they were trying to get under my skin, that's just the type of guy he is," McCoy said. "When I was there, I seen it. But you know, we expected it. The refs got to get a handle on that. They've got to get control of it, or that stuff happens. It's always the second man. But when you let a person push you repeatedly before you react, at some point the refs got to step in, because he wasn't just doing it to me. He was doing it repeatedly to everybody and the refs wasn't saying nothing, so that's going to happen if the refs don't step in. That's going to continue to happen across the league, not just here."
It was midway through the third quarter when McCoy and Jensen were tangled up after an incomplete pass. McCoy was hit with an unnecessary roughness penalty, advancing the ball to the Carolina 39-yard line. Four plays later, the Bucs were in the end zone to take a 17-12 lead.
"I'll apologize to my team, but apologize to them? No way, not doing it," McCoy said. "I hurt my team, but I'm not going to let a person just keep doing this over and over."
As for the whole "revenge game" storyline, McCoy, who finished with four tackles (1 TFL and QB hit), here's what the former Bucs captain had to say about facing Tampa Bay:
"After a while it was just a game," McCoy said. "You do your best not to let the emotions get the best of you. After the beginning it was just football."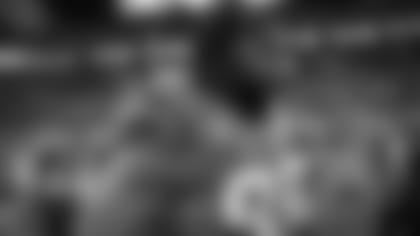 Safety Tre Boston spoke candidly after Carolina's gut-wrenching loss.
"There is an identity and culture that we are used to. I think there's guys who are on the bus," Boston said. "But I think the whole team needs to come together and start playing as one. And just have a swagger about ourselves, just knowing when you get out on the field you're going to dominate. Literally, the feeling of dominating, taking a man's will and wanting to do it every time you step on the field.
"There's a lot of finding that we need to do."
Throughout the Cam Newton-Ron Rivera era, the Panthers have been known for playing with great energy and swagger.
Now that's not the answer to their current problems. As veteran tight end Greg Olsen pointed out, he'd rather the Panthers play smart than play with swagger.
But for whatever it's worth, the lack of energy has been apparent.
"We were lethargic, times we were flat offensively," Newton said. "That comes with progression. When you go out and get first downs, get touchdowns, that becomes contagious. Positivity. That is contagious. The lethargicness or being stagnant, that's what you saw tonight."
Added Boston: "I would love to see (Cam) go back to having fun. I think the guys around him, we have to do a good job having more energy… Those guys will find it. I look forward to seeing the progression."
Take a look at the best pictures from arrivals, pre-game, locker room, in-game and post-game action from Thursday Night Football against Tampa Bay.