CHARLOTTE – Greg Olsen has been in the NFL for the 13 years. He's never been part of a team that fired the head coach.
"For nine years, (Ron Rivera) is the only the guy who has ever addressed us in that room," Olsen said, looking over at the team meeting room. "Today, that changed."
Gerald McCoy has been in the NFL for 10 years. The former Buccaneer has been through six head coaching changes. Six.
"It was a tough meeting. It wasn't easy to sit through," McCoy said of Rivera's final message to the team Wednesday morning. "The love he has for his players – you felt it before, but you really felt it this morning."
Rivera has always been described as a players' coach.
Naturally, the players were emotionally impacted by his sudden departure.
When Luke Kuechly was asked for his reaction, he provided a lengthy four-minute answer, which you can read below. Kuechly spent eight years with Rivera after joining the team as a first-round pick in 2012.
But Olsen summed up the gist of it.
"The biggest consistent narrative is how much he meant to guys aside from just the fact that he was their football coach," Olsen said. "Ron, hopefully, walked out of here with his head held high. He impacted a lot of people's lives. You're not going to find a person who has a negative thing to say about him."
Quite the contrary. Wednesday was a day filled with messages of support for the former head coach.
McCoy was with Rivera for less than a season. But it was time well spent.
"He, more than any coach I've had, allowed us just to be us," McCoy said. "He loved his guys. It just sucks to see him go.
"It's not rare for a coach to care about his players. It's rare for them to show it. You see and feel how much he cares. His actions showed it. That was one of his better qualities."
Just about every Panther has a story that highlighted how much Rivera cared about the person, not just the player.
Olsen came to Carolina via trade in 2011 – the same year Rivera arrived. And Olsen had a lot going on at home after his son was diagnosed with congenital heart disease. Rivera made sure Olsen was able to focus on his family.
"Last night I was texting with (Ron) and I just ended up scrolling through some of my text messages," Olsen said. "At the top, the first like 20 texts I ever got from him back in 2012, not one had to do with anything other than how my family was doing. 'Don't rush back. Be there for your family, be there for Kara and for your kids.' Just asking about me as a dad, as a person. That stayed true for nine years. That's the biggest think I'll take from Ron, is moments like that and experiences like that."
Olsen was part of Rivera's initial squad. He helped lay the foundation. By the time Trai Turner arrived, the Panthers had just won the NFC South – the first of three straight division titles.
"I walked into a great locker room with great players," Turner said. "Great coaches. I think that paved the way to help me set myself up to succeed in the league. It's something I'm grateful for."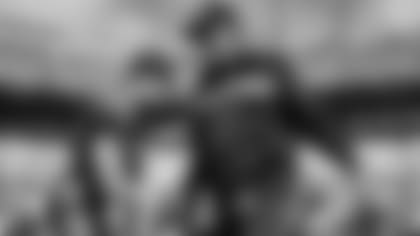 Christian McCaffrey had just three years with Rivera, but he echoed that sentiment. And he's forever thankful for the ways in which Rivera impacted him.
"I'm so appreciative. Coach Rivera drafted me top 10. He really believed in me. He gave me a shot. He's been nothing but a role model and a mentor to all of us," McCaffrey said. "He pushed me. He pushed me to not just be a good player, but to be more than that. Winning sometimes takes more than just going out there and making plays. You have to bring a lot of people along with you."
This is the end of the Rivera chapter for Carolina, but the 2019 season isn't over.
Perry Fewell has taken the reigns as interim head coach and the Panthers will travel to face the Falcons on Sunday.
Before he left the stadium, Rivera told the players to give Fewell everything they've got for the last four weeks.
They plan to do just that.
"A game has to be played on Sunday," McCoy said. "The task at hand is to beat Atlanta. The season ain't over. We want to finish on a high note."