CHARLOTTE — When I was a kid, going to camp meant a tent in the woods, with a lake and canoes and all that stuff.
Now, it means going to Spartanburg, which is a different kind of adventure altogether.
And if Frank Reich and Dom Capers think Charlotte has changed since they were here in 1995, wait until they cross the state line on I-85 next week. The Sparkle City's not the same kind of outpost it was then, and is actually quite nice now, with lots of things to see and do, and restaurants and bars and all kinds of cool stuff they didn't have in the 1990s.
And there's also a new sense of optimism about the football product that's coming to town.
After trading for the top pick in the draft and finding a quarterback in Bryce Young, there's a reasonable sense of optimism around this team. Seeing all those new pieces come together will be interesting, and what happens at Wofford will give us some valuable clues about what's to come.
I mean, we're not going to get any merit badges, but we'll learn some things. And based on the mail, there are plenty of things people are wondering about this team. So let's get to it.
------------------------------------------------------
Hello, keep up the fabulous writing, as I'm a huge fan. Quick question: what updates do you know about Brian Burns and a contract extension? Keep pounding! — David, Farmington, MO
Not a lot to update, but that might not be the case for long. The Panthers have made an offer, but the entire market at the position seems to be on hold since there are a couple of big deals on the horizon.
Nick Bosa said in June he was confident he'd get something done with the 49ers and that one figures to create a new bar for all pass-rushers. Burns doesn't have the same kind of resume as Bosa (last year's defensive player of the year), but just like property values in your neighborhood, when one goes up, all the comps go up with it.
Things could start shaking in the coming days as teams get ready to go to camp. Ideally, something would get done before they report and take the practice field. The Jets just did a deal with fellow 2019 first-rounder Quinnen Williams on Thursday, so maybe that breaks the seal.
Regardless, Burns is under contract for this season, and they can franchise tag him next year if they can't get a deal done, though that's something both sides would rather avoid.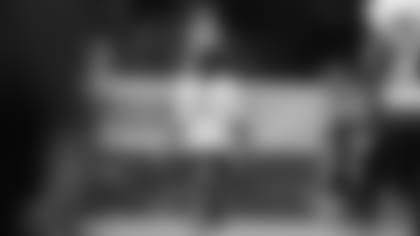 ------------------------------------------------------
You'll probably get dozens of questions like this, so I'll just submit the best one. Any indication they are looking into adding another player at the edge position? Also just moved to Charlotte and need your top three must-try restaurants (any food type). Thank you, and good luck in the heat of Spartanburg. — Jim, Charlotte
You're right, Jim. This was the best of the lot. Welcome to town, and as our way of welcoming you to the Queen City, we're making you this week's Friend Of The Mailbag and will get the appropriate honorarium on the way to you soon.
This has actually been one of the most-asked questions of the entire offseason, for a good reason.
There's a big question mark opposite Burns at the other outside linebacker spot, with a couple of former 4-3 defensive ends in Marquis Haynes Sr. and Yetur Gross-Matos and rookie DJ Johnson in the mix now. Or, as defensive coordinator Ejiro Evero said earlier this offseason: "We've got Mr. Burns. And then we've got a bunch of guys that are fighting and clawing and doing a heck of a job." (Release the hounds GIF goes here.)
They're keeping an eye on the pool of free agents at the position, which got a little more shallow when Leonard Floyd went to Buffalo. As we discussed previously, pass-rushers retain value as the months go on since everybody needs them, so they don't necessarily get a lot cheaper the closer you get to camp.
They're aware it's a need and are monitoring things there. But it will be interesting to see how the guys on hand look when they put pads on because you're kind of guessing about defensive players until you see them hit people. Johnson, this year's third-round pick, has the tools to become a starting-caliber player, but that's a projection at this point. Stay tuned.
As for restaurants, you'll find out that there's nothing Charlotte loves more than new and shiny. But I prefer old and reliable. So places like Brooks' Sandwich House, Mr. Charles' Chicken and Fish, and Lang Van are more my speed. I could go on and on about this, so limiting me to three is almost unfair.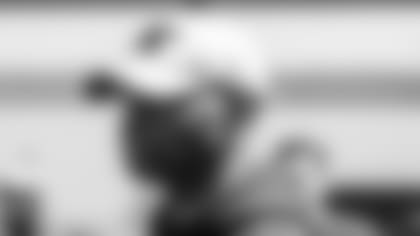 ------------------------------------------------------
Hi Darin! Long-time listener, first-time caller. Why have we, I hope it's OK to use the royal 'we', decided to go to the 3-4, when the general consensus, based on views found here and elsewhere, seems to be that we don't have the personnel to best utilize it? Haven't we been a top-half or better defense for the last few years in the 4-3? Why fix what isn't broken? — Darrell, Windsor Locks, CT
The short answer is, honestly, "to make it better." I'm not sure it was ever a top-five defense lately, even if the yardage stats said so. It was good, but not so dominant that you don't consider upgrading.
Also, a 3-4 is what Evero runs, and he was the guy they wanted as coordinator, so you do it.
The difference is easy to overstate, and once they went out in free agency and signed linemen (plural) so they could line up in a 3-4, it's not as much of a problem. Again, they have a need for another outside linebacker, and they're a little thin inside too, but the deficiencies aren't as jarring as they were in February.
Teams are only in their base defense a third of the time or less, so the distinction is less important than it's often made out to be.
------------------------------------------------------
Hey Darin! I know we switched to a 3-4 defense. How has the transition been for the players that you see on a daily basis? What seems to be a position on the team we may need the most work on? — Kelvin, Lumberton, NC
Again, they need to find an answer at outside linebacker, whether that's the existing options or bringing someone in from outside. Having that second pass-rusher option is key in a 3-4. I keep going back to Capers' first two years here when Lamar Lathon was good on his own in 1995, but better when you added Kevin Greene on the other side in 1996. There's not a future Hall of Famer like Greene available at the moment, but the point stands.
And while we haven't seen this defense in pads yet, Evero's reputation is for tailoring his scheme to the talent on hand. In OTAs and minicamp, you could get some hints of the way they're trying to manufacture some pressure. They have a couple of guys in Frankie Luvu and Jeremy Chinn who might not fit the traditional positional molds at their positions but can make plays. So they're going to move around and do some different things.
Speaking of Luvu, they're also not particularly deep at inside linebacker behind him and Shaq Thompson. That's another position they're keeping an eye on, and it's easier to find veterans at that spot at reasonable rates.
------------------------------------------------------
I hear the expectations for the Panthers from all the talking heads. They mostly talk about our QB situation as being bleak, mostly because of our WR room. They always fail to mention our much-needed upgrade at TE and our RBs being capable of contributing. They fail to mention any chance of Marshall or Mingo making a significant contribution. They fail to mention our QB is a point guard at heart in spreading the ball around. My question is do they do any research or just talk to hear themselves? I can not wait to get to Atlanta to see this all start; it has been a long time coming. — Stephen, Columbia, SC
This is perhaps the best part of the offseason coming to a close. There will be actual things happening to talk about, which may lead to an improved quality of talking. The year-round appetite for football talk isn't always met with a year's worth of research or educated opinions. But that's why you come here, right?
Still, it's reasonable to be in a wait-and-see mode with this offense. There's the potential for it to be better, with a coaching staff full of established teachers. But we don't know how Bryce Young is going to respond to the NFL yet, and it's fair to look at this offense as a bit thrown-together-on-the-fly. That's what happens when you throw it together on the fly. A brand new cast of skill position talent is going to be doubted until it produces.
But there is talent there, and as you mention, having reliable targets such as Hayden Hurst and Miles Sanders (along with a ready-made offensive line) should make Young's adjustment to the league a little easier. And so it's fair to be excited about watching it come together; you just might want to be more careful with your choice of talking heads.
------------------------------------------------------
The Panthers have signed a few different receivers over the offseason, but none jump out as a WR1. Who do you think has the best chance of being the biggest target for Bryce this season? — John, Pike Road, Alabama
See what I mean, Stephen? This is fair.
There's not what you'd traditionally describe as a No. 1 receiver among this bunch, but there are several solid options.
I think Adam Thielen is going to catch a lot of passes this year (and he caught 70 last year, so that shouldn't be a surprise). And DJ Chark Jr. adds an element of straight-line speed that creates opportunities downfield. And Jonathan Mingo and Terrace Marshall Jr. got a lot of good work with young through the spring and have the kind of size to create matchup problems. And Laviska Shenault Jr. is going to be moved around the offense and should see his fair share of the touches.
So no, there may not be a one, but there are enough options to think it could be productive. Thielen's probably the safest pick to lead the group in receptions, but this offense looks like it's going to be spread pretty widely, regardless.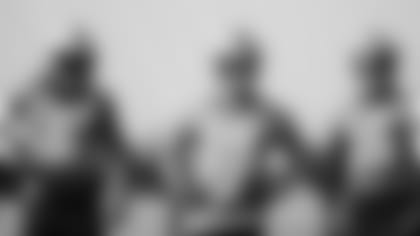 ------------------------------------------------------
Why didn't the Cats trade CMC for top veterans instead of just four picks, none of which was a first-rounder? Easily the Cats missed out on acquiring HOF defensive players like Roquan Smith or Bradley Chubb; even the TE from Detroit, Hockenson? — Frank, Huntersville, NC
The answer is Bryce Young. Without those four picks, they aren't in a position to make the deal for the No. 1 overall pick and the cost certainty that comes with a quarterback on a rookie scale contract.
And that was clearly the priority for the franchise after trying a number of other avenues to fill the position for the last five years. They've tried spare parts and free agents and trades, but the goal was always to try to draft one. That's the platform general manager Scott Fitterer saw work in Seattle when they won a Super Bowl with a young Russell Wilson and a defense full of stars they were able to keep with the savings.
Those guys you mentioned have either gotten big contracts (Smith and Chubb) or will at some point (the Vikings ostensibly didn't trade for Hockenson to be a rental).
Young, on the other hand, will be on the books at a reasonable rate for the next five years, which should allow them to put pieces in place around him.
------------------------------------------------------
I was 10 years old when the Panthers went to their first Super Bowl against the New England Patriots. In the following year or so, my Tar Heels won a basketball Championship, and the Hurricanes won the Stanley Cup. My entrance into sports consciousness coincided with a time of unparalleled success for all of my North Carolina teams, locking in this good ol' North Carolina boy's heart for his sports allegiances. My question: What are some of those first moments in your life that captured your sports attention? Follow up: How do we feel about the potential for this generation of Carolina Panthers to have the sort of moments that create the lifeblood of new, young fandom? After watching the "Blueprint" series, I, for one, feel a refreshing optimism that's been, unfortunately, all-too rare for several seasons. Something strong is brewing in Charlotte. Keep Pounding! — Jarrett, Durham, NC
Growing up in the '70s, it was easy to become a fan of the Cincinnati Reds. They were on TV a lot in Western North Carolina (WXII and WHKY were like the original SuperStations), and they won a pile. So that hook was set in me early, and it lasted. Went to see them the other week in Baltimore (wearing an old Chris Sabo T-shirt and a new Joey Votto jersey), and being able to see Elly De La Cruz has rekindled my interest — though it's practically impossible to see them on television here, thanks to some ridiculous blackout rules.
It hasn't always been easy, but you stick it out.
And I can imagine that's what this moment feels like for Panthers fans. Seeing this team come together the way it has, with a competent and deep coaching staff and a quarterback to hang hope on, there's all the reason in the world to be excited.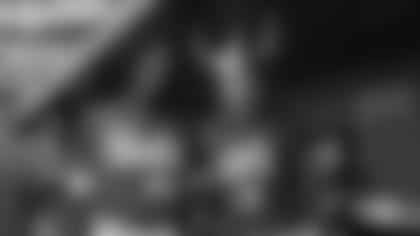 ------------------------------------------------------
Let's go lightning round, brought to you by the patron saint of the lightning round Jeff from Fuquay-Varina, to close it out this week.
The Blueprints content has been great! Especially when they showed your notepad in Episode 2. I'm old school and take my notes by hand, so it's nice to see that we scribe the same hieroglyphs, or as my wife refers to it, "Chicken Scratch." So tell us younguns that grew up with PCs, what was it like to be a beat reporter pre-PC? — Dan, Venetia, PA
On the one hand, it took a lot longer to file stories by carrier pigeon. On the other hand, a lot more of us actually had jobs when there were these things called newspapers.
Hey Darin, first-timer here. Let's say we get to camp, and some of the younger WRs are struggling, and/or we have an untimely injury to one of the older vets. Could you see Fitterer dialing up the Rams to put together a trade package for Shawn Jefferson's son, Van? — Doug, Shelby, NC
Van's an interesting player in his own right, but his dad doesn't lack options. That receiver room is fairly well-stocked at the moment.
Panthers fan from the beginning. Lived in NC for 20 years. Which receivers created separation in OTAs? Thanks, Another old guy. — Brad, Bartlett, IL
Several of them, actually. Thielen was consistently good in the red zone. Mingo and Marshall had good springs. Chark didn't get to practice much as he recovered from ankle surgery, but he's expected to be ready to go in Spartanburg.
I was at that show. Hung around to watch the Lions the next weekend (they won).
Hi Darin! I have another hypothetical question for you. If you had to pick one Panthers kicker not named Graham Gano or John Kasay to be on your all-time Panthers kicking greats list, who would you pick? Yes, Brandon Zylstra is eligible (so pick him, please), as he was the kicker against the Bills in 2021 when Zane Gonzalez slipped. — Zach, Charlotte
You answered your own question, which makes it easier for me. Now GO BACK TO CLASS, ZACH.
With Bill Voth gone, who do we direct our "Will the Panthers sign, ... " questions to when camp cuts start happening? — Greg, Beckley, WV
Are you going to savor each passing of the giant, rash-stricken peach as though it's your last? — Travis, Gastonia, NC
When you see the Peachoid in Gaffney, you know it's football season. So I guess that means it's that time.