CHARLOTTE -- After watching the door close on C.J. Anderson's tenure with the Panthers on Monday, running back Cameron Artis-Payne has begun embracing the one that has now opened for him, even if the opportunity is a little bittersweet.
"It's never an easy thing when a player gets cut, you know? People that you formulate a bond with," Artis-Payne said Tuesday.
But, as the saying goes, the show must go on, and Artis-Payne will now reprise his role as a supporting character behind lead back Christian McCaffrey.
"(I've) just been working. Running, trying to stay in shape, taking as many scout team reps as I possibly could," Artis-Payne said. "Just trying to stay in tip-top shape, preparing for an opportunity."
With 23 regular season appearances and a playoff game under his belt, Artis-Payne is not new by any means, but head coach Ron Rivera believes that Anderson's departure will give the coaching staff "an honest look" at what they have in the former fifth-round pick from Auburn.
"We just haven't had enough opportunities for him. We've put ourselves in a position where we have to find out. I'm excited for him," Rivera said. "When you look at the things that CAP can do in comparison (to Anderson), they are very similar.
"This is a little bit of a gamble, but we feel strongly enough about CAP that we wanted to give him this opportunity."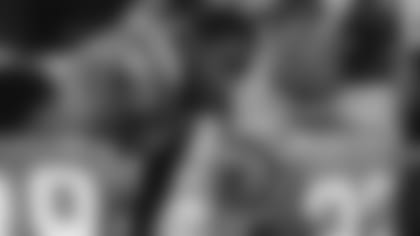 Given McCaffrey's high usage rate (96.3 percent of snaps) this season, there hasn't been much opportunity for a No. 2 option in the backfield, which Rivera cited as part of what led to parting ways with Anderson.
"(Anderson) envisioned a different type of role," Rivera said. "We talked a little bit and I could feel the frustration."
After being the No. 1 option for most of his time in Denver -- where he had his first 1,000-yard season in 2017 -- Anderson never really found a groove in Carolina with fewer snaps.
Artis-Payne has operated in that space since arriving to Charlotte after being drafted in 2015, making him an ideal fit due to his experience and comfort level with the system.
As a third option, Artis-Payne has contributed 422 yards, four touchdowns and zero fumbles in 99 career carries. Sunday's game against Detroit will give Artis-Payne his first shot at being active since Week 3. He may get a few snaps. He may not get any. Either way, he's ready to contribute.
"You don't want to go out there and do too much. You just want to go out there and play to the best of your ability," he said. "The offense has been rolling. Christian has shown he's one of the better backs in this league.
"When you go in there to spell him, you got to do your job and make sure you're taking care of the ball."
View photos from the week of practice leading up to the Panthers' game against the Lions.