CHARLOTTE – Anyone who knows football knows Ben Roethlisberger, the six-time Pro Bowl quarterback in his 15th season under center for the Steelers.
And you'd certainly think that Panthers linebacker Thomas Davis, a three-time Pro Bowler in his 14th season, would know what it's like to do battle with Roethlisberger at Heinz Field.
"We play up there every other year in the preseason," Davis said. "And my kids got to hang out with him at the Pro Bowl. That was pretty cool."
But Davis, amazingly, will take his first snap against Roethlisberger in Pittsburgh on Thursday Night Football. Either one or both sat out each of the seven preseason finales played between the two teams in Pittsburgh since Davis was drafted in 2005, and Carolina's one regular season game at the Steelers during Davis' career (in 2010) found him on injured reserve.
"It's crazy. Injuries prevent things sometimes, and sometimes it's just a byproduct of the schedule," Davis said. "The only time I've played him was here, and that didn't end well."
Roethlisberger had his way with the Panthers in Charlotte in 2014 and in Pittsburgh in 2010. No current Carolina player has won a game that counted over Roethlisberger while wearing a Panthers uniform.
Dontari Poe got Roethlisberger once with the Chiefs in 2015. Julius Peppers did the same with the Bears in 2013, returning a Roethlisberger fumble for a touchdown. And Mike Adams, in 2011 with the Browns, intercepted Roethlisberger.
"Defensive players, we can tell you who we've picked off," said Adams, who played Roethlisberger twice every year from 2006-11, beating him just once. "He can make all the throws. He understands the game. He's hard to bring down when you tackle him. Hard to bring down, period.
"He's always extending plays, making plays with his feet or with his arm. And he's got a big arm. He also finds his open receiver all the time because he scans the whole field – he's not a half-field quarterback."
Cam Newton was 14 years old when Roethlisberger was selected ninth in the 2004 NFL Draft. Since Newton was selected first in the 2011 NFL Draft, his interactions with Roethlisberger have mostly been limited to chats before and after preseason games in which neither played. Newton was under center in 2014 when the Steelers torched the Panthers 37-19 in a Sunday Night Football game in Charlotte.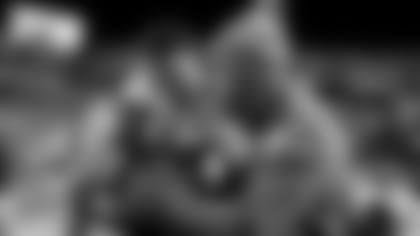 "The play is never over with Big Ben," said Newton, who like Roethlisberger is listed at 6-foot-5. Newton weighs 245; Roethlisberger 240. At least on the official roster.
"I have so much respect for Ben – Super Bowl winning quarterback who has won a lot in this league," Newton continued. "Very cerebral, very good understanding of what defenses try to do.
"For him to be such a big guy, he's real good with his feet and being patient in the pocket – that's what I've learned from him."
Newton is known for making plays with his feet by escaping the pocket, but his head coach says making plays with his feet within the pocket is something Roethlisberger is known for and something that Newton should be known for as well.
"A lot of people think of Cam as a running quarterback, but if you really get a chance to break him down, you will see that he will hang in the pocket a lot longer – a lot like Ben does – trying to give those guys a chance to free up," Rivera said.
Aside from Adams, Rivera has battled Roethlisberger more than any of his players. He lost to Roethlisberger once as Bears defensive coordinator and three times as Chargers defensive coordinator – including a playoff loss in 2008.
"It's tough as a coordinator, too, when you see guys who can stand tall, maintain and stand up like that. It's frustrating," Rivera said. "I remember coordinating against Ben when I was in San Diego, how frustrating it was. Just when you think you've got him, guys are bouncing off literally.
"I remember blitzing (200-pound safety) Eric Weddle and watching him just bounce off. He's a stout guy that stands tall."
So the Panthers secondary will have to stand tall – and long – against Roethlisberger. That goes for Adams, who was an undrafted rookie with the 49ers the year Roethlisberger was drafted in 2004; and rookie Donte Jackson, who was 8 years old when Pittsburgh picked him.
"Ben Roethlisberger is a guy I've been watching since I was young," Jackson said. "You have to make sure you keep your eyes on your man knowing that Big Ben is a guy who can extend plays with his feet and with his strength, a guy who can throw the ball if he's on his way down for a sack.
"He's been one of the best quarterbacks in the league for a long time. He's no slouch."