How it feels to be picked by the Panthers:
"It feels great. I'm just honored and really blessed right now. I thank God."
How he sees himself fitting into the team:
"I feel like I'll fit in real well with them. Coming in to contribute and help the team out any way I can and be a great teammate."
How he feels about being a first-round draft choice but playing a rotational role:
"I'm going to do whatever the coaches want me to do. If it's wanting me to be a rotational guy, I'll be a rotational guy. But I'm going to work hard every day and give it my best and try to help them win games."
How he would describe his style of play:
"I would describe it as more aggressive. Penetrating up the field, make plays in the backfield. That's what I like, make plays in the backfield. Any time I get out of my stance, make a play."
Moving well for a 320-pounder and if he has always been a big person or grew into his body size:
"I haven't always been that big, nah."
What it was like to meet Luke Kuechly on his visit to Charlotte:
"It was good. Just meeting one of the best linebackers in the NFL, it was pretty sweet."
If it is correct that he didn't start playing football until his junior year of high school:
"Yes sir, that's correct."
If he was a basketball player before playing football:
"I was playing basketball in my freshman and sophomore year of high school and then I picked football up."
"To be honest, I knew I wasn't going to get no taller than 6-4. To play basketball you've got to be at least 6-9 in the post. I went back to playing football, playing defensive end."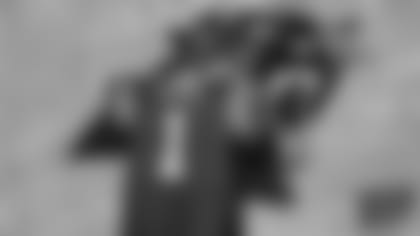 If he got the sense during the Draft process that Carolina was very interested in him:
"Yeah, I met with them at the Senior Bowl, the Combine. They came in and worked me out. I even went there and had a visit there. I knew that if it came down to it that was where I'd probably most likely be. And I'm happy to be there."
If it is correct that the Lions told him they would select him at No. 16 if he was available:
"That's what they said, but they say a lot of things."
If he was surprised to drop to the 30th selection:
"A tad bit, I was. But I'm at a good home with the Carolina Panthers so it works out good."
Who he was cheering for in the Super Bowl:
"The Panthers. I'm a big Cam Newton fan. I've been a fan of Cam since he was at Auburn."
If he feels he has a point to prove coming to the NFL from a smaller school:
"I would say yeah, I would. I have a point to prove to people in all the NFL. Big school guys, they think they're probably the best, but small school guys, we can show them what we can do."
What Senior Bowl week was like:
"It was good. I got to go out there and show the scouts and coaches what I can do against some of the big-time schools. I felt like it did me a whole lot for my draft stock."
How he would explain not having "eye-popping""sack and pressure statistics:
"I think I did a good job getting the quarterback on the ground. I pushed the pocket to change the play. It's something I've been working on this offseason so there's nothing to worry about with that."