DETROIT - Cam Newton said it wasn't just one play that spelled the difference in the Panthers' 20-19 loss at the Lions on Sunday.
But understandably, Newton and those asking him questions kept coming back to one play.
"I've got to make that play," Newton said, uttering those same six words several times during his postgame press conference in reference to Carolina's failed two-point conversion with 67 seconds left. "I let this team down. I've just got to be better."
Newton tossed three touchdown passes – giving him nine consecutive games with at least two – and he earned a quarterback rating of more than 100 for the fifth consecutive game, the longest such streak of his career. But obviously nothing along those lines mattered to him after he couldn't follow up a late 8-yard touchdown connection with rookie receiver DJ Moore with a two-point completion.
With Graham Gano having missed a 34-yard field goal and an extra point in the second half, head coach Ron Rivera opted to go for the lead rather than the tie. Newton had plenty of time to throw but said he was about to try to run it in when Jarius Wright broke free right in front of him. Newton overshot him.
"I kind of expected it, and I wouldn't have wanted it any other way," Newton said of Rivera's decision. "He trusted me, and I've got to uphold my end of bargain. I didn't do that."
While Newton tried to take Carolina's fourth road loss in five outings on his shoulders, he also recognized that the Panthers across the board should have put themselves in better position in the first place.
"I think today it was guys taking turns making mistakes. That's unacceptable," Newton said. "The caliber team that we are, the caliber of team we know we can be, the caliber of team that we need to be – it's just unacceptable.
"Perfect example is the two-point conversion. I've got to make that play. Other times in the game, other people made mistakes. We're better than that."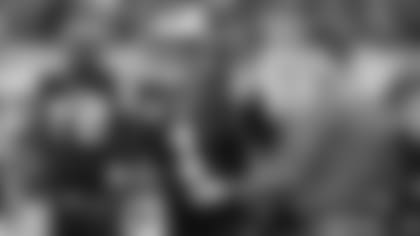 The Panthers' hopes for Sunday's game and for future games flashed before their collective eyes when Newton went to the Ford Field turf in obvious pain in the final minute of the third quarter after a Detroit rusher rolled up on Newton's left ankle. He got medical attention on the field before eventually coming off the field under his own power, and he ended up missing just one play before returning when Carolina got the ball back in the fourth quarter.
The Panthers hadn't scored since an impressive 90-yard touchdown drive off the opening kickoff, but Newton led the offense to two touchdown drives in the final stanza. Between the first and fourth quarters, Newton connected on a combined 18 of 24 passes for 233 yards and three touchdowns. In between, he hit on 7 of 14 passes 124 yards with an interception.
"We preach every week starting fast, and we did today. We've just got to stay fast," Newton said. "It was a build-up of things. We could have put ourselves in position to win, but we didn't do it. I'm not here to point blame. Things happen. It's time for us to move on and get ready for our next opponent.
"It's all right. We're going to be OK. I believe in every single person in that locker room, and I know they believe in me. We've just got to battle back and get on track."