CHARLOTTE – It's easy to understand if Jermaine Carter caught himself looking over his shoulder.
Not that long ago, the Panthers' rookie linebacker spent his Sundays sitting on his couch watching Luke Kuechly and Thomas Davis play for Carolina. Once in college, Carter watched film of Kuechly and Davis to help hone his game.
This past season, Carter graduated to watching film with Kuechly and Davis. And if that wasn't surreal enough, in Week 16 Carter found himself putting plays on film alongside Kuechly and Davis.
"Having the ability to be able to play next to those guys was huge for me," Carter said. "I wasn't really nervous, but I guess you would say I was worried, thinking, 'If you make a mistake, Coach is going to pull you out.'"
A week later, that pressure was removed when Kuechly and Davis were removed from the season finale. Carter stopped pressing and just started playing, capping his rookie season by providing a glimpse of what he could possibly do for the Panthers in the future.
And with Davis not in the Panthers' plans for next season, Carter could be in line for more snaps sooner rather than later.
"It's there for the taking, but the guy that probably has to step up the most is Shaq," said Carter, whose late-season chance materialized in part because of an injury to Shaq Thompson. "I hope I will be given the opportunity for more playing time, but it's an opportunity for everybody.
His position coach believes Carter took a pivotal step in that direction with the way he finished out his rookie year.
"He created some good momentum for himself going into next year," linebackers coach Steve Russ said. "Confidence is a good thing. Experience is a great thing.
"He created some momentum heading into Year Two, and I think some of the biggest jumps that you make as an NFL player are from your rookie year to your second year."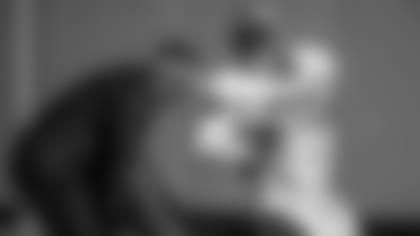 Russ will be a busy man this offseason with changes in his position group. Kuechly is a given atop the linebacking corps, and Thompson in the final year of his rookie contract should transition nicely into the post-Thomas Davis era. The Panthers' list of potential free agents includes back-up backer David Mayo, and of course free agency in general as well as the draft could help shape things.
So while it's way too early to say how often and how Carter will be used as a second-year player, Russ believes that Carter is well on his way to being useful.
"I didn't think it was too big for him," Russ said of the audition of sorts for Carter, who played 60 of 100 defensive snaps over the Panthers' final two games after totaling 23 snaps over the first 14 games. "By rookie standards, Jermaine is a very mature young man.
"In the NFL, you need your younger players to step up. With the hard and firm salary cap, you need every single player on the roster to be ready to contribute. I look forward to seeing what he can become in the future."
Carter was a tackling machine at the University of Maryland, leading the Terrapins in tackles for three consecutive seasons. It appears the Panthers got a steal in the draft when they selected him in the fifth round.
"He's a three-down player. You don't have to take him off the field," Russ said. "His play speed stands out to me, and he has very, very good natural instincts and a very high football IQ.
"He can retain information. He can pick up information. And he also can take that to the football field. Sometimes with rookies there's a disconnect at some point in that supply chain, but he connects the dots very well and he works hard at it."
Russ also likes Carter's toughness and physicality, and both noted that he has some pass-rush ability that he didn't get the chance to show as a rookie. At Maryland, Carter recorded 9.5 sacks.
On the other hand, Carter is a 6-foot, 225-pounder (similar to Thompson's size) who still has some developing to do.
"What I'm looking forward to working with him on moving forward is using his hands better, being consistent with block destruction and those types of areas," Russ said. "Adding some upper body and lower body strength is going to be key.
"And also it's about truly being able to trust what he sees."
Carter said he thought his acumen for the position on the pro level took a big step forward during his last-season push. He pointed to a film session with Kuechly days before the season finale as a moment when some things clicked for him, helping him against the Saints and in the setting of a standard for his offseason studies.
As for the physical part of the equation, the self-described "football junkie" has decided to hang around Charlotte for his winter workouts.
"I'm just focusing on what the coaches want me to get better at. They want me to get stronger, and for myself personally I want to be more explosive off of one foot, coming out of my breaks," Carter said. "There are parts of my game that I haven't been able to flash yet. I'm eager to get out there and show what I can do."