CHARLOTTE – Chris Hogan was all smiles as he took off his shoulder pads after Wednesday's practice.
He hadn't worn them in two months.
The veteran wide receiver was placed on injured reserve after suffering a knee injury against the Houston Texans during a special teams play.
"I remember going at it with a guy and when I got up it just didn't feel right," Hogan said.
Little did he know at that point he was about to miss significant time.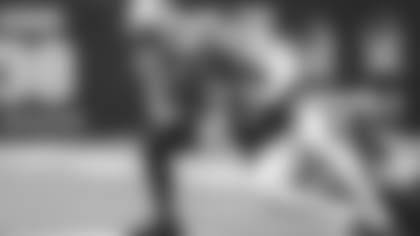 "It was a scope. It's a frustrating process. It took longer than I expected. Just kept grinding every single day," Hogan said. "Today felt good. We'll see how the rest of the week goes. I was extremely encouraged."
On Wednesday, Hogan was designated for return and was able to re-join his teammates on the practice field.
When he last played, the Panthers had just improved to 2-2. Now they're 5-8 with three games left. It's been difficult to watch it all play out from afar.
"I've had to be in this situation only a few times in my career and it's hard, man," said Hogan, who has three catches for 24 yards on the season. "I love this locker room. It's great. Deep down, I believe we have a really, really good team here. We just had a couple bad bounces a couple things that didn't go our way. Those close ones, that's something where you want to be out there to try to give guys a little extra energy, a spark, try to be a leader. I was missing being out there, a lot. I really respect every single one of these guys in the locker room."
Hogan isn't sure if he'll be activated to play in Sunday's game against the Seahawks, and obviously the Panthers have to see how things go the rest of the week.
"I don't make those decisions, but I am going to do everything I can to be ready to play," Hogan said.
Some might ask, 'Why?' Why not just rest and recuperate for the 2020 season?
Here's how Hogan sees it.
"Honestly, a big part of it is I wanted to be out there with these guys and play football again," Hogan said. "For me, any chance you get to go play football is a blessing. You have to take pride in playing as a Panther and you can never take being out here for granted. It can be taken away pretty quickly."