CHARLOTTE — Long after the Panthers had ended their Wednesday night practice last week, quarterback Teddy Bridgewater and tight end Chris Manhertz remained on the field.
For Bridgewater, post-practice work has been nearly an everyday routine the past month. For Manhertz, the extra time came after he appeared to drop a sure touchdown pass in the primetime practice.
The 28-year-old tight end has long carried the reputation for being a blocker more than a pass catcher. After making his NFL debut in 2016, Mandertz has just six receptions on 11 targets in 52 games.
He does have one notable rumble down the field, a 50-yard touchdown catch from running back Christian McCaffrey on Monday Night Football late in the 2018 season. But last year, Manhertz had just one catch on one target despite playing in all but one game.
Manhertz is a former college basketball player, averaging 6.5 points and 6.8 rebounds per game at Canisius. So when Bridgewater found that out recently, his eyes lit up.
"As a tight end, we hear a basketball player, you think about a guy who will go up and rebound for you," Bridgewater said. "So I just told Chris, man, I just want to continue to just try to add a little more to his game.
"Get them out of that mindset of just thinking that, 'I'm just coming in the game to block.' No, you're going to be catching passes, and this offense is going to rely on you in the red zone, on third downs, and things like that.
"I just told him, pretend you're on the basketball court."
And Manhertz certainly has appreciated Bridgewater's encouragement.
"I think it's a testament to not only how good of a leader Teddy is, but his attention to detail with his tight ends and wide receivers is really admirable," Manhertz said.
"Just for him to take the time out to really show me how he wants routes to be run, and the timing, and the chemistry and things of that nature — I think that's definitely important, especially if you're trying to get a good base of chemistry with your quarterback."
While it's often used as a descriptor for tight ends, being a former basketball player does make a difference. As a basketball player, Manhertz was a self-described "garbage man," someone who did the dirty work near the hoop. Playing football, the 6-foot-6, 255-pounder can have a similar effect using his size and length to effectively post up on defenders.
"Those are certain traits that I guess you can't teach, but just some traits that just transfer and become natural once you're really out there on the football field," Manhertz said. "I hope to use that and use it to the best of my ability."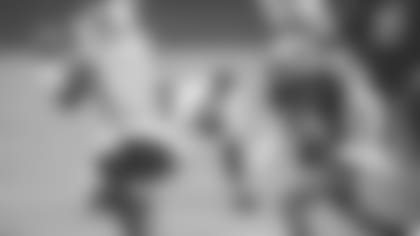 Still, every year, Manhertz has tried to improve his catching ability. This offseason was no different.
"I try to add a few things to my game," Manhertz said. "Just knowing that it's always a work in progress, it's good to know that there may be an opportunity to get in there."
Of course, being an effective blocker is a critical piece of a tight end's job.
"You have to take pride in your technique, but I would say more than most of it is just having that gritty, tough mindset, knowing that you're trying to dominate the person in front of you," Manhertz said. "For me, you would hope that doing that will allow you to see more snaps and play on the field, but also open more opportunities for you elsewhere as far as in the offense and the scheme."
Greg Olsen was Carolina's premiere tight end for nearly a decade. Without his presence in 2020, Manhertz knows the door is open for him and Ian Thomas to become impact players.
"I think sometimes, you really can't control what opportunities you get. The only thing you can really control is what you do when you get them," Manhertz said. "(W)e're working hard every day, and preparing so we can make the most of them."
Bridgewater can see Manhertz's potential. With the quarterback's help and words of encouragement, Manhertz has a shot at becoming a more well-rounded player.
"I'm excited to have a guy like him in our locker room in the tight ends room, a guy who can make plays for us, who can block for us in the run game," Bridgewater said. "He's a smart player."
— The Panthers placed guard Chris Reed on the reserve/COVID-19 list. He is the second player Carolina has put on the list, joining defensive back Derrek Thomas.
— Rhule called Tuesday's practice one of the best the Panthers have had since camp opened. He also noted that wide receiver Curtis Samuel made some plays and guard John Miller has established himself along the offensive line.
— Center Matt Paradis (personal), defensive lineman Zach Kerr (illness), wide receiver Tommylee Lewis (hamstring), and tight end Ian Thomas (toe) did not practice. Rhule said Thomas hyperextended his toe, but an MRI revealed the injury is not serious.
— Cornerback Troy Pride Jr. wore a 'matter is the minimum' T-shirt during his virtual press conference, an extension of the statement, "Black lives matter."
"This is (made by) one of my friends, Jay Urich, he attends the University of South Carolina," Pride said. "He has a non-profit, and basically he phrased and coined this term 'Matter is the minimum' talking about Black lives matter. That's the minimum of what that phrase means. (Black lives are) respected. They're cherished. They're needed. There's so much more to it. But it's just a friend of mine that I've been repping."
Urich is a South Carolina quarterback.
— Pride said he was grateful the team took the opportunity to have conversations surrounding racism and social justice issues over the weekend. He felt the talks were productive and fully supports what team leaders have said.
View photos from Tuesday's practice in the last week before the regular season.