CHARLOTTE – As coaches and football personnel in the war room celebrated the Panthers' selection of Stanford running back Christian McCaffrey with the eighth pick in the NFL Draft, head coach Ron Rivera kept one eye on the NFL Network's package of McCaffrey highlights.
"You saw him do everything – line up as the tailback, line up as the halfback, line up as the quarterback in the Wildcat, motion out and run a wheel route, return kicks," Rivera said. "This is a guy who you can get the ball in his hands many different ways and quickly."
When Rivera said the Panthers would get the ball to McCaffrey quickly, he meant it in more ways than one. Rivera believes McCaffrey's playmaking ability near the line of scrimmage can jumpstart the offense, and the Panthers don't plan to wait before jumpstarting McCaffrey.
"We feel like this young man is going to be able to get on football right away and help make an impact," Rivera said.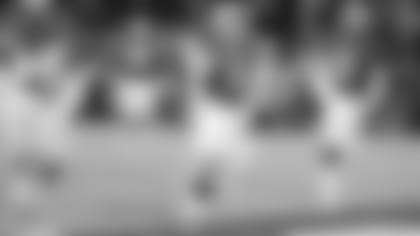 General manager Dave Gettleman recently said it's rare for NFL prospects these days to be "plug and play," but after the pick he said McCaffrey is pretty close to just that.
"He's knows what it takes," Gettleman said. "He understands the game."
Gettleman added that between McCaffrey's inside running ability and his pass-catching ability, he possesses a combination of skills rarely seen.
"It doesn't happen very often," Gettleman said. "The best tackle-box runner I've ever seen is Curtis Martin out of Pitt. Christian is right there with him. Running in that tackle box takes unique vision and unique quickness, and he's got it. Curtis Martin had it, and he had a great career – a Hall of Fame career – and this kid's got those kind of skills.
"He has suction cups on the ends of his wrists."
Both Gettleman and Rivera gushed about how prepared McCaffrey will be for life in the NFL, partially a function of being the son of longtime pro receiver Ed McCaffrey. Rivera said he'd be used as a punt returner right away but didn't stop there, saying McCaffrey should in short order be able to complement running back Jonathan Stewart and improve life for quarterback Cam Newton.
"He's going to take a lot of pressure off him," Rivera said. "Moving him around and watching how defenses react to him is going to be a big thing that's really going to help our quarterback and help the rest of our offense."
View photos of the Carolina Panthers' 2017 first-round draft pick Christian McCaffrey