Moments after the Panthers selected Stanford running back Christian McCaffrey with the eight pick in the 2017 NFL Draft, McCaffrey conducted a conference call with media gathered at Bank of America Stadium from his Colorado home.
On his excitement after being drafted by Carolina: "Excited is an understatement obviously. It's such a blessing to be a part of this organization. I'm so thankful that they believed in me enough to trust me with that eighth pick. I just can't wait to get out there and do whatever I can to help them win games."
On what he came away with from his pre-draft visit to Charlotte: "As soon as I touched down in Charlotte, it was one of the coolest places I have ever been to. I was in awe and all that. Meeting the coaches, meeting the players, just seeing the kind of camaraderie they have inside the locker room and weight room, I knew it would be a perfect fit for me and I can't tell you how thankful I am once again. I got an opportunity to meet with Mr. and Mrs. Richardson, and what amazing people they are as well. Such a successful person who means so much to an organization. That was a special moment for me. Now to put on a Carolina Panther hat and know that I am a part of this organization, it's pretty surreal."
On if the Panthers' offseason hiring of Lance Taylor, who was McCaffrey's position coach at Stanford, was an indication of interest: "In the back of my head, a little bit but I had no idea. You know how it is. The NFL is such a game and you can never really predict anything. I just tried to trust the process and go to work every single day. Now I'm here. While this is an unbelievable moment, it's the start to something special too. It's not the end, this is just the beginning. I can't wait to get to work."
Of if McCaffrey ever dreamed of being drafted in the top 10: "It's been a dream of mine since I was little, to be one of the best players in the draft. Now for this to come true is special to me. It's a special moment for myself and my family. There's been a lot of hard work, a lot of tough times, but a lot of great times as well. To see it pay off and to be blessed enough to go to an organization like the Carolina Panthers, I'm at a loss for words right now. I'm in awe once again. I can't wait."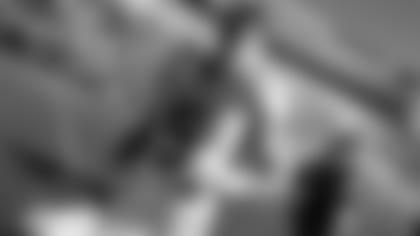 On players he met during his visit to the team facility: "I saw Luke Kuechly and Thomas Davis, and the first thing I did was try to imagine was blocking them, so I've got to get ready. That's all I've got to say. I'm going to do everything that I can. It's one of those things where you see these guys play every Sunday. You see guys like Luke Kuechly, Thomas Davis and all of these great players that Carolina has, Cam Newton – being able to now say that I'm a part of the same team as them is a blessing. These are guys that I watched growing up, 20 years young so I've been watching these guys for a long time. To be on the same team as them is a blessing. I just can't wait to learn from them."
Thoughts on playing with Cam Newton: "I smiled. I just knew that it was going to make all of our jobs easier. He is the most talented quarterback in the NFL, hands down. I just think to be able to line up in the backfield with him, I hope we can do some special things."
On discussions with offensive coordinator Mike Shula about his role: "We touched the surface a little bit. A lot of the similar stuff as how they used me at Stanford. They have such great backs there already, just to kind of fit in with them and just to utilize all of us in the package is going to be a lot of fun for all of us. Once again, learning from Coach (Jim) Skipper who is a legendary running backs coach and Coach Shula as well, we touched it a little bit on how I would be used, but I'm just excited to get in and learn."
On what he thinks his position is: "I'm a football player. I don't put a title on what position I am. If you need me to go to wide out, I can go to wide out. If you need me to run power in between the tackles, I believe I can do that as well. So I think there is a variety of different things I can do. That is something I pride myself on in my game."
On the pressure created by being a high draft pick: "There's always pressure. I'm a person who loves pressure. Pressure makes people better. There is pressure every time you walk onto a football field whether it's practice or a game. I love that. That's the kind of stuff that makes the great ones great. I plan to get there and do whatever I can to help this offense put a lot of points on the board."
On his response when people say he is not an every-down running back: "I would just tell them to watch the tape. I've had more carries than anybody in the country over the past two years as a running back. I feel like I did pretty well. That's kind of what I would tell them."
On his experience as a Super Bowl 50 attendee: "When you watched that team play the whole year, what a special team. It's an organization where winning is the standard, and that's what we are going to get back to. I can't wait to be a part of that."
On the reaction of his father, longtime NFL wide receiver Ed McCaffrey, to the draft: "He gave me a big old hug and said congrats. There are so many emotions going through my family right now. All of my loved ones are here at home in Colorado. I'm just so thankful to be able to spend it with them."
On McCaffrey's dad wearing a Denver Broncos jersey: "We threw it off and put a Carolina Panthers jersey on."
On how he'll celebrate his first NFL touchdown: "I never know what to do so I beat my chest five times and I point up to God. That's what I stand on. That's kind of what I started doing my sophomore season. All praise goes to Him. That's just the kind of person I am. I'm a religious person. Every touchdown I score and before and after every single game, I just give it up to Him."
On playing for the Panthers offense: "What an explosive offense. You have Cam Newton back there, you've got some great backs and you have a fantastic offensive line and some great leadership there. I can't tell you how excited I am to help this team score points and win games."