CHARLOTTE – Full disclosure, rookie edge rusher Christian Miller would probably prefer this story not be written.
He's not big on media attention and all that comes with it. But after recording the first two sacks of his career in the win over Arizona, the fourth-round draft pick knows it comes with the territory.
"I don't like to sit in the past too much," Miller said after practice Wednesday. "It was a great game and it was exciting for my family, but I want to get to the next game.
"You can't get too high, you can't get too low. I've always gone by that. Keep everything level and keep your head down."
That said, Miller acknowledges the uniqueness of his story from Sunday's game, which happened to take place in the stadium where he won a national championship with Alabama.
His grandfather, Olin Miller, passed away the Monday prior. The family laid him to rest that Sunday, with Christian's father Corey – a former NFL player – performing the eulogy while his son was wreaking havoc against the Cardinals.
After the game, Miller said he dedicated both sacks to his late grandparents – his grandmother passed a couple months ago.
"It just meant a lot to be able to go out there and get my first sack and then to get another one – that was for my grandmother, because she just passed about two months ago. I feel like I got one for each of them as they got reunited today," Miller told the Riot Report.
"It was a special moment."
Miller said his grandparents had eight children and adopted three more. His grandfather served in the war. Then he battled dementia for years.
"He wasn't even supposed to have too long," Miller explained. "His strength – even though it was hard for him to remember a lot of things, he still remembered the songs he would sing at church. It was amazing. It was a blessing to have him here so long."
So as you can imagine, emotions were running high after the game as the Miller family celebrated Christian's performance after Olin's funeral.
But, respectfully speaking, Miller is trying to move forward.
"I was very excited. It's a thrill to get your first (sacks) – I'm not going to deny that," Miller said. "But I'll be honest, I'm the type of the person, I move on from things quick. With the win, it was a combination of joy. But by the time I'm showered and dressed, I'm already looking to the next game."
With veteran Bruce Irvin still battling a hamstring injury that he suffered in the preseason, Miller's emergence couldn't have come at a better time.
For most of the spring and summer, the Alabama product was trying to find his footing. Then defensive coordinator Eric Washington noticed a big change just ahead of the season opener.
"Lately, he has really stepped up," Washington said of Miller before that Rams game. "I really like just the look in his eye. He looks more confident and his play is more decisive."
Here's what Miller had to say when asked for his interpretation of Washington's remarks:
"I had to get my feet underneath me. It took a little bit of time. I was a step behind, I felt like," said Miller, who was banged up during OTAs. "Once I was feeling better and I got some preseason experience, I just started to get the gears rolling. I think that's what (Washington) started to see. Confidence was coming. I was able to figure out what works for me and what I need to work on. I'm the type of person where once I get a good understanding, I start to capitalize.
"Athletically I have the ability – they wouldn't have brought me here if I didn't. Sometimes you just have to get through that mental barrier."
Miller was never able to really celebrate sacks in college. Crimson Tide head coach Nick Saban wouldn't allow it.
But Miller, an avid fisherman, has already developed a signature celebration in the NFL.
"It must have been in the back of my head, but I just did it, kind of second nature," Miller said. "Because if I'm not playing football I'm probably fishing.
"But I realized (retired pass rusher) Brian Robison, who was a heck of a player, he did it. I might have to tweak it a little bit. I've talked to him before and he hasn't said anything about it yet. I'm waiting on him to be like, 'Hey, you're stealing my swag.' I definitely want to pay my respects. But I might need a little twist. Cam (Newton) has been helping me come up with something."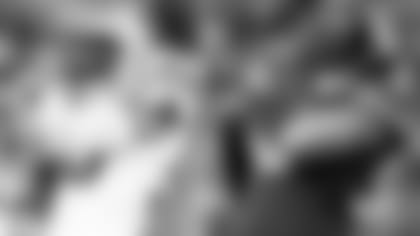 Miller has been proudly rocking a sweet 'stache for a few weeks now. And his teammates give him plenty of grief about it.
"Oh, they hate it. The reviews aren't the best," Miller joked. "The thing with it is, I think it's fun. It's a little old school. It represents my personality. I'm an old school kind of person. The outdoor stuff. The simplicity. You can see it in the way I dress. I'm just a simple person. I think the mustache kind of fits."