CHARLOTTE — Every year, preparing for a draft means sifting through a mountain of information. This year, the mountain's taller than ever, which makes the job that much more demanding.
For Panthers college scouting director Cole Spencer, climbing that hill resembles his own career path, as he's risen quickly in the business and developed a reputation for being put-together and precise. Panthers general manager Scott Fitterer didn't have any background with Spencer when he interviewed him last offseason, but the former Washington scout made an immediate impression.
"We were looking for someone who was detailed and organized," Fitterer said. "We needed someone to manage the college side while we focused on the day-to-day during the season, and we knew it was being covered.
"He came across as the guy that was the most detailed, the most organized, and the most prepared for the job. When he leads those meetings, you can tell he has everything ready, everything he needs. He's a guy you can trust to get it all done."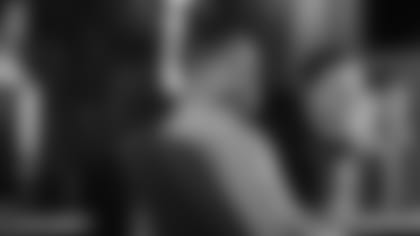 The 35-year-old Spencer is leading his first round of college draft meetings for the Panthers this week, as they prepare their board for the coming evaluation season. They started Tuesday with offensive tackles (as you might imagine), and they'll go for the next 10 to 12 days until they finish the first wave of evaluations on nearly double the normal amount of players.
Spencer said they filed reports on around 800 players last year, but with the extra year of college eligibility many players received because of COVID-19, they have close to 1,500 reports this year (including around 400 filed on underclassmen who'll be eligible in the future).
"This class is gigantic. It's a lot of dudes," Spencer said. "Some good players will fall into college free agency. It's a deep draft at a lot of positions. So you're fairly confident you'll get a good player wherever we're picking, and after the draft, we've got to be on top of things in college free agency, since there will be some players who make the team, and play for you there.
"The biggest thing with this class, there are players you find late and after the draft, where in previous years it gets a little thin when you get to the end of the draft."
Handling such a bulk of information seems to come naturally to Spencer, whose reputation for having a steady handle on a lot of data can only comes from intense preparation.
Of course, he's been training for this his entire life, it seems.
His father's former running back Tim Spencer, who played in the USFL before a six-year career with the Chargers. When Cole was 7, Tim took a job as running backs coach at Ohio State (he's also coached with the Bears and Buccaneers), and as much as any player he recruited, Tim developed a scout in those days.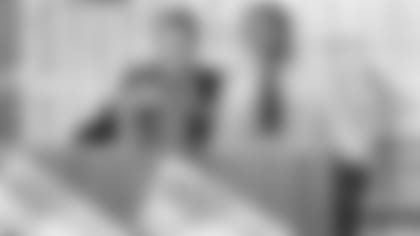 "I'd be a little kid, ripping and running around the facility, and just to calm down, I'd sit in the office with him and watch tape," Spencer said with a laugh. "Watching practice tape or the next opponent, those are the kind of memories I have. That was fun. It's what I enjoy about the job I have now. Watching the tape is the best part of my job."
Spencer joked that his path in football might have been slowed by "my lack of athletic ability," but he was quick to adapt to the scouting mindset as opposed to coaching the way his father did.
"I knew I didn't want to be a coach," Spencer said. "The tape-watching, the evaluation, figuring out what makes these guys tick and how to build a successful team, that drew me to it. The team-building aspect of it.
"Dad and I would watch the tape, and I thought it was fun to evaluate the players and poke fun of him, 'Oh why do you like this guy?' That part was more interesting to me than the actual teaching aspect of it."
Of course, his own path to the NFL was not a linear one. He was an economics major at Northern Illinois, and worked with a trading firm in Chicago after graduation in 2007, before getting his start in football on the operations side at Eastern Illinois.
"I kind of bounced back and forth," he said. "Going through school I was an econ major, so I kind of thought I wanted to do the business thing for a little bit. I worked at a trading firm, and thought I wanted to do that. But being around football my whole life, it's what comes easy to you; it comes naturally. It's what I enjoy. So it was a natural transition to stay in football."
He got a job with Washington in 2010, and quickly rose through the scouting ranks, first as an in-house pro assistant, before getting the Northeast area scout job in 2012. He was quickly promoted to the Midwest and Southeast (the land mass and number of players increasing each with each job) before he was named national scout in 2019.
He may not be making as many stops on the road as he once did, but he's still putting a lot of miles in, usually making one trip to the larger schools to cross-check the department's work. So while an area scout has to cover every school in his territory, no matter how many prospects might be there, Spencer has to focus on the 30,000-foot view to make sure everything's covered as thoroughly as it needs to be.
"The biggest thing is time management as you gain responsibility," he said of his job. "The workload's different doing national stuff. The drives get longer. You're skipping over some smaller schools. When you're an area scout, you can go from Alabama-Birmingham to the University of Alabama. Now you have to skip UAB and go all the way to Auburn. As an area guy, you may have a break with a school with five to eight prospects. As a national guy and director, we went to some schools that gave you 30 prospects this year, with the COVID year and a huge class of guys. That's a big transition.
"It's been new. Learning on the job, obviously. But you just try to stay organized."
This year, that's more important than ever.