CHARLOTTE -- What is Carolina's defensive identity?
If you consider the Dallas win in Week 1, it's a team that gets after the quarterback to the tune of six sacks and limits a star running back. But, in the weeks since, it's a group that has had difficulty putting together such stretches of dominance. Following a Week 6 loss to Washington, defensive coordinator Eric Washington shared his insight on what's been his group's biggest problem.
"Our issue right now is consistency," Washington said on Monday. "I've seen standout performances in all phases of what we want to be in terms of our identity. I've seen us rush the quarterback well, and I've seen us struggle to do that. I've seen us stop the run, and then we have the inconsistency in those areas.
"When we put together a complete performance, and that's from cover to cover, I think that's where we have to make ground, that's where we have to grow and improve."
Putting it together in all areas is something the Panthers have struggled to do for four quarters.
Against the Redskins, the defense made strides in an area that lacked against the Giants in Week 5: the pass rush. A week after sacking New York quarterback Eli Manning just once and totaling two QB hits, the Panthers got after Redskins quarterback Alex Smith, hitting him six times and tallying three sacks - one of which was a forced fumble by defensive end Julius Peppers for his first sack of the year. All in all, Washington liked what he saw from a pass-rush standpoint.
"There was a lot more speed. The technique was better. I thought we rushed the protections better, especially on third down," Washington said. "I just thought that there was more energy and more tempo with our rush. The guys did a nice job with their rush fundamentals.
"We did a nice job in coverage, executing the coverage concepts on some of the passing situations that we got. The quarterback held the football and the rush was able to be a difference in that situation."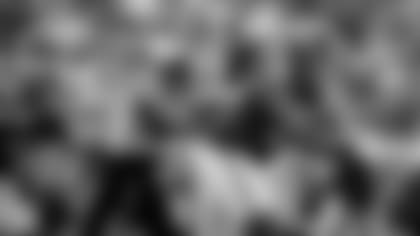 Affecting the quarterback is always a positive, but even with more pressure, untimely penalties and a lack of concentration negatively impacted Carolina's chances. The Panthers, who have historically been one of the league's least penalized teams under head coach Ron Rivera, were penalized eight times Sunday, four of which were against the defense.
"The discipline issues we had are uncharacteristic of who we are, and we'll fix those things," Washington said.
Washington cited a facemask penalty on defensive tackle Vernon Butler in the fourth quarter that preserved a Redskins drive and several offsides penalties throughout the game as back-breakers.
"A couple of times, we got an offsides penalty and now that's inching the football closer. It's giving a kicker a better opportunity to attempt and make a field goal," he explained. "They're getting yards in those penalties. Those things that lead to points, we can't have."
Both of the Redskins' touchdowns came after mistakes made by the offense and special teams units, putting the defense in a sudden change situation where their discipline would once again be challenged. Asking a defense to cover up those mistakes from an already disadvantageous position is tough, but as Washington put it, the Panthers have to respond regardless.
"When we take the field, we have a motto: 'We take the field like we mean it' and our job is to stop the run, pressure the quarterback. If the sudden change happens in the red zone, limit them to a field goal or take the football away," he said. "The mentality is we understand the situation that we're in, and our mindset is independent of how we got on the field. It's just to go out and do our jobs and execute at that particular point."
As if the pass rush wasn't already enough whiteboard material, the Panthers' run defense remains a hot topic five games in. After giving up 107 yards to Atlanta backup back Tevin Coleman in Week 2, Washington and Rivera stressed the importance of limiting big games on the ground.
The Panthers mostly contained Cincinnati's Giovani Bernard in Week 3 and Giants rookie Saquon Barkley after their bye in Week 5, but that wasn't the case Sunday as Washington running back Adrian Peterson rushed for 97 yards on 17 carries. Peterson failed to score, but had several explosive plays. For Washington, gap control remains one of his strongest messages.
"When you have a gap that you're assigned to, then you have to leverage and stay in that gap. You have to own that gap," Washington said. "There were a couple of occasions where that didn't happen. It was one player here and there and the next thing you know we're scrambling, trying to get an explosive back like Adrian Peterson on the ground."
A Week 7 road matchup against the reigning Super Bowl champion Eagles will go a long way in answering the questions.
With another week of studying and practice under their waistbands, Washington believes Philadelphia will be a great test of his defense's ability to find that consistency.
"What will be important is that we improve and grow and the next opponent will be a great opportunity for us to see and realize that improvement," Washington said. "The guys will be focused on that."