Was für eine Saison mit vielen Höhen und Tiefen. Trotz eines schwachen Starts haben die Panthers in der NFC South noch auf dem zweiten Platz abgeschlossen und können mit einem guten Gefühl in die Offseason gehen. Jetzt ist der perfekte Zeitpunkt, um die junge Truppe noch einmal zu verstärken – damit sie im nächsten Jahr hoffentlich in den Playoffs dabei sind.
Hier sind die wichtigsten Infos für die Offseason:
Diese Termine solltest du dir unbedingt merken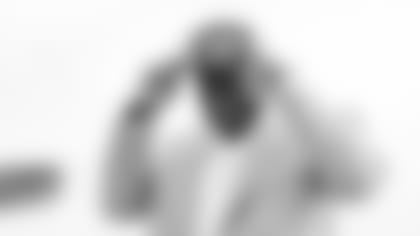 NFL Combine 2023 (28. Februar bis 6. März):
Gerade mal zwei Wochen nach Super Bowl LVII kommt die nächste Generation zukünftiger NFL-Superstars zum großen Leistungstest nach Indianapolis. Beim alljährlich stattfindenden NFL Combine gewinnt der Panthers-Trainerstab einen detaillierten Eindruck von ausgewählten College-Spielern, die sich für den NFL Draft angemeldet haben. Scouts prüfen die Talente bei Workouts, Intelligenztests, Interviews und Medizinchecks.
Franchise Tag Deadline (7. März):
Alle 32 Teams müssen bis 22 Uhr deutscher Zeit ihre gewünschten Spieler mit dem Franchise oder Transition Tag belegt haben. Mit diesen Tags können Teams einen Spieler, dessen Vertrag ausläuft, in Einzelfällen für ein weiteres Jahr an sich binden.
Start der Free-Agency-Verhandlungsphase (13. bis 15. März):
Drei Tage vor Beginn der Free Agency dürfen die Teams Kontakt zu den Vertretern der Spieler aufnehmen und mit ihnen in Vertragsverhandlungen treten – dies gilt aber nur für Unrestricted Free Agents. Du wirst in dieser Zeit viele Berichte über Spieler sehen, die sich mit NFL-Teams geeinigt haben. Aber nichts davon ist offiziell, bis zum ...
Start des neuen Liga-Jahres (15. März):
Neues Jahr, neues Glück! Um 22 Uhr deutscher Zeit beginnt das neue Liga-Jahr – und mit ihm das Wettbieten um die begehrtesten Free Agents. In 2022 waren die Panthers sehr aktiv und verpflichteten unter anderem Center Bradley Bozeman, Guard Austin Corbett, Running Back D'Onta Foreman und Punter Johnny Hecker. Welche Spieler aus dem aktuellen Kader Free Agents werden, steht weiter unten.
Erste Offseason-Trainings (3. April):
Teams, die nach der Saison 2022 einen neuen Cheftrainer eingestellt haben, können mit dem Offseason-Training beginnen.
Weitere Offseason-Trainings (17. April):
Ab dem Tag darf das freiwillige Offseason-Trainings program der Teams beginnen, die keinen Wechsel auf der Position des Cheftrainers hatten.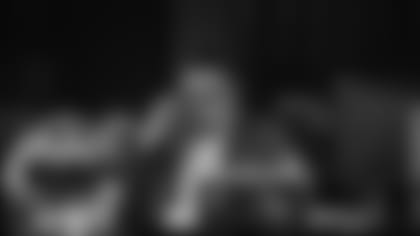 NFL Draft 2023 (27.-29. April):
"The Carolina Panthers are now on the clock!" Beim NFL Draft 2023 in Kansas City, Missouri, muss General Manager Scott Fitterer einige wegweisende Entscheidungen treffen. Durch den Trade von Christian McCaffrey zu den San Francisco 49ers während der Saison 2022 hat Carolina im kommenden Draft Stand jetzt sieben Picks zur Auswahl (1. Runde, zweimal 2. Runde, 3. Runde, zweimal 4. Runde, 5. Runde). Natürlich ist diese Zahl alles andere als endgültig. Im Vorfeld des Drafts oder auch währenddessen könnte es durchaus noch zu Trades kommen. Mit dem 9. Pick können die Panthers in der 1. Runde den nächsten Publikumsliebling nach Charlotte holen. Start des Drafts ist in Deutschland immer in der Nacht von Donnerstag auf Freitag.
Training Camps (Juli-August):
Los geht's! Mit den Training Camps läuten die NFL Teams die heiße Phase der Saisonvorbereitung ein. Gespielt wird dann auch schon wieder: Am 3. August beginnt mit dem Pro Football Hall of Fame Game die Preseason.
NFL Kickoff 2023 (7. September):
Die Regular Season startet traditionell mit einem Heimspiel des Super Bowl Champions – dieses Jahr am 7. September. Die Playoffs beginnen voraussichtlich am 13. Januar 2024 mit dem Super Wild Card Weekend. Der Super Bowl LVIII im Allegiant Stadium in Las Vegas, (Nevada) ist für den 11. Februar angesetzt.
Die Free Agents auf einen Blick
Mit dem Start ins neue NFL-Jahr am 15. März startet in der Liga offiziell die Free Agency. Hier ein Überblick über die Panthers-Spieler mit auslaufenden Verträgen:
DE Henry Anderson
C Bradley Bozeman
S Juston Burris
CB TJ Carrie
S Sean Chandler
QB Sam Darnold
T Cameron Erving
RB D'Onta Foreman
S Sam Franklin
S Myles Hartsfield
WR Rashard Higgins
DT Matt Ioannidis
LB Joel Iyiegbuniwe
LS J.J. Jansen
G Michael Jordan
LB Cory Littleton
WR Andre Roberts
K Eddy Piñeiro
QB P.J. Walker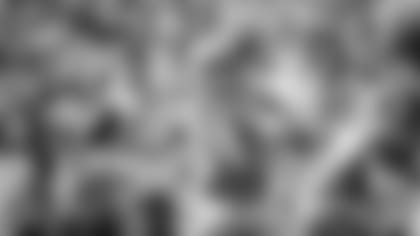 Bereits verlängert haben die Tight Ends Stephen Sullivan und Giovanni Ricci.
Außerdem haben die Panthers unter anderem Offensive Lineman Deonte Brown, 2022 noch im Practice Squad, einen neuen Vertrag gegeben. Nach den schweren Verletzungen der beiden Guards Austin Corbett und Brady Christensen könnte Brown in dieser Offseason mehr als bloß eine Chance bekommen.
Das sind die Gegner der Panthers in 2023
Der Spielplan für die neue NFL-Saison wird planmäßig im Mai bekannt gegeben. Allerdings stehen die Gegner der kommenden Saison schon fest – darunter sind auch eine ganze Reihe an Playoff-Teams der Saison 2022 (*).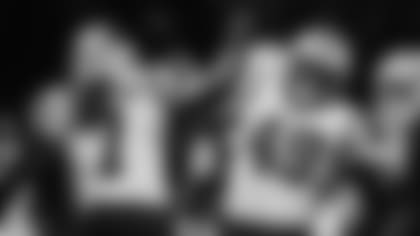 Zu Hause trifft Carolina auf die Rivalen aus der NFC South, also auf die Atlanta Falcons, die New Orleans Saints und die Tampa Bay Buccaneers. Außerdem geht es gegen die Green Bay Packers, die Minnesota Vikings, die Houston Texans, die Indianapolis Colts und die Dallas Cowboys*.
Auswärts müssen die Panthers bei den Teams der NFC South ran. Darüber hinaus gehts zu den Chicago Bears, den Detroit Lions, den Jacksonville Jaguars, den Tennessee Titans, den Seattle Seahawks* und den Miami Dolphins*.