LONDON – With the Panthers' first ever international game comes a lot of excitement and anticipation.
It also comes with a lot of logistical challenges.
Carolina is one of the last teams to play a game in London (Green Bay will soon be the lone holdout), so at this point, the NFL is thoroughly prepared to coordinate these operations.
Still, it's the first time for the Panthers, and that makes it both special and daunting.
Moving an NFL team overseas is no small task, and there is a lot of work to be done in advance to ensure everything goes smoothly.
To that end, a contingent from the Panthers traveled this week to London to gather information for when the team makes the journey to face the Buccaneers at Tottenham Stadium in Week 6 of the 2019 season.
The contingent on the football side of the organization included the following departments: football operations, equipment, athletic training, security and information technology. Like any road trip, their goal is put the team in the best possible position to succeed.
Bottom line: The most important part of this trip is heading home with a victory in Week 6.
It all starts with the team's arrival into Heathrow Airport. An airport representative explained the efficient procedure that will unfold after the players and staff exit the aircraft and cargo is removed. If all goes according to plan, buses are estimated to roll out no more than an hour after the team lands.
With all questions answered at the airport, the bulk of this advance trip – hosted by NFL UK – is consumed by site visits to potential hotels and practice fields. There was a wide range of both – some with experience hosting NFL teams and others possibly doing so for the first time.
It's important to note that the Buccaneers, as the home team, get first choice.
Some hotels were large and luxurious with skyline views. Others were isolated and small enough to be entirely taken over by a team. Each management group made their pitch for why they'd be best suited to host the Panthers.
Everything from number and size of the beds (they're typically smaller in Europe) to the number of blenders available to make smoothies is reviewed. A hugely important consideration is the meeting space that's available or unavailable. That varied from property to property.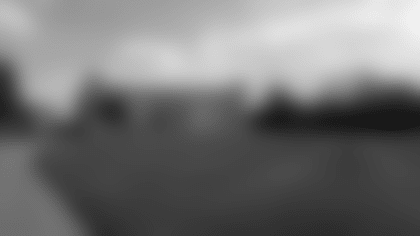 As far as practice fields, a couple were located at rugby club facilities. One team was engaged in a spirited practice when Panthers staff arrived for a tour of their grounds. Grass type, weight rooms, sound systems (very important to a certain quarterback) are discussed at length.
Then there's Tottenham Hotspurs' world-class training facility – complete with everything imaginable – which may also be an option.
When examining all of Carolina's needs, every hotel and practice site offered pros and cons. Distance is a major factor for each one being considered. With the game being played at Tottenham, bus rides from center city London are long and made longer by traffic.
Football operations director Bryan Porter and assistant director Mike Anderson assessed each option carefully. They'll bring their notes to head coach Ron Rivera, who will then decide where he wants his team to stay and practice in the days leading up to kickoff.
The Panthers know for certain they'll be playing the game at Tottenham's brand new ground, and this advance trip included a visit to the stadium to meet with NFL UK for a discussion about game day procedures. The meeting agenda was as follows: team arrival, ownership movements, locker room support/security, postgame procedure and game operations.
The stadium was built with NFL teams in mind and it caters to every need. The special NFL locker rooms, which are still under construction, are spacious. Same for the athletic training rooms, much to the delight of Panthers head athletic trainer Ryan Vermillion.
The NFL field resides about six feet underneath the pitch Tottenham uses, so like the process at University of Phoenix Stadium in Arizona, the top field simply slides off.
It's an extremely impressive stadium, and, as was mentioned several times, it's loud. It'll surely be a memorable experience for players and fans alike.
Speaking of the fans, a faction of the Panthers contingent on this trip took a site visit to the pub that's been designated for Carolina's supporters.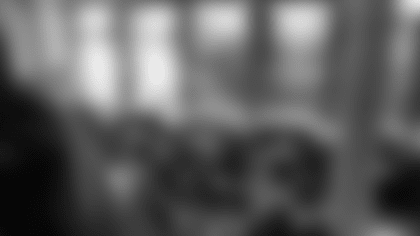 It's called Barrowboy and Banker – a three-tiered space that's centrally located in London. The pub will be themed for the Panthers in the days leading up to the game, and of course on the day Carolina battles Tampa Bay.
Other event locations were also scouted out as the entertainment and marketing team begins to map out a city-wide presence.
London is calling. And soon it will be time to take this show across the pond.