CHARLOTTE – On the last Wednesday in June, wide receiver Devin Funchess reported for training camp at Wofford College and brushed aside questions about his contract year by saying he's "just blessed to be here."
On the last Wednesday in December, Funchess was approached by reporters. And his perspective on the contract situation, and life in general, remains unchanged.
"I've been evicted, I've been out on the streets. I'm getting a check and I'm blessed to be alive, you know what I'm saying? I get to take care of my family," Funchess said.
"I'm not going to worry about stuff like that I can't control."
Funchess looked primed for a big year after posting 63 catches for 840 yards and eight touchdowns in 2017 – all career highs.
The 6-foot-4, 225-pound former second-round pick came into 2018 as the No. 1 wideout on Carolina's roster, but it's been a disappointing season individually and collectively, especially after the midway point.
Through eight games, the Panthers were 6-2 and Funchess had 36 receptions for 445 yards and three touchdowns.
During the seven-game losing streak that followed, Funchess has posted eight catches for 104 yards and one touchdown. He missed the game against Seattle in Week 12 with a back injury, and his snaps have been limited ever since with youngsters DJ Moore and Curtis Samuel taking on more prominent roles.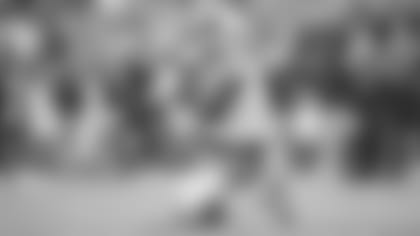 "It's hard because, to me, coming into the season I figured we were going to go to the Super Bowl. But it didn't turn out that way," Funchess said. "Another year where we got humbled again. Adversity you have to go through and go through and go through. Those who turn out on the right side are good. Those who let it eat at them, they go to that other direction.
"You have to learn how to handle (adversity) well."
Funchess preferred to keep the focus on the final game of the season against the Saints instead of his future.
When asked if he'd like to be back in Carolina, he replied: "I would love to." He later added that he's not a fortune teller.
This year hasn't gone as planned. But Funchess is determined to see the positives with the uncertainty of that second contract looming.
"To me, humbling is just making it out where I'm from," Funchess said. "This game has opened a lot of doors for me."