CHARLOTTE – DJ Moore's demeanor hardly ever changes.
Seriously, it's as if his heart rate never fluctuates no matter the situation, good or bad.
That's helpful attribute for an NFL wide receiver, especially when it's fourth-and-10 and the game is on the line against the Packers during a snowstorm at Lambeau Field.
Moore came back to the ball in the slick conditions for a 12-yard catch to move the chains, and when asked about that play, wide receivers coach Jim Hostler couldn't help but laugh.
"I didn't even know it was fourth down. I don't know that DJ knew either!" Hostler said.
"Yeah," Moore said with a smile. "I probably didn't know it was fourth down."
"In big moments you forget everything," he added. "You just want to make the play. You just have to be in the moment at that point. You're in that zone until you see double zero."
It didn't end with a win, but Moore finished with nine catches on 11 targets for 120 yards against the Packers. A week prior against Tennessee, Moore posted seven catches for 101 yards, marking the first time in his young career he's gone over the century mark in consecutive weeks.
Got to feel pretty good, no?
"You could say that. But that's what we play the game for," Moore said in typical Moore fashion. "I'm not really too high on (back-to-back 100-yard games), but I do notice it."
Head coach Ron Rivera expressed some more excitement about Moore's recent production.
"He's a young guy who has really blossomed," Rivera said.
What's really blossoming is the trust between Moore and quarterback Kyle Allen.
"The more he and Kyle play together, the more they understand body language. And being in the right spot for your guy – that's what builds trust," Hostler said.
Allen put his faith in Moore on that aforementioned fourth-down pass in Green Bay, and continuously counts on the former first-round pick to be on time and secure tough catches over the middle. Quick slants to Moore have been a staple of the offense all season.
"He isn't afraid to be physical and use his body," Allen said of Moore. "You have that trust in him because you know if you are going to put it out there it's going to be his ball or no one's. Even if you give him a not-so-great ball, he's going to fight through to catch that ball or it's going to be incomplete."
Added Moore: "It's all having trust in each other. I'm going to be where he wants me to be when the ball is out of his hand."
And Moore has shown time and time again that he's willing and able to make receptions through contact.
"When the ball is coming to him and there's people around him, it doesn't change how he catches it," Hostler said. "That's how he's been his whole life. He's not a fast-twitch guy like Curtis (Samuel), so he's been playing with people around him his whole career. But for him, it's like they're not there."
With 221 receiving yards over the past two weeks, Moore is on pace for a 1,000-yard season (1,216 yards, to be exact). He's one catch away from matching his total from his rookie year, which was 55. Also of note, Moore's 14 catches to move the chains on third down are third-most in the NFL.
If he records another 100-yard game against Atlanta, he'll become the first Carolina wideout since Steve Smith in 2008 to have three in a row.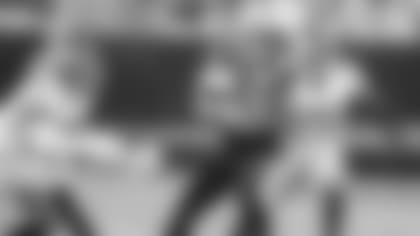 But Moore isn't really interested in all that. He knows this offense is at it's best when the ball is spread around.
"The ball is going to find its way to (different) receivers depending on which team we're playing," Allen said. "DJ has always been a solid, steady player for us. Strong hands, strong through his routes, can work off of press and can beat you over the top, too. I wouldn't say he's been finding his way (the past two games) because he's been playing well all season."
The folks over at Pro Football Focus agree with that assessment. Moore's 79.4 season grade is 17th best among NFL wide receivers. Whether he's getting a high volume of targets or not, he's been playing at a high level in his second season.
"He's an even-keeled kid. He's a smart kid. He's not an emotional, up and down person," Hostler said. "He's a young player who can handle the ebbs and flows of the season. He's been able to get better because he's not riding the waves.
"His consistency has grown over time. When opportunities have come up, he's been finishing plays. That's how this league is."
View photos from Wednesday's practice as the Panthers prepare to take on Atlanta in Week 11.