On how he's doing the day after being selected in the first round by the Panthers: "I'm doing well. A little tired, but I'm doing well."
On wearing No. 12 after wearing No. 1 in college: "Receivers can't wear one, and plus Cam has one."
On whether he gave any thought to No. 89: "That'd be some big shoes to fill here with Steve Smith being here. I just thought I'd start something new."
On playing alongside former Maryland wide receiver Torrey Smith: "I was happy because he had texted me earlier in the day about the draft. It's going to be good because he's coming in new so we can learn the playbook together."
On Steve Smith's praise of him: "I was kind of shocked because that's the highest praise you could probably get out of someone of his stature, playing wise. I was happy."
On his first thoughts after being drafted at No. 24:"Just stay calm, but I couldn't stay calm because my whole family was crying. When I looked to my left, my mom and sister were crying. To the right, my brothers were crying. So I just shed a few tears."
On what excites him about playing for the Panthers:"Just being in some warm weather and being with a quarterback in a great organization."
On if he played running back at some point in his life:"Yeah, I played running back most of my life – quarterback, as well. I started playing receiver freshman year of high school. Before that, just strictly running back. "
On his style of play as a running back: "Probably scat back. I didn't really like to get hit, some of my coaches will say. But I got hit."
On the importance of learning the multiple wide receiver spots:"It's going to play a big part in me getting on the field early. Just learning all three will be the best thing for me and just to understand the playbook faster and know the ins and outs. Coming from Maryland, we had the spread the system, but my freshman year we had pro style."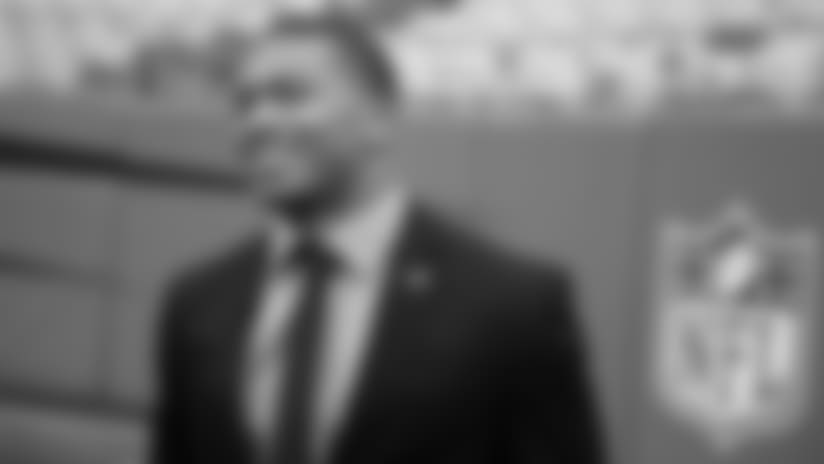 On anything he needs to focus on improving more than anything else:"No, not really. It's just getting back to the whole playbook, because you have to know the ins and outs. That's something that I have to get used to."
On Cam Newton reaching out to him:"After the draft, he Facetimed me. We had a good talk. He just said we're going to have fun. We're going to work hard and we're going to compete. He just said just be ready to work hard."
On draft committee advising him to return for one more year at Maryland:"Yeah, I had a go-back-to -school grade with the draft committee. I didn't really think too much about it. I knew I wanted to come out. I talked to the staff at Maryland and just made a decision from there."
On NFL players he resembles on the field:"I'd say a mixture of Jarvis Landry and Percy Harvin, when he played. They both play with aggressiveness and yards after the catch is something that they do the best."
On handling multiple quarterback changes at Maryland:"It didn't change at all. We just stuck with our game plan, the playbook that we had, because all of them had to go through it at some point whether it was at camp. With the rotation we had, we just stayed on cue with whoever was in there." 
On his favorite wide receiver position:"It doesn't matter to me."
On his Favorite route to run:"It doesn't matter."
On his consistent level of effort on the field:"If you're the so-called leader of a team, you don't want to fall off and be like, 'Well, I'm not going to play hard because we're losing.' That's not the right thing to do. Just playing hard just push the team to play even harder. Even though we were down, it just got us to play harder throughout the game. Just not laying down to the opponent." 
On why he turned pro early:"Just the growth that I had over the three seasons. And, this past season being the biggest one I didn't want to go back my senior year and have a dropoff. That's probably the biggest reason."
*On the biggest influence in his life: *"My mom. Cookie. That's her nickname. Her real name is Donna, but she doesn't like going by that though so everybody just calls her Cookie. She's the opposite of me. I'm more quiet. She's like gotta lot of friends, but that's not who I am."
*On the NFL lifestyle versus the college lifestyle: *"Just the doors that it opens outside of football. Like, just with businesses. I just want to do something with real estate after football. So, just hoping to open the door with that."
On what DJ stands for: "What does it stand for? Denniston Moore Junior."
On his demeanor on the field:"I flip the switch, but I don't talk. I just let my plays do the talking. There is a switch from off the field DJ to on the field DJ, yeah."
On handling press coverage in the NFL:"Just the same way. Just looking at their techniques and leverage points that I can get to since I'm smaller and quicker than them. So that'll be something I'm looking forward to."
On memorable plays from college:"I would say the Northwestern screen and the Indiana post route. I had messed up my ankle before halftime. Going back out there and making that catch for the team was probably a big one."
On mentality when he ran over a linebacker versus Towson:"Just not having one person tackle me is my mentality. Cause if he had tackled me it would have been like a six-yard loss. In my head I was like, 'Nah that can't happen.' So, I just had to make something out of nothing."
On whether he thought he should be the first receiver drafted (which he was): "Of course! If you ask any of them, we all cool but if you ask any of us we all thought we should go number one because we all bring something new to the table for any team that would have drafted us.
On the hours after he was drafted:"The draft party ended around - well I left out of it at like 11:30. Around 1:30 probably laid down and started watching cartoons. Probably about 2:30 went to sleep. The flight was around 8. I had to be at the airport at 8. So like four to six hours (of sleep)."
On what cartoons he watched:"SpongeBob. Fairly OddParents."
On working out for offensive coordinator Norv Turner at his pro day: "It was fun all around. The whole pro day was fun. It was just making me laugh. Like, just throughout the whole day just trying to keep me calm and just relaxed."
View photos of first-round draft pick D.J. Moore as he tours Bank of America Stadium.