MEMPHIS – George Hofstetter grew up in the shadow of Silicon Valley, but the center of the tech universe may as well have been a world away.
Kids in Oakland's inner city have a general sense of what's happening about an hour to the south. The tech being built, how much money is being made. But because so few of the builders look like Hofstetter, few like him even consider the possibility of breaking barriers.
"The first time I saw someone that looked like me coding, I was like, 'I didn't know that was an option for me,'" said Hofstetter, whose life changed at 13 when he went to his first hackathon. "So I chose to pursue computer science because it was my first time seeing African-Americans in the tech industry and I realized engineering was something I could achieve if I wanted to."
No one could yet pick the tech company founder out of a crowd, but a football player who plays in front of massive crowds – Panthers defensive tackle Dontari Poe – asked Hofstetter to share his success story with students in Poe's hometown of Memphis as a part of a new workshop.
"He's at another level about entrepreneurship at the age he's at," Poe said.
Oh yeah, there's that little detail. Hofstetter is just 18 and graduated high school two weeks ago.
"I taught myself four programming languages, got a few internships at tech companies, realized that I just didn't want to be another consumer of tech, I wanted to be a creator," Hofstetter said. "So I founded my own tech company, George Hofstetter Technologies, Incorporated. Our mission is to change the world's perspective on race through technology. And through technology means the products that I create."
Those products include his CopStop app – "a 21st century key for staying safe from police brutality"; Connect the Dots – "a social network that connects African-American private school students in predominantly white schools so they have a safe and inclusive environment to share their experiences of discrimination within their school"; and Up to Code – "a free mobile curriculum that empowers minority middle school and high school students to bridge the gap of the digital divide."
That was more than enough to sell the biggest player on the Panthers' roster.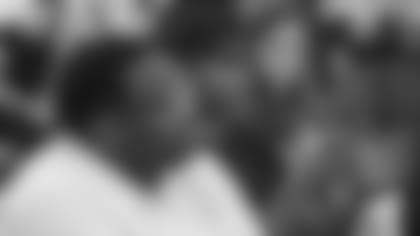 Investing in the Future
Poe is 27 and weighs nearly 350 pounds. So there was something quaint about him squeezing into a blue T-shirt that read "Entrepreneur in Training."
But Poe is more than a first-round draft pick and two-time Pro Bowler who's heading into his seventh NFL season. He's also a startup investor.
"The world is moving toward tech. That's not a secret," Poe said. "So I want to invest in some good companies that affect how the world is and that can help make it more simple. Invest in good products and good people."
Poe caught the entrepreneurial bug four years ago when he and his financial advisor, Omar Sillah, took their first trip to Silicon Valley. For three days, they met with fellow entrepreneurs, heads of startups and venture capitalists. Now Poe is an investor in three companies: Sutro (a tool that monitors water chemistry in pools); Lab Sensor Solutions (a device that helps ship blood samples safely between healthcare professionals); and DailyPay (an app that allows employees to receive money before payday).
"He wants to be successful, and he's a very smart guy," Sillah said. "As reserved as he is, he's very aware of what's going on. He's great with numbers. So we're not just sitting there and telling him to do this. We're actually having a conversation and dialogue about investment opportunities."
Of course, not all investments are wise.
"From the time he was drafted, his number one thing has been, 'I want to do something in Memphis. There's nothing there. I want to invest in Memphis and start a business,'" Sillah recalled. "I said, 'You've got to understand the economics of Memphis – it's very tough. So I can't advise you to do that.'"
Still, Poe was determined to invest in his hometown.
"There's a lot of stuff that people say good or bad about the city. But they can't say we don't have ambition, they can't say we don't have people with amazing ideas, and I want to show it off," Poe said.
So after last year's trip to Silicon Valley, an idea was born. Poe's foundation – Poe Man's Dream – would host a three-day event where Memphis-area middle school and high school students could partner with local entrepreneurs to learn how to pitch a product.
"'The best way you can impact these kids and change the narrative of Memphis starts with the youth,'" Sillah told Poe. "'So let's add an academic component to the football camp.'"
It seems like every NFL player has a youth football camp. So does Poe, who held his Saturday. But what happened in the three days leading up to the camp was different – and potentially more influential.
"This is their generation; this is their world. The shift is everything in tech," Sillah continued. "So if we can bring a tech component and introduce it to the inner city, now we're doing something. Now we're touching lives.
"This is the best way to invest in Memphis. We're not investing in Memphis for now. We're investing in Memphis for the future. They are the future."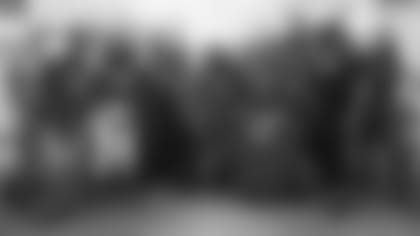 "Why Not Me?"
Poster boards with inspirational messages written in marker adorn the second floor of the Crews Center for Entrepreneurship on the University of Memphis campus.
Words can help encourage, but nothing inspires more than action. That's why Poe and his people flew in Hofstetter, the event's 18-year-old keynote speaker.
"In our community, the first thing they say when you ask them what they want to do is be an athlete or an entertainer," Sillah said. "Well, how do I look at a world that doesn't look just like me? How can I see somebody that looks like me and be motivated and say, 'Wow, if he can do it, I can do it.'
"When George came in yesterday and spoke to the kids, he immediately got their attention. They were like, 'Woah! Here's somebody that looks like me and this is what he's doing.' He's not that much older. He's not that far removed. He just graduated. He's a young man that's accomplished so much and there's so much more ahead of him. I think it's very moving and it's very believable for these kids because these are people from their community that they can touch and feel and give them that inspiration and say, 'If he can do it, I can do it.'"
So with Hofstetter and handful of local startup heads assisting, 11 campers got to work. They built pitch decks and Shark Tank-like presentations based on existing products like Truckish, an app that helps small truck companies compete with the big guys, and Please Assist Me, an app that outsources weekly chores.
That's the company Christian Alaizia Williams was assigned to and successfully pitched in front of seven judges, including Poe.
"Did you hear her get up there and talk?" he asked. "She took over the room. She owned the building."
The thing is, what won Williams' team the competition – her confident and passionate delivery – grew out of a supposed negative.
"So many times I've been told 'you can't' or 'you won't get anywhere' or 'this should be the thing that keeps you down.' Whether it was my skin color, whether it's my ADHD or just the fact that I'm so loud," Williams said. "So I was like, 'I'm not loud, I have a commanding voice' or 'this problem that you say I have has been the one thing that's been pushing me forward, so how bad can it be?'
"So I use my weaknesses to help push me forward and be like, 'Hey people, yes I can. Not, no I can't.' Why not me?"
Those three words would look good on a poster.
"That girl can do whatever she wants however she wants to do it," he said. "She just needs a platform to show it off. So I'm trying to help with that part while she does the rest. So why not her?"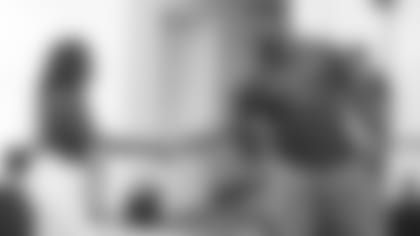 Using – and Building – Platforms
Williams isn't yet sure how she's going to spend her part of the $500 prize. She may put it toward college or set it aside for when she starts her own business.
"I'm marinating on several ideas," the 18-year-old said.
What were you doing at 18?
Williams is also writing a book she hopes to one day get published. Hofstetter is set to attend Menlo College, in the heart of Silicon Valley, on a scholarship for business and entrepreneurship.
For Poe, this is how you start building something special. Put a spotlight on budding entrepreneurs and show others what can be done.
"It's huge because it's someone of (Poe's) stature using his platform to uplift his whole community by giving them an opportunity that they might not know they had," Hofstetter said. "So it's introducing them to a world that they didn't know was possible. And having that foundation around critical thinking and entrepreneurship – that foundation can change your whole life.
"I was next to Silicon Valley and I didn't know it existed. So it's those barriers that people don't know, and it takes people like Dontari Poe and myself to really break down those barriers and show positive representation for what you can achieve."
And that's how you help create change.
"It's amazing. It's something that you dream of as a kid to bring other people something that you wanted people to bring to you as a child," Poe said.
"The biggest thing for me is all kids aren't going to be athletes. Not every kid is going to play football, basketball or whatever sport there is. So whatever these kids want to do, I want to let them know that they can do it and there's a way for them to do it no matter what you look like, no matter what it is."
View photos from DT Dontari Poe's entrepreneur camp in Memphis, TN.