On the last 24 hours:"Different. It's been a lot of mixed emotions. It's been a lot of nervousness. A lot of just overwhelmed, just overwhelmed with a lot of emotions. You have your whole family there to keep you calm, but they can only do so much. But it's been a good 24 hours, man. It's been a great experience. A moment that I will remember for the rest of my life. I know a moment that everyone in my family will remember for the rest of their lives. It's been a very, very key moment in my family's life, my family's history. I know it's going to be a big deal."
On his family:"Well, I'm from New Orleans. I'm a New Orleans kid, city kid. Right outside the city actually. Big family, family that's all Saints fans, so this was different. This was different. But they are excited that I am in the NFC South and get to go home and play home once a year. So they're excited about that, but they're Panthers fans now so that's the only thing that matters."
On who he was with when he received the phone call:"It was my mom on the side of me. My older brother was kind of in front of me. My girlfriend, who is seven months pregnant, was standing on the side of me as well. My sister was behind me. If I'm remembering right, it was cousins, aunties, my grandma was there also. It was just the whole family. A lot of smiles. I see their smiles, and that is the only thing that matters to me."
On becoming a dad:"It's been crazy. My baby shower was actually last Sunday and I got drafted this week so it's been a wild week, but it's been cool."
On former LSU guard Trai Turner:"I know of him. I know of him from being an LSU guy and what he has done at LSU. I have no choice but to know of him, but we haven't really met yet. I'm sure we will have a lot of time to meet now."
On playing against Leonard Fournette in high school:"Let's just say he had his shoulder pads off at halftime."
On whether his daughter (Demi Dalia Jackson) is expected to be born before training camp:"June 22nd. I'm hoping it does. But that's something that we talked about. That's something that we are preparing for just in case I'm not there or if I am out here at work, some ways we can get around it. But that's something that we planned for. But I'm just ready for it to come."
On fatherhood and the NFL:"I just don't want to let my baby girl down. My father wasn't there my whole life due to prison. Taking care of her is one of my top priorities and just not letting her down. I know that this is the stepping stool to do so, to take care of her and make sure that she has a better life. Why not give my all? Why not go out here every day to work like it's my last day? And that's what I'm going to do every day. My baby girl's life is on the line."
On why he's so fast:"I'm not sure. Elementary school, you know field day and stuff like that, anything we had to do any type of sprints, I was always the one in first place. I was always used to just winning when I run. I've just been fast ever since and I've always been competitive. So the knack for me just wanting to win kind of made me even faster when I was younger. Just my competitiveness added fuel to my speed. So I think that's kind of where my speed comes from. It corresponds with the competitiveness a lot."
On aiming to start as a rookie:"I'm going to come in ready to compete. Whether it's nickel, corner, safety, special teams, anything. I'm going to come in ready to compete. They are going to get a lot of fight out of me early on. If I come in here and start right away, if I'm with the threes and the fours right away, they know they are going to get a competitor who is going to come into practice and come to work every day to work."
On being impacted by Hurricane Katrina:"Yeah, I'm born and raised in New Orleans, Louisiana. I've been out there my whole life and went to LSU so Katrina was definitely something that shook the city historically, as everybody should know. It did a lot impacting my family. A lot. Lost my house, the house that we were staying in at the time. Lost that house. My auntie lost her house. It was just a lot of damage, you know. My family, we made to come through adversity and stayed together because that's what we normally do. We never really had much, but we always had each other. So that's kind of the thing that keeps my family together – the love and the genuine passion to be around each other. That's kind of what made the moment of last night even more worth it. So I'm just happy to have those people in my life, for real."
On his father's background:"Same. City kid. He just got caught up in the wrong things early on. That's about as much as I can say. But I still have a great relationship with my father. We talk every other day. He's still supporting me from where he is at right now. He is still supporting me to this day. He still makes sure that I am making the best decisions and the best choices just to not end up on the same path he did."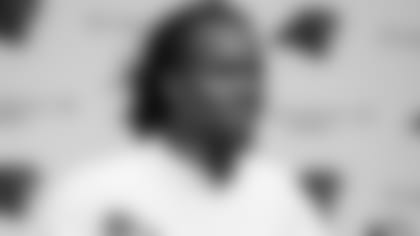 On looking ahead to particular wide receiver matchups:"Calvin Ridley (drafted by the Falcons). We both came in together, college together. He went to Alabama, I went to LSU. He went to the Falcons. So he's a guy that I am excited to go against. You know, I've been going against him for three years now. So we're going into the same division in the NFL. That will be a cool one to go up against. Really just getting the chance to go back and play against the Saints, that's going to be pretty cool to have a lot of my family there."
On the emotion of being drafted:"Yeah, it's very hard. But they make sure that they let me know that I'm blessed and that I'm going down the right road and that I keep doing everything that I'm doing. You know, making them proud like I've been doing from day one. They just keep on making sure that they instill that in me. Making sure I don't get down about the whole thing, making sure I don't those little tears of joy. So they just try to make sure that I keep a smile on face and remember that I'm blessed to be in this situation and can't really get overwhelmed by the whole thing but mostly just take it all in, take it day-by-day. So that's what I've been kind of trying to do."
On playing with fellow SEC defensive back Rashaan Gaulden:"That's great. That's something I'm very, very passionate about – SEC football. Playing there three years, three consecutive years, never missed a game at LSU. But I'm very excited about Rashaan. I know that we played against Tennessee, and I know that he's a guy that we had on our scouting report on offense and I know that he's a guy that's going to come in and make a great impact. Just like I'm expected to do, I'm expecting him to come in and have the same type of edge, have the same type of preparation and get ready to come make plays. They drafted us for a reason and that's the reason – to come in here and compete with each other and against each other and just to make this team a better football team. That's kind of the plan. I can see Rashaan coming in and being a big addition to the team."
On the chip on his shoulder:"In every game, I've always been known as the undersized guy or the guy who lacks ideal size or whatever they like to say. The chip has always been there. I don't think it ever left, in any sport, but especially football because I always got the talks of being too small or I was just fast or just a track guy who plays football. That just makes the chip grow even bigger. I'm all football. Yeah I'm fast, but my mentality and my toughness and my confidence and my swagger is all there, it's all football. You know, that's one thing I like to pride myself on. I never really liked to listen to people say I'm too small because I've been listening to that my whole life and it just adds fuel to the fire."
On durability at his size:"You know, you have a guy who played as a freshman at LSU, started every game since sophomore year at LSU, never missed a game at LSU in the SEC but you're going to sit here and say he lacks ideal size. I've been in the SEC playing ball for three years straight without missing a game due to an injuries or anything. I like to pride myself on that a lot. I wouldn't think a guy lacks ideal size if he's out there banging with SEC opponents every week. Week-in and week-out, practicing against guys like Leonard Fournette and practicing with guys like Jamal Adams or Tre'Davious White. You know, I've actually been out there on the field with those guys. That says a lot about my game, that says a lot about my toughness and my aggression that I like to talk about."
On Tyrann Mathieu comparison:"Tyrann was always a huge inspiration in my game. When I was in high school, I was a small DB, like I was in college and like he was. Knowing he's from New Orleans, being from the same area, now that I have a relationship with him that I can talk to him every day if I want, it just kind of makes it even better. He's fully there for me. He believes as well that there are very few guys that come around like me and him. Guys who are willing to get out there and be the size of a Chihuahua but go fight with a gorilla. There's very few guys that can come around like that and he believes that. So every time we talk that is the stuff he tells me – keep playing with that edge, keep playing with that chip on your shoulder, keep playing violent and angry. That is something that I've been running with and waiting to take to the next level. Now that I'm here, I just can't wait to get my opportunity."
*On joining a roster with holes in the secondary: *"I mean, clean slate or a lot of depth, I'm a competitor. That's the only way I know how to do it. That's the only way I know how to play the game. I'm a firm believer in the best 11 will play and whether I am in that best 11 or not, just know that I am going to always compete every day until I am in that top 11, whether it happens week one or week thirteen. I'll be competing every day until it happens so that's kind of what I am going off right now."
View photos during his time at LSU and at the NFL Scouting Combine.