CHARLOTTE — Cornerback Donte Jackson has always found a way to be around the ball. He picked off seven passes in his first two seasons and recorded 17 passes defensed.
Entering his third season, Jackson felt he had to do more to become a top-flight corner. He had to sharpen his skills, become more focused, execute the finer details of technique. As a former second-round pick, those are vital aspects of fulfilling one's potential.
Head coach Matt Rhule and the rest of Carolina's new staff challenged Jackson to improve those aspects of his game.
"They're working with me, staying on me, making sure that I'm doing everything I need to do," Jackson said. "It's not just that they want me to be a top corner in this league — I want that for myself."
So far, the confidence boost is showing in Jackson's play. He's recorded an interception in each of the last two games. In Tampa Bay, that pick came off Tom Brady early in the second quarter and kept Carolina in the game. In Week 3, the interception and 66-yard return allowed the Panthers to extend their lead over the Chargers.
"Donte just loves to compete," Rhule said. "He goes out there and plays hard and tries to get better and tries to play and make plays for his teammates."
Cornerbacks coach Evan Cooper has seen Jackson make significant progress from training camp through Week 4.
"He's been working hard to try to become the best that he can be," Cooper said. "He's taken the little technical things and put them into action and tried really hard to fix some of his flaws."
Cooper has also noticed Jackson, who turns 25 next month, becoming more vocal in the meeting room.
"Especially with such a young group, he's taking one of those leadership roles because guys listen to him," Cooper said. "He's got some of the most experience out of all the guys in that room, even though he's young himself. He's just embracing that role and taking ownership of it.
"His love of football is something that stands out to me. His want to help his teammates out and help the secondary out with anything that he sees. He's forthcoming with information."
Jackson said he's "absolutely" making a conscious effort to become a better leader.
"That's one thing (Rhule) wanted to see change in me," Jackson said.
Safety Tre Boston has noticed those qualities in the cornerback, too, saying Jackson has employed "laser-like focus" on his work behind the scenes to improve.
"He's playing with all the confidence that he has because of how prepared he is right now," Boston said. "This was a year that he knew that eyes would be on him. Right now, he's taking the forefront, and he's stepping up for us and playing big ball right now."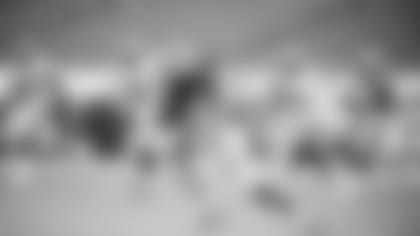 Jackson appreciates that his teammates have noticed the difference.
"It means a lot to me because I can recall times where I wasn't focused, where I wasn't playing to my highest capabilities," Jackson said. "I think focus and discipline were two of the biggest thing that were hurting me.
"So that was my whole mindset coming into this season, was to focus in, to lock in. I know that I can play with some of the best receivers in this game if I'm just focused, and that's most of the battle for me."
So when the cornerback makes two interceptions in two games, Cooper sees it as a culmination of everything Jackson is doing starting to pay off.
Jackson views his production in the same way.
"Things are starting to slow down a little bit for me, so I'm able to get out there and just play more comfortable," Jackson said. "When you have your coaches believing that you can go out there and you can cover anybody at any given time, that gives you added confidence to go out there and play."
Jackson had to battle through multiple injuries last year, playing in 13 games with 10 starts. That's been the case early this year, too. He left in the first quarter of the season-opening loss to the Raiders with an ankle injury, and he re-aggravated a turf toe injury last week in Los Angeles. But he was a full participant on Thursday and Friday and is expected to face the Cardinals this weekend.
"I've been treating it about four times a day, getting it wrapped, getting it taped," Jackson said.
"I think it's just a huge statement for our team that he got banged up on Sunday and he's right back out there practicing. I think he's the embodiment of the brand of football that we want to play."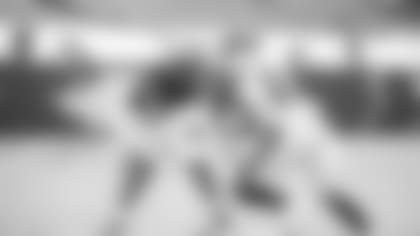 Though he's had a solid start to the season, Jackson isn't getting complacent. He wants to be coached. He wants to continue refining the little things in his technique that can make him better. And he's grateful Cooper, defensive pass game coordinator/secondary coach Jason Simmons, and defensive coordinator Phil Snow have coached him hard.
"I need tough, hard-nosed coaches who are going to stay in this thing with me when things are bad or good," Jackson said. "That's what I get from these coaches. They're down to ride whether good or bad, and that's huge for a corner because it's such an up-and-down position.
"I feel like I haven't reached my full potential. By them staying on me and believing in me as a top guy in this league, that helps me go out and be more dominant."
If he continues at his current pace, those around him feel Jackson can become exactly who he wants to be.
"I think the world is just now starting to see the player he can be," Cooper said. "He's just scratching the surface."
View photos of third-year cornerback Donte Jackson from Carolina's production day.